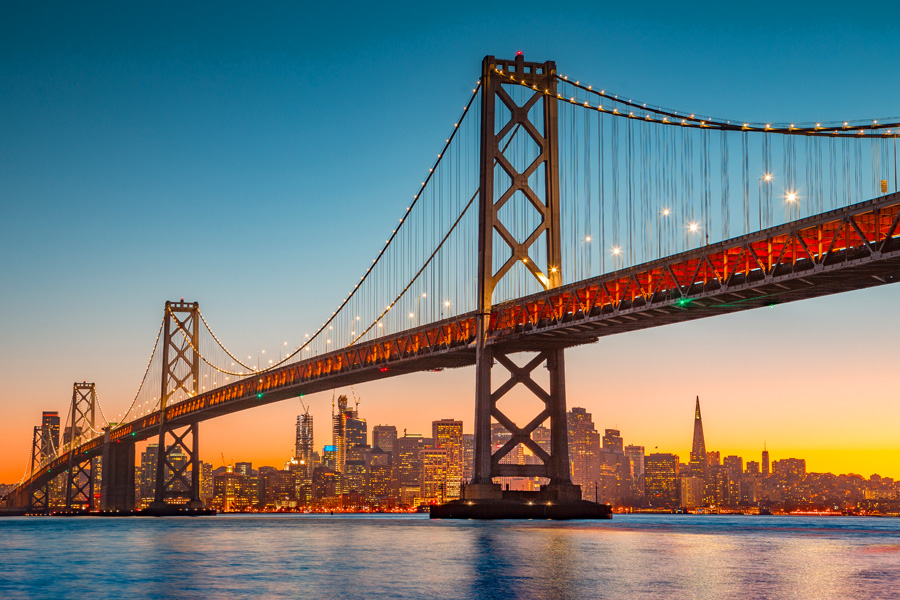 January 27, 2020
Graduate Finance Association Adds San Francisco to Fall Trek
In addition to visiting the financial services industry in New York City, the MBA student club traveled this year to San Francisco, California.
The Graduate Finance Association has habitually traveled to New York City for its fall career trek, visiting the iconic Wall Street firms in the nation's financial capital. This year, for the first time, club members also spent a few days in San Francisco, California, visiting with corporate finance and investment firms embedded in the city's tech industry.
With a strong network of recruiters, the Tepper School offers MBA students ample opportunity to connect with potential employers right from the start of their MBA journeys. Starting in the fall semester, student clubs host "treks" to major cities across the U.S. to connect with companies and alumni in various industries and functions. 
"Career treks are a significant resource for MBA students to gain valuable insights and make important contacts within industries of interest," said Stephen Rakas, Executive Director of the Masters Career Center. "The treks provide invaluable networking opportunities and we're pleased to support our student organizations each year in building strong, lasting connections to our Tepper alumni network and the broader business community."
On a career trek, students visit companies that partner with the Tepper School to recruit MBA interns and graduates, as well as other leading companies of interest to the students. They may also attend social gatherings to connect with alumni and industry leaders in the area to learn more about the city and build their professional networks.
Crash Course in Finance
The Graduate Finance Association is a professional club that helps to prepare Tepper MBA students for careers in investment banking and corporate finance, as well as other finance-focused roles. In addition to the career treks, the organization hosts weekly training courses led by second-year students that provide fundamentals such as accounting, mergers and acquisitions, and leveraged buyouts, as well as introducing first-year students to the recruiting process. "This really was a crash course in finance," MBA student Will Li said. "If you're like me and don't have a finance background, you learn a lot."
Li noted that one of the club's priorities is building the network of Tepper School alumni in finance roles who support the school and current students as mentors and recruiting contacts. "Having that level of support allows us to represent Tepper better when we are in the hiring process and ultimately bring more value to the Tepper brand," he said. "A key part of that is the support and training that professional clubs such as the GFA provide." 
One of the most important skills he said that GFA has offered is how to engage with bankers one on one, especially during the brief chats that take place during corporate visits. "The stakes are high, and you don't have a lot of time for these informal conversations," Li said. "There's not a lot you can do to stand out positively, but you can certainly make some wrong turns and damage your outlook."
Cultural Exposure
The connections that students make on career treks are significant during their search for summer internships and full-time career placements. The treks allowed Li to have conversations with contacts — especially those outside the alumni network — who may be difficult to connect with otherwise. "Cold emailing is really tough. The response rate is not great," he said. "Your response rate is drastically improved through those treks."
Over the course of the two weeks between Mini 1 and Mini 2, GFA members traveled to San Francisco and New York City, meeting with investment banks and other financial services firms in both cities. While the GFA has regularly visited Wall Street firms on career treks, the San Francisco trip was launched this year by second-year MBA student and GFA president Sean Lawson, who drew on his personal network and Masters Career Center relationships with alums to set up company visits. "I know the amount of effort he must have put in was enormous," Li said. "We expect that to lead to more opportunities for future Tepper students in San Francisco."
Li said that while some of the students participated only in the New York City trek, a majority traveled to both cities, which allowed them to compare the cultures of both locations. "They both work incredibly hard and they both generate tons of value for their companies," he said, but the environment in San Francisco was decidedly more casual. "It's highly competitive in New York. You can definitely feel it in the atmosphere that stakes are high." Li was able to recognize from these experiences that he wanted to pursue opportunities in New York for his internship and career paths.
"There was a good amount of time after the visits to really explore," Li said, which allowed the students to get to know each other outside of classes. "We don't get the opportunity to spend that kind of protracted time together, and I definitely made stronger bonds throughout both of those trips."
In addition to unscheduled time, the students also visited with alumni in each city at happy hours and a scheduled social event in New York. These social connections are an essential part of career treks, allowing attendees to engage with alumni and professional contacts in a more relaxed environment. "It's a better avenue to start a true relationship," he said. "They've got something that we want, which is positions, and they know that. If you can strip that away and just have a conversation with two people, it's just a lot better."