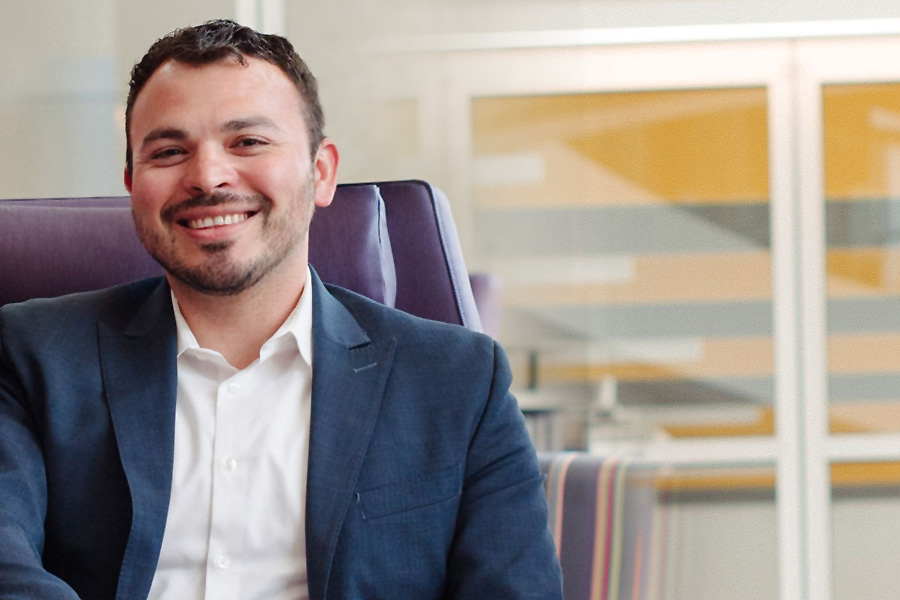 January 27, 2020
MBA Student Uses Classroom Concepts to Jumpstart ERG at Thermo Fisher Scientific Headquarters During Internship
Ever Hernandez used organizational behavior to start the Latino Hispanic Heritage group for employees in the Boston office.
For Ever Hernandez, a second-year MBA student, garnering support from 70 coworkers and hosting three events as an intern at Thermo Fisher Scientific all started with concepts he learned at the Tepper School. 
At the biotech firm's headquarters outside Boston, Hernandez was asked to work on jumpstarting the Latino Hispanic Heritage employee resource group.
To go about it, he thought back to his first-year classes, especially Managing Networks and Organizations taught by Brandy L. Aven, Associate Professor of Organizational Theory, Strategy, and Entrepreneurship. 
Hernandez relied on homophily, or the idea that people are more likely to form relationships with others who are like them, to encourage his coworkers to participate.
"I remembered the concept from organizational behavior to start with people that are like you, and they are more likely to want to do things with you, to help you out," he said. "They're going to perceive your message better."
Hernandez also recalled the concept of propinquity, or forming relationships with the people who are around you.
With those two ideas in mind, he started gathering support for the group by asking another Latino intern he knew for help. 
After about a month, he had gained momentum with enough coworkers to host the ERG's first event. 
Hernandez hosted the lunch-and-learn, attended by about 15 people, and taught those gathered about the concepts that helped bring them together in the first place: homophily and propinquity.
Effective in a short time 
Throughout the summer, Hernandez earned executive sponsorship for the group and continued to spread the word about it, posting requests digitally and in the cafeteria of Thermo Fisher's Boston office, which has about 400 total employees.
"I didn't have a lot of time, so I wanted to be the most effective," he said. "The whole goal was to just build support."
Hernandez isn't new to leadership roles, however. He came to Tepper after working for Chevron in Houston for 12 years in technology development and deployment. Prior to that, he earned a bachelor's degree in civil engineering at the University of Massachusetts Amherst.
During his time as an undergraduate, then as a professional, he joined the Society of Hispanic Professional Engineers, and took on several roles within the organization.
From 2015 to 2017, he served as community outreach coordinator and the following year became president and CEO of SHPE's Houston chapter.
At Chevron, he led 800 coworkers as Houston site co-lead for Somos, the Hispanic employee network.
"It's hard to stand up at work," he said. "It can be very risky if you stand up for your identity, just to say I am Latino and I'm proud of it."
Culture of hard work 
Now back at Tepper, Hernandez is involved in several MBA clubs, where he serves as president of the Organizational Leadership Club, alumni officer of Latin-American Business Club, and finance officer of the Adam Smith Society. He also serves as an MBA Student Ambassador and was profiled as part of Poets and Quants' Class of 2020.
After considering universities in the Houston area, Hernandez applied to Carnegie Mellon through the Consortium for Graduate Studies in Management, which aims to increase the number of underrepresented minorities in executive roles. 
"What sold me on Tepper was the culture here aligned with my own personal culture of hard work," he said, and was inspired by both Andrew Carnegie and David Tepper's personal stories connected to the university. "I really related to Carnegie's story. He came from humble beginnings and donated all his money to charity for research and academics."
Set up for success
Through the ERG at Thermo Fisher Scientific, Hernandez planned outreach from the company to the middle school that he attended in nearby Chelsea, Massachusetts, where employees participated in a STEM outreach event with 1,500 attendees; led students building K'Nex cars during an engineering workshop; and helped with a company donation of 800 lab kits.
Hernandez said even though his Graduate Leadership Development Program internship with the company ended, he hopes he set the group up for continued success through relationships that he built.
"I did everything that I could to set it up for success in the end," he said. "It allowed me to see the application of what I've been learning in school, and how it actually does work."
For anyone wanting to apply the same concepts to building a group or organization, Hernandez suggested starting with friends and letting them in on the planning.
"Make it easy for people to be part of it," he said. "At the same time, make sure that they get intrinsic value, because the intrinsic value is going to get them to feel committed to continue it going."