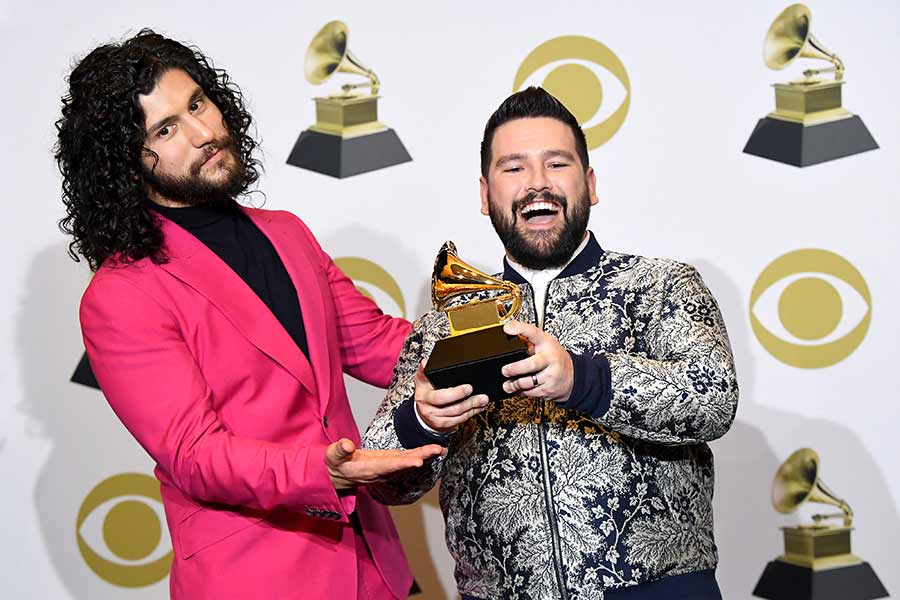 January 27, 2020
Tepper Graduate Wins at 62nd GRAMMY Awards
By Heidi Opdyke opdyke(through)andrew.cmu.edu
Two Carnegie Mellon University alumni took home awards on Sunday night from the 62 annual GRAMMY Awards.
Dan + Shay Win GRAMMY
Alumnus Dan Smyers, who graduated from the Tepper School of Business in 2010 with a bachelor's degree in finance, won his second GRAMMY for Best Country Duo/Group Performance for "Speechless" along with Shay Mooney, as part of Dan + Shay. Smyers is a Pittsburgh-area native. "Speechless" also was nominated for Best Country Song.
"I want to put my heart up to this microphone. You can literally hear it beating out of my chest right now. This is one of the coolest moments ever. Thank you to my wife, Abby, who is in the crowd down there, for inspiring this song, for inspiring every song that we write. For inspiring everything we do in our lives," said Smyers, who will perform prior to Super Bowl LIV on Feb. 2. "This is an absolute dream come true."
Dan + Shay Win Best Country Duo/Group Performance at the 62nd GRAMMY Awards.
Gilbert Rose Wins for Best Opera Recording
Gilbert Rose, who graduated from CMU's School of Music with a master's degree in fine arts in 1991, won for Best Opera Recording as conductor and producer of Tobias Picker's opera "The Fantastic Mr. Fox." Rose is the founder and principal conductor of the Boston Modern Orchestra Project. This was his fourth nomination and first win. Rose said his success is in part due to his education from Carnegie Mellon.
"My time at CMU remains vivid for me," Rose said. "Most important in my development were the chance to work with master teachers, Samuel Jones, Juan Pablo Izquierdo, and Robert Page in a distinguished Graduate Conducting program."
Congrats Best Opera Recording winner - 'Picker: Fantastic Mr. Fox' Gil Rose, conductor/producer; @JohnBrancy, @BrownOpera, @PreisserGabriel, Krista River & Edwin Vega (@BMOPmusic & Boston Children's Chorus)

WATCH: https://t.co/iPjts7zMCt #GRAMMYPremiere #GRAMMYs pic.twitter.com/geCOxxW3Tz

— Recording Academy / GRAMMYs (@RecordingAcad) January 26, 2020
Billy Porter Among GRAMMY Presenters
CMU alumnus Billy Porter, who won a GRAMMY for the Musical Theater Album for "Kinky Boots" in 2014 and an Emmy for his work on "Pose" in 2019, was among this year's presenters. Porter, whose red carpet fashion has made him an icon, wore more than 70,000 crystals and included a remote-controlled retracting crystal fringe veil on a custom hat.
Get on my nerves, and the curtain closes! 😂 Living for my lewk styled by @sammyratelle with a custom design by @scottstudenberg of @bajaeast and featuring a custom hat by @sokolmillinery & mechanically engineered by @SM00TH_TECH. pic.twitter.com/GsCY09aNzc

— Billy Porter (@theebillyporter) January 27, 2020
Best Orchestral Performance
In addition to Smyers and Rose, The Pittsburgh Symphony Orchestra's recording of "Bruckner Symphony No. 9" was nominated for Best Orchestral Performance, also receiving nominations for best engineered album and producer of the year.
Twenty members of the faculty of the Carnegie Mellon School of Music are members of the orchestra and participated in the recording: Christopher Allen, Neal Berntsen, Jeremy Branson, William Caballero, Tatjana Mead Chamis, Rebecca Cherian, Cynthia Koledo DeAlmeida, Jeffrey Dee, Nancy Goeres, Peter Guild, Micah Howard, Craig Knox, Stephen Kostyniak, Lorna McGhee, David Premo, Michael Rusinek, Peter Sullivan, Gretchen Van Hoesen, Anne Martindale Williams, and Christopher Wu. Alumna Claudia Mahave, a 1993 graduate of CMU's School of Music, also plays second violin on the recording.