February 27, 2020
Entrepreneur Meredith Grelli Finds Success With Uncommon Business Model
Tepper alumnae Meredith Grelli (MBA 2010) now shares her entrepreneurial wisdom and experience in the classroom.
After graduating from the Tepper School of Business, Meredith Grelli (MBA 2010) worked at the H.J. Heinz Company in brand management. Not long after that, however, she and her family started work on building a distilling company that would become Wigle Whiskey, named for Pittsburgh distiller, Philip Wigle, who contributed to the instigation of the Whiskey Rebellion.
Grelli spoke at the Swartz Center for Entrepreneurship as part of the James R. Swartz Entrepreneurial Leadership Series. Grelli's presentation, titled "Building a Growing Business," focused on the story of her whiskey business and how she has found success in a historically challenging market.
"Meredith is an excellent model of an entrepreneur who really understands all aspects of what it takes to build a business from the ground up," said Dave Mawhinney, Executive Director of the Swartz Center, Associate Teaching Professor of Entrepreneurship. "She has profound wisdom to offer our students on their own entrepreneurial paths."
Grelli is now bringing that wisdom into the classroom at the Tepper School, where she teaches the Lean Entrepreneurship course.

Roots of American Whiskey
Grelli opened her presentation by explaining some of the history of whiskey in Pittsburgh. She indicated that Western Pennsylvania is the birthplace of American whiskey. Monongahela Rye whiskey became extraordinarily popular across the United States in the 19th century, she said. "We are producing half a barrel of whiskey for every man, woman, and child living in America at this point."

One prominent story she told was that of Abraham Overholt, who moved to Western Pennsylvania to produce rye whiskey. To this day, Old Overholt is considered America's oldest continually maintained brand of whiskey. "This is the whiskey that the Northern troops are drinking in their rations during the Civil War," she said. "This is the whiskey that classic cocktails — sazeracs, old fashioneds, Manhattans — are built on." Overholt's grandson, Pittsburgh "robber baron" Henry Clay Frick, inherited the distillery and would go on to share ownership with Andrew Mellon, one of Carnegie Mellon University's namesakes.
As she traced the history of whiskey beyond the Prohibition era, she said that in 2013, 80% of the rye whiskey sold in Pennsylvania state liquor stores came from two distilleries: MGP Ingredients Inc. and Beam Suntory. She said a distributor of MGP had offered to sell Wigle its rye whiskey at a wholesale cost of $2.75 a bottle. "You do not need an MBA to know there is a lot of margin between $2.75 and $50 on the shelf," she said. "This looks like margin that's built on consumer confusion. And we want to build a company whose value increases as consumer education and transparency increases, because this is untenable."
Further, she said, sourcing from so few distilleries limits the opportunity for variation between individual whiskeys. She listed five factors that influence the taste of a whiskey: the source of the grains used, the method of fermentation at the distillery, the modifications made during the distilling process, the duration of the aging process, and the proof value of the final whiskey. "If everyone is buying whiskey, though, from the same two suppliers — the same rye whiskey — you eliminate a lot of the differentiators in flavor," she said. "All you're left with to talk with consumers about is how long it was sitting in a barrel and what proof you're bottling it at."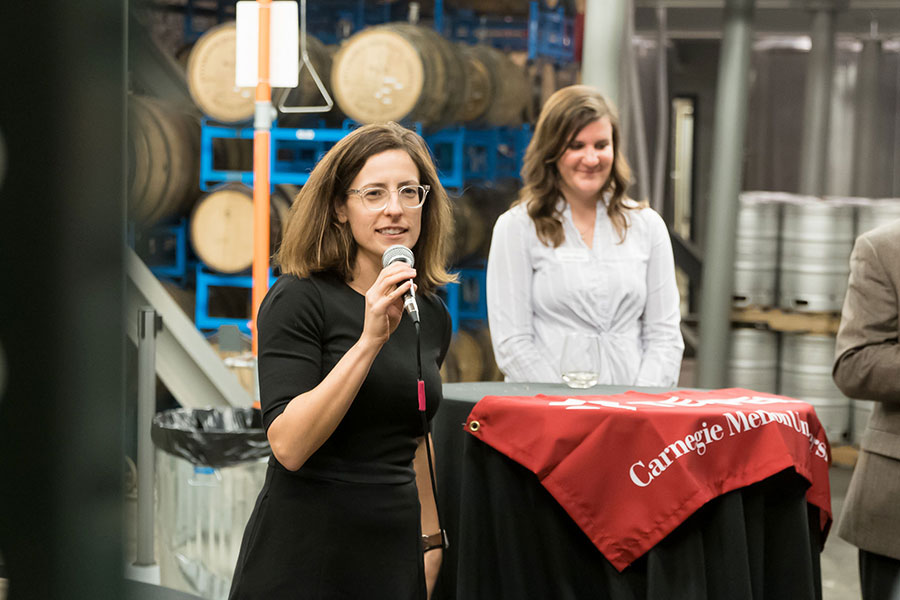 Meredith speaks to Tepper alumni at Wigle Whiskey.
Sustainable Operations
Grelli was inspired to build the Wigle brand on the "taste of place," she said, focusing on Pennsylvania rye whiskey. They committed to using regional ingredients and operating fully organically. She noted that rye grown in Pennsylvania exhibits high levels of chemicals that give whiskey its rye flavor, as well as flavors often perceived as apple or pear. "We think there really is something to this regionality in spirits that our country has been missing now for 100 years," she said.
She allowed that Wigle's business model comes with unique challenges. "If we were going to start a distillery in the traditional mold, what we should have done was found a manufacturing spot in the exurbs in some cheap warehouse, focused on a singular product, produced it as efficiently as possible, and distributed it as widely as possible," she said. "If we do it like that, Diageo's going to beat us every single day at sales and marketing. We're going to lose this game. So instead of playing this game, let's try to change the game."
Instead, she said, Wigle focused on innovating new products and production methods to bring on a broad customer base and on creating opportunities for those customers to experience Wigle's products and learn more about whiskey. The company engages directly with consumers throughout the development process as they cultivate new product lines. These connections, Grelli said, have helped create brand loyalty and increase its recognition in the region.
Among the things Grelli said she is most proud of is Wigle's influence on agriculture in Western Pennsylvania. Because the company buys so much grain from regional farms, it has brought numerous fallow farms back into operation and converted several to organic practices. She also said Wigle was the first company in Pennsylvania to sign onto Governor Tom Wolf's living wage program and is committed to investing in the neighborhoods that Wigle and its sister company, Threadbare Cider, have entered.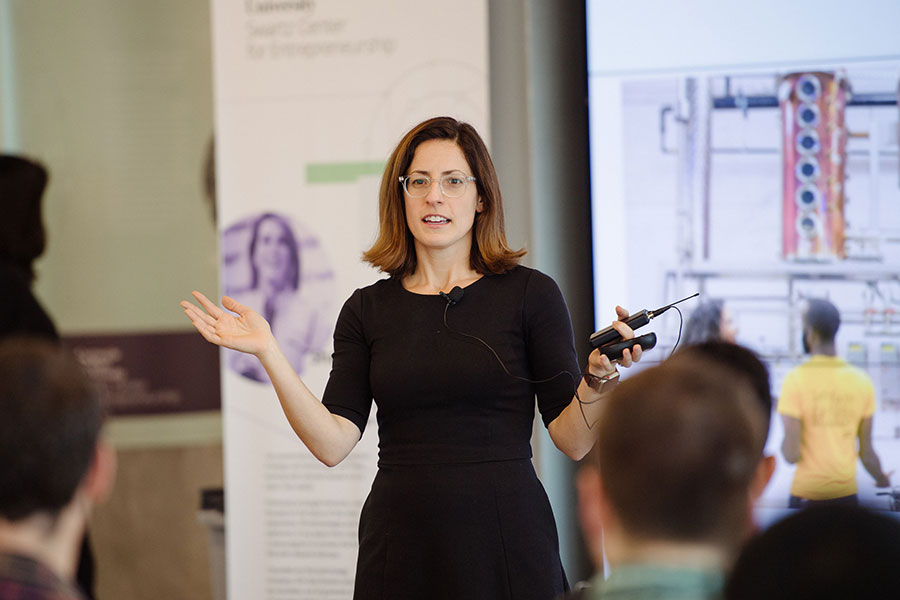 Meredith speaking at the Swartz Center for Entrepreneurship in 2019.
Inspiring Entrepreneurs
As an adjunct professor at the Tepper School, Grelli teaches the Lean Entrepreneurship course, an introductory class on entrepreneurship that walks students through enterprise creation and growth. "Students come out of the course with the beginnings of a business plan they can work on," Grelli said. "The students have a wide range of prospects, demonstrating an enormous diversity of interests and experiences."
One of the students, she said, is exploring a way to prevent bedsheets from rustling during the night, while another is interested in applying optimization models and machine learning in nuclear engineering. Grelli guides the students in taking these ideas through value proposition and consumer research toward developing a business pitch.

"I love being around our students with their inspired and inspiring ideas," Grelli said. "It re-energizes you."