February 27, 2020
Global Challenges Competition Tackles Income Inequality
The annual hackathon-style competition challenges small teams of students to consider some of society's most pressing issues, using economic reasoning and data analytics to address a common and narrowly defined problem.
The second annual CMU Global Challenges Competition invited students from across Carnegie Mellon University to develop solutions focusing on income inequality.
The 24-hour hackathon began on the evening of Friday, Jan. 31, 2020, with an introduction by James Garrett, Provost and Chief Academic Officer for the university, emphasizing the need for interdisciplinary collaboration in solving a challenging problem such as inequality. The provost highlighted that inequality is part of the United Nations Sustainable Development Goals, which are a priority for him and CMU.
Students Spend 24 Hours Developing Policy Proposals 
The competition then started with the presentation of the challenge by its organizer Laurence Ales, Associate Professor of Economics, Director of Undergraduate Research in Economics. Student teams spent the next 24 hours gathering data and creating a presentation on their policy proposals. A total of 87 students participated in the competition, representing all seven colleges at CMU.
Throughout the competition, advisers Ales; senior economics student Shlok Goyal; and Tepper School Ph.D. students Andre Mouton, Hakki Ozdenoren, Rachel Szymanski, and Xuege Zhang were available to offer guidance.
The Saturday evening presentations were judged by Tepper School of Business faculty members:
The judges evaluated presentations based on how realistic the proposals were and how well the students incorporated quantitative analysis. "For such a limited time period, the students were extraordinarily thorough and creative in their analyses," Goldburg said. "The competition provides our undergraduate students with the ideal scenario to use the strategic tools they've learned in their economics courses to practice on a real-world problem.
"As an educator, it is a joy to see the results of the team efforts — in particular, we can see the fruits of the CMU economics education. The sophistication of the final projects is directly related to their cohort years: first-year students begin by looking at correlations between the data while the winning team took a standard macroeconomic model, modified it, and then simulated results with the same sets of data."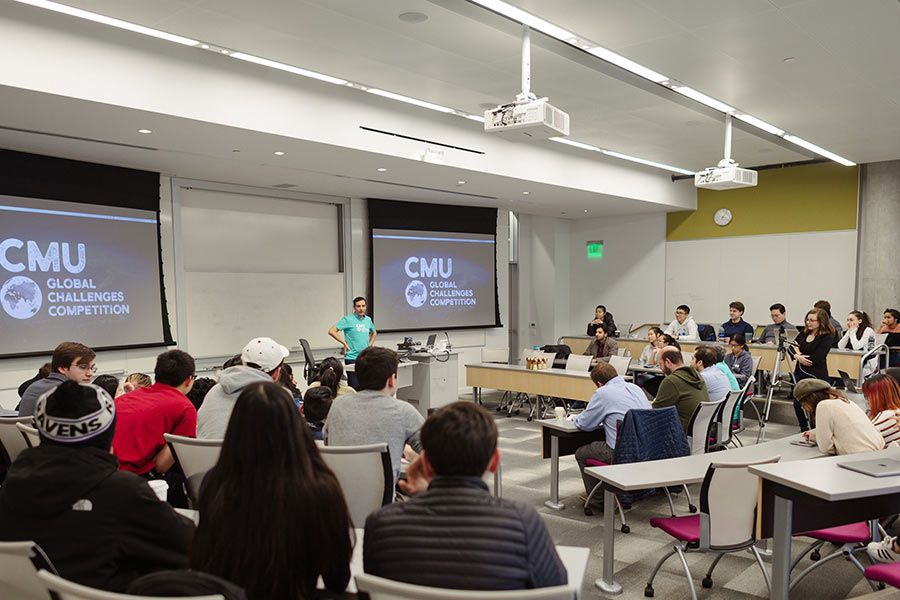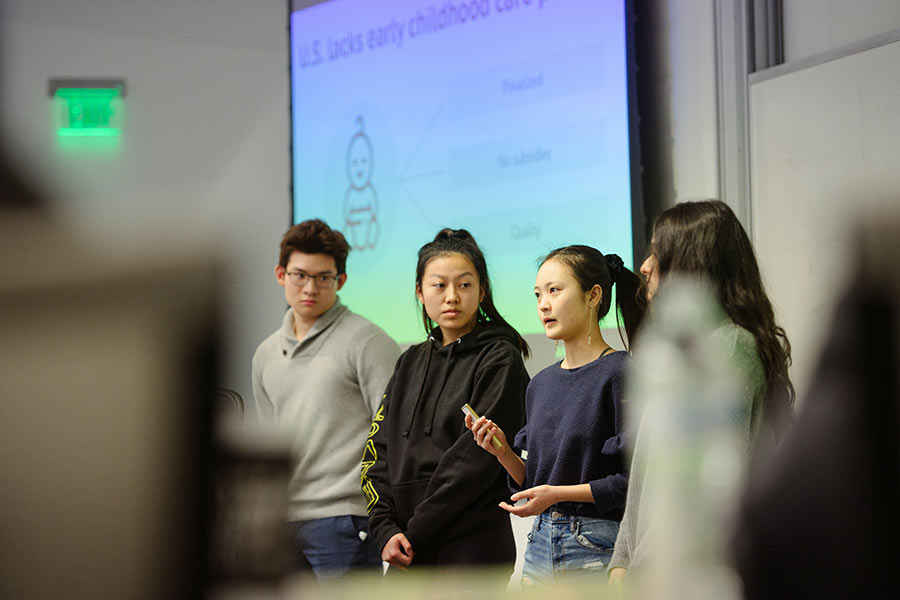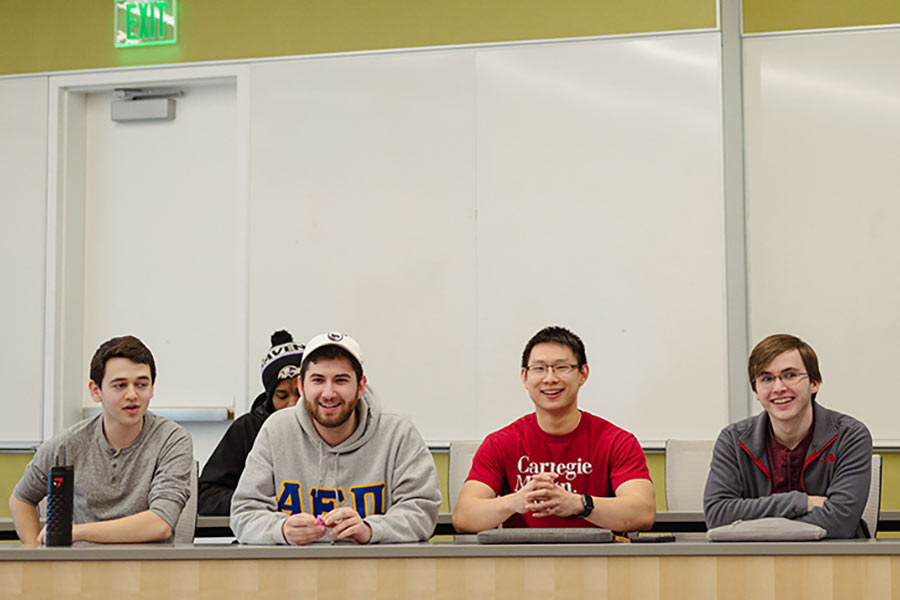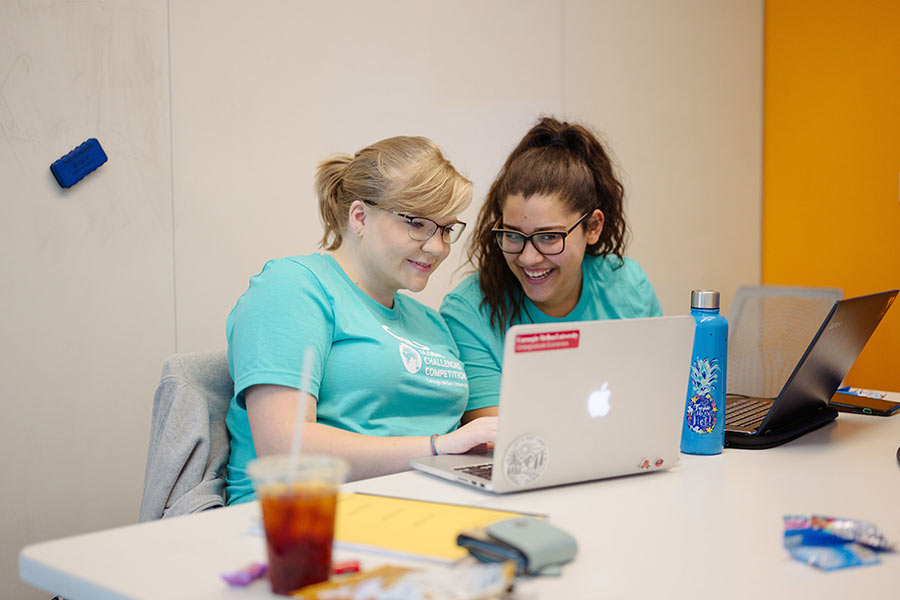 "Galt and Co." Named Winning Team
The winning team, named "Galt and Co.," included junior economics major Jack Dunbar. "We had a rigorous and direct approach to the problem," Dunbar said. "We broke the subject of inequality down and addressed a specific aspect: the split between capital and labor income. Our development of an economic model to explain the problem and the application of that model allowed us to make real predictions."
Several other teams representing students from the Undergraduate Business Administration and Undergraduate Economics students earned recognition at the event, including runners-up "Challengers," with first-year business student Chujun Li. With their team "EK," business students Kelly Yang and Isha Patel earned the "Best Article" award, and team "Lil' Sun" including economics and politics sophomore Leo Li were selected for "Best Quantitative Analysis.
A team of first-year students, including economics student Daniel Kornbluth and business student David You, earned an "Up and Coming" award. "I found the Global Challenges Competition to be a great opportunity to apply the skills I've learned in courses I've taken at CMU toward real-world problems," Kornbluth said. "The experience of working in a team on an important societal issue was invaluable, and I'm excited to participate next winter."
His teammates on "The President's Cabinet" also expressed eagerness to sign up for next year's challenge. "I found the competition to be a wonderful experience overall," You said. "The bond that has formed between me and my teammates is something that I will never forget."