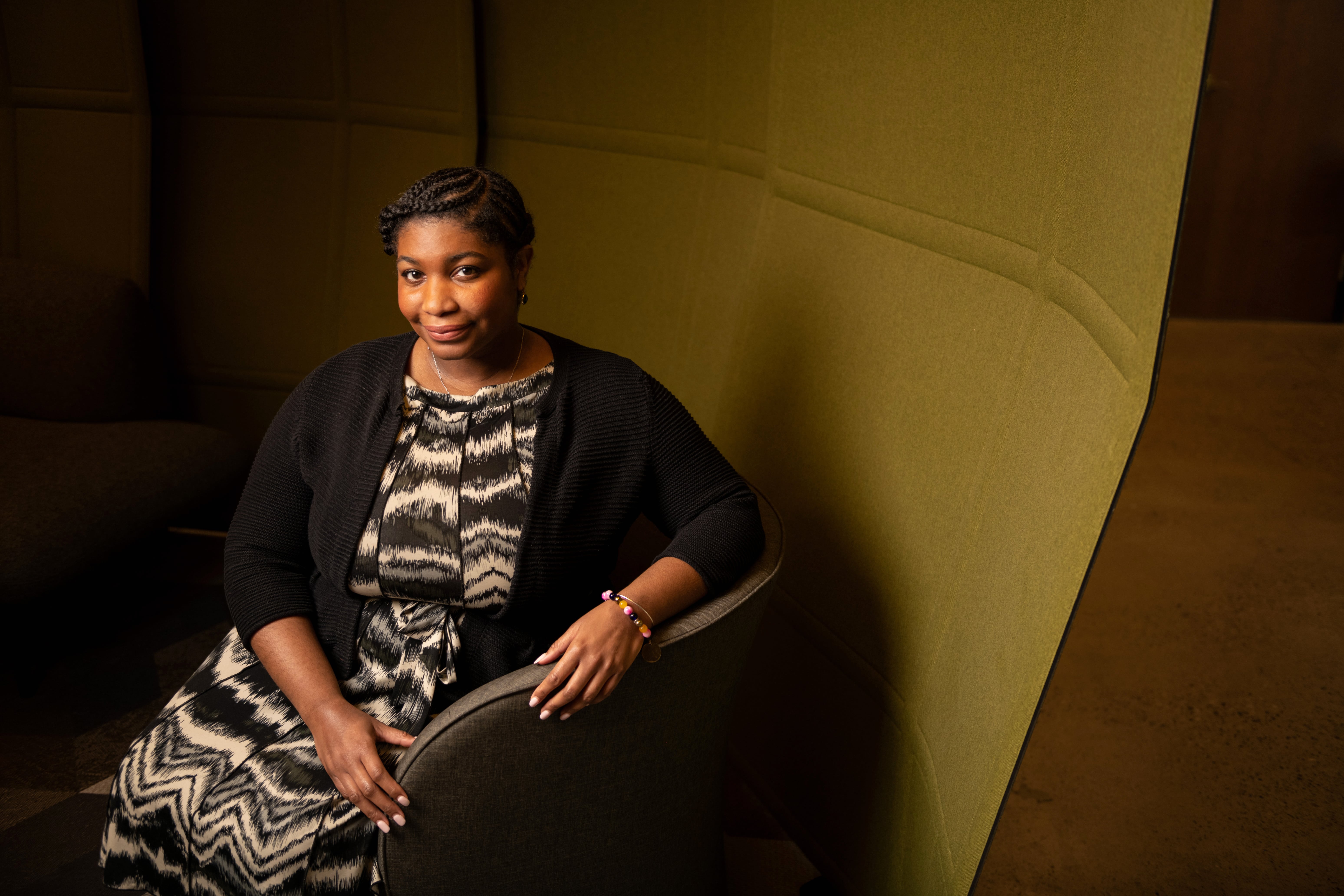 February 06, 2020
Alumni Profile: Courtney Williamson Helps Others Stand Tall
Alumna Courtney Williamson's life led her to an unexpected calling — creating life-changing medical devices that may help cure Parkinson's disease.
Helping a father walk his daughter down the aisle at her wedding, facilitating a mother's wish to surprise her son at the airport without a walker, empowering an avid hiker to get back on the trail — Carnegie Mellon University alumna Courtney Williamson (TPR 2012, 2016) pioneering Calibrace+ makes these seemingly impossible dreams possible.
Work That Makes a Difference in Peoples' Lives
"If you're able-bodied, it seems like a small thing to be able to sit or stand up straight and look someone in the eye," Courtney explains. "But for those suffering from Parkinson's disease and neuromuscular disorders, our (back brace) enhances and improves their day-to-day quality of life."
Through the challenges and triumphs of founding medical device startup AbiliLife five years ago to leading it into new frontiers as CEO, one thing remains constant for Courtney.
"I feel great knowing that I'm making a difference in peoples' lives."
Courtney Williamson's TEDx Talk: Changing Paths to Help Those with Parkinson's Disease
"At CMU, we're always encouraged to try new things, and here I was surrounded by so many engineers with a new idea and a new concept."
New Idea, New Concept
Courtney expected to end up with an academic and research career in organizational behavior, but AbiliLife was a nagging idea she just couldn't shake.
At Tepper School of Business, she was studying the inner workings of community colleges in a doctoral program she loved with guidance from an advisor she admired, but her experience as a caregiver to her mother altered her course.
Her mother, along with the vast majority of Parkinson's patients, suffered from impaired posture and balance causing her to have difficulty breathing, increased falls and fewer quality social interactions.
After failing to find a treatment or product that would alleviate her mother's issues, Courtney turned to her Tartan peers to make one product for her mom.
Ten prototypes, a yearlong biomechanical engineering project with CMU undergraduates, innumerable conversations with patients and clinicians and infinite advice from entrepreneurs in the Swartz Center for Entrepreneurship led her to that "one product" — Calibrace+, a support system that pulls a user's shoulders up and back to help improve posture and balance.

"At CMU, we're always encouraged to try new things, and here I was surrounded by so many engineers with a new idea and a new concept," Courtney recalls.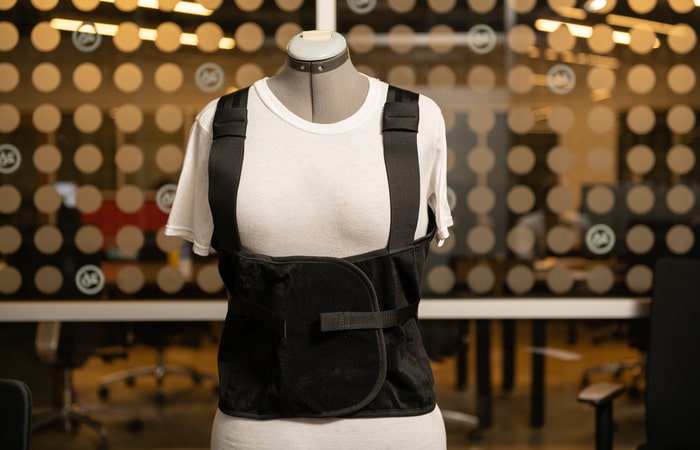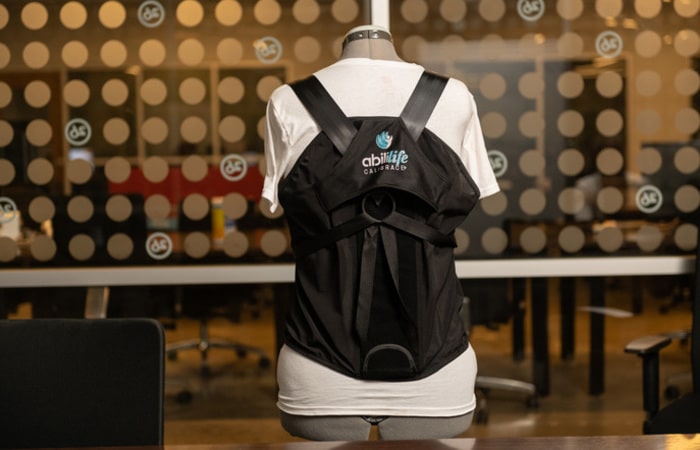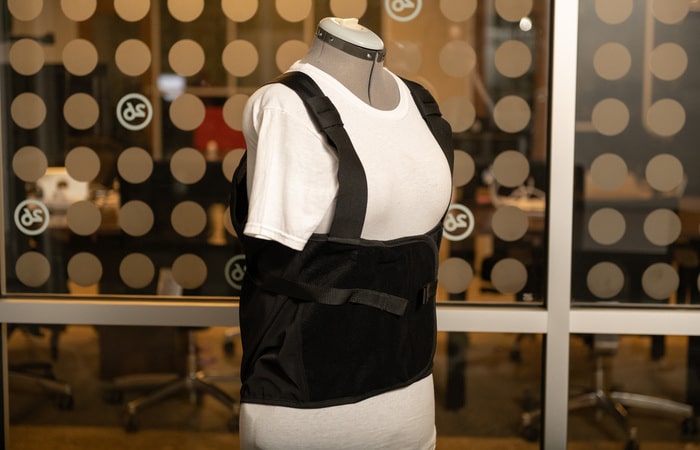 Enhancing and Improving Lives
"I knew I wasn't the subject matter expert in engineering. I also knew I had the experience of being a caregiver, and by collaborating with others, I could build a life-changing product," Courtney says. "It's considered a novel invention by the U.S. Patent Office, and that was something I didn't expect."
Reimbursed by government and commercial health insurance companies, the Calibrace+ is available with a doctor's prescription across the United States.
The company's next invention will incorporate wearable technology and machine learning to create a "smarter" Calibrace+ that is able to track Parkinson's symptoms that can lead to falls. Users will see how their posture, balance, and gait affects their likelihood of failing, while researchers will harness its powers to test new drugs or therapies as they seek a cure.
Her drive to innovate with a limitless mindset stems from her days at Carnegie Mellon.
"At CMU, people push boundaries," she explains. "There's no anxiety about whether something has been done before and if you should try it. That's absolutely helping me in building my company."
Alibi: Our Life Story
"At CMU, people push boundaries. There's no anxiety about whether something has been done before and if you should try it."
Meeting a Global Need
Requests for the Calibrace+ are flying in from around the world as AbiliLife looks to expand its footprint to a global scale with upgraded fits and additional color options.
Courtney credits this evolution in her product line to her obsession with learning every aspect about her customers such as what they do in their free time, their motivations and possible anxiety inducers.
"I learned how to be a research scholar at Carnegie Mellon, and it gives me a leg up," Courtney shares.
These behaviors are just some of the many lessons Courtney hopes to pass on to fellow entrepreneurs through shareable step-by-step, online modules about how to start companies that sell physical products she has created that reconnect her with her love of teaching.
"I've found there are a lot of people wasting time, resources and energy on projects they are passionate about, but they don't have the knowledge to execute them," Courtney says. "I was lucky enough to have tremendous resources like the Swartz Center. I want other people to succeed and bring their products to life like I have."