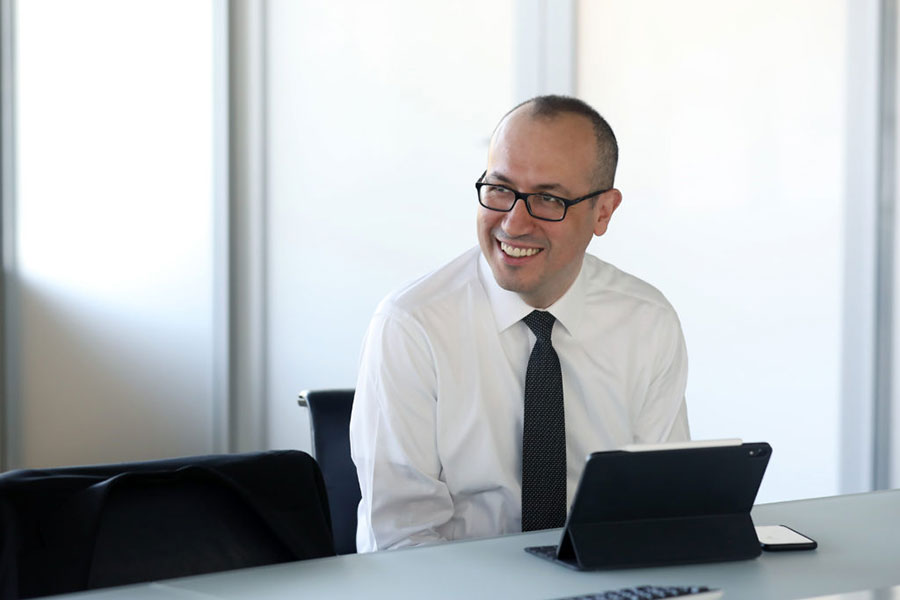 December 11, 2020
Alumni Spotlight: Onur Genç, Chief Executive Officer of Banco Bilbao Vizcaya Argentaria Group
Onur Genç (MBA 1997) stresses to future leaders that trust is the bedrock of relationships and successful teamwork.
Onur Genç (MBA 1997) is no stranger to leadership. As Global Chief Executive Officer (CEO) and Board Member of one of the largest financial institutions in the world, Banco Bilbao Vizcaya Argentaria (BBVA) Group, Genç strives to deliver value to shareholders, employees, customers, as well as society overall, and make BBVA's purpose to bring the age of the opportunity to everyone a reality each day.
"We all depend on each other to do well in life and I believe the value of success multiplies with the number of people involved in the making of it," said Genç.
"Embracing teamwork is a must and trust is the bedrock of relationships and successful teamwork. So, find very talented, fit-for-role team members and establish a trust-based relationship with each one of them. There is nothing that can beat a strong team in business life, and it makes your life more enjoyable and fun."
As the financial services industry continues to evolve, Genç shares some of the ways BBVA is implementing more digital banking technologies and cultivating diversity and inclusion.
Tell us more about yourself.
I'm originally from Trabzon, Turkey. I hold a bachelor's degree in electrical engineering from Boğaziçi University in Istanbul and an MBA from Carnegie Mellon University in Pittsburgh, Pennsylvania. 
I am married with two children and live in Madrid, Spain.
I became a Pittsburgh Steelers fan 25 years ago when I traveled to the U.S. for the first time and started at the Tepper School (known as the Graduate School of Industrial Administration at the time). Despite the many hours of time difference with most of the places that I have lived since then, I rarely miss a Steelers game. Go Steelers.
What brought you to the Tepper School?
Tepper's more analytical approach to solve business problems was noteworthy even 25 years ago. As an engineer, I was attracted to that analytical approach. 
Tell us about your path to BBVA.
I have been extremely fortunate to work with great people throughout my career. I spent 13 years (1999-2012) at McKinsey, consulting predominantly to financial institutions, living in four different countries (Canada, UK, Netherlands, and Turkey) and conducting projects in more than 10 countries. Lastly, I was a senior partner and country manager of McKinsey in Turkey, being elected to both positions at a very early age of 34.
After McKinsey, I joined Garanti BBVA bank (a subsidiary of BBVA Group) in Turkey in 2012. My main responsibility was leading retail banking operations, and thanks to our great teams, we achieved market shares in core products that clearly exceeded our natural market share of branches and ATMs. In 2017, after five years at Garanti BBVA, I became the CEO of BBVA's operations in the U.S. based out of Houston. We became one of the highest growing retail banks in the U.S. with leading digital capabilities. After two years as BBVA CEO in the U.S., I became the BBVA Group Global CEO in 2019.
Tell us more about your organization.
BBVA is a global financial services group founded in 1857 in Spain. The group has a strong leadership position in the Spanish market, is the largest financial institution in Mexico, and has leading franchises in South America and in the Sunbelt Region of the United States (whose sale to PNC was recently announced). It also is the leading shareholder in Turkey's Garanti BBVA.
As of Sept. 30, we have total assets of more than $800 billion. We have 124,110 employees around the world and 79.9 million customers. The company's revenues for 2019 amounted to $28 billion. Among the top 15 largest European banks, we have the highest return on tangible equity, and enjoy a unique profitability-growth profile.
BBVA is a purpose-driven organization. Our success as a bank is defined by our purpose to bring the age of opportunity to everyone. Our values define our identity and are the pillars for making our purpose a reality: the customer comes first, we think big, and we are one team.
How has the increasing role of technology and digital banking impacted BBVA?
Digital transformation is something that we have been pushing for many years. We are pioneers in commitment to digital, and we have gone through a significant internal transformation.
Our digital strategy is already paying off. The number of clients that interact digitally and through mobile devices has doubled and tripled respectively since 2015. We also are proud to have our BBVA Spain mobile banking app ranked at the top of Forrester's global mobile banking app list, for the third year in a row, and BBVA Turkey banking app that ranked second globally.
And undoubtedly, one of the most important benefits of digitization is the impact on customer satisfaction. With the help of our digital assets, but also and even more importantly, due to the strength of our people, we have maintained leading positions in the Net Promoter Score in the majority of the countries in our footprint.
How did your time at the Tepper School influence your leadership today?
In my view, there are three main aspects that define good leaders: entrepreneurship, empowerment, and accountability. My time at the Tepper School was influential in shaping these thoughts, because I was too junior and too young at the time (I was 21 when I started at Tepper), and I had the experience of interacting with a very diverse set of colleagues who planted these thoughts early on in my mind:
The first one is to have an entrepreneurial attitude, driven by the desire to explore, test, and propose improvements. Be courageous with our ideas and always strive to improve results. This entrepreneurial attitude also calls for action. No impact is created without action. Leaders should always be ready to make decisions and act fast. One of my favorite expressions with the team is a simple "Let's go" to initiate the execution.
Second, we must empower people, actively listen to them, and inspire and encourage them to give the best of themselves. I believe the level of success is in line with the number of people involved in making it happen.
And third, we must be accountable by taking ownership of our work to achieve results. Good leaders I've met were always taking accountability of what they do and making sure that others, who were empowered to do their jobs, assumed the same accountability. 
How does BBVA support diversity and inclusion?
Diversity and inclusion is a key value for BBVA. Two years ago, we decided to face this challenge of diversity as one of BBVA's transforming drivers in the management and training of our employees. Based on extensive, quantitative, and qualitative research, we designed some lines of work in diversity and inclusion.
If we take one aspect of diversity as an example: we have decided to take action against gender bias in the execution of our talent and culture processes (inclusive job offers, Rooney Rule, which requires that at least half of the finalist candidates for internal positions should be women) and lifting the internal and external barriers for our female talent to advance (flexibility and work-life balance, defining an inclusive leadership model and creating additional sources of female talent to tap on and ensuring maternity impact is fair).
To ensure we deliver on this plan, we have defined diversity scorecards for each area that will be quarterly reviewed with me and the bank chairman. In this sense, I am proud to point out that we have significantly improved our percentage of female directors in our management committee, from 5% a year ago to 17% as of today.