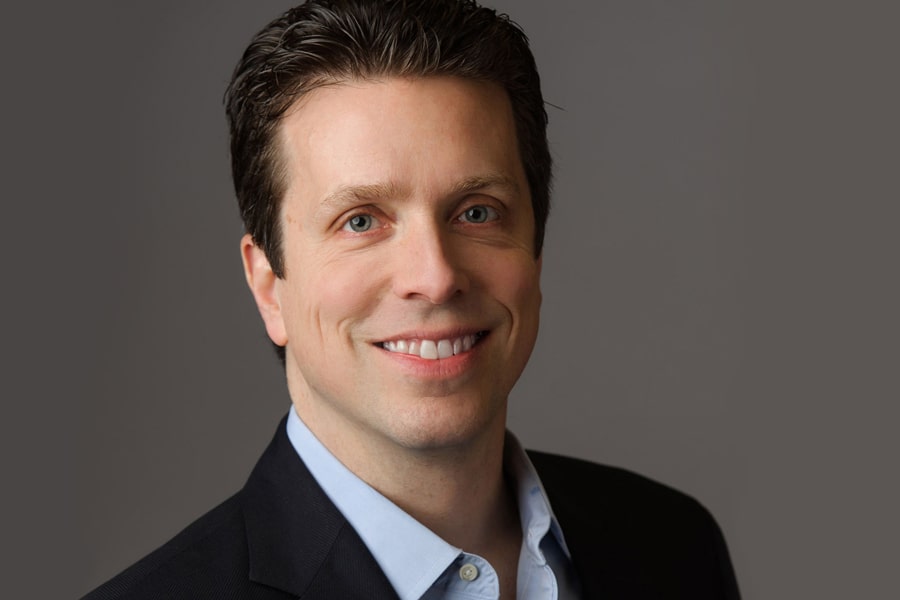 August 31, 2020
Alumni Spotlight: Eric Evans on the Importance of Clean Air Flow in a Pandemic
Before the COVID-19 pandemic rattled just about every facet of society, it was difficult to gauge what really mattered to people. However, six months after life nearly stopped due to the infectious disease's dramatic and lasting sweep across the globe, a few priorities have become clear.
Air Movement Is Essential to Everything We Do
"Who would have thought six months ago that just going out to eat, attending an in-person class, or seeing a movie in a theater would be the things we miss and desire? But that's what we crave," says alumnus Eric Evans (TPR 2001). Today, Evans serves as CFO of Big Ass Fans (BAF), an airflow solutions company known for its high-volume, low-speed (HVLS) fans. Since COVID-19 can spread through the air via respiratory droplets, proper airflow has become central to how indoor facilities manage the invisible pandemic.

"A lot of people may not realize it, but air movement is essential and critical to everything we do," says Evans. "Being able to provide people a solution to comfort and do it safely with clean air is a very fulfilling thing."

Innovating efficient air systems isn't new to BAF. Just in the last year, the company conducted an experiment on the International Space Station and a few years ago, they worked in Rwanda on a project to kill tuberculosis at Butaro Hospital. COVID, though, has posed a unique opportunity to innovate and Evans is proud that his team has risen to the challenge.
COVID-19 Challenge Spawns World's First UV-C Ceiling Fan System
BAF recently launched Clean Air System, a full-service air disinfection solution that destroys SARS-CoV-2 and other airborne pathogens throughout an indoor space utilizing the proven technologies of Ultraviolet light and ionization. The endeavor initially spawned the world's first UV-C ceiling fan system, followed by an entire line of ionization solutions.
"Once we understood the size of the need and the urgency around it, we took a dozen of our brightest talents across all functions of the business and dedicated them to this mission alone," says Evans. "Fortunately, our folks know a lot about fans and airflow. A lot."

The team revisited its past experience with upper room UV projects (including the Rwandan hospital) and paired the work with a recent project that involved adding a decorative uplight to the brand's Haiku fan. Though the project was originally designed to provide cosmetically appealing, ambient ceiling light, the engineers were able to morph the fan into one that provides ultraviolet germicidal irradiation to the space.
"We sent it for testing to independent labs to prove it killed viruses, specifically testing COVID-19 which most companies don't do— it did kill, an 86% virus reduction in 10 minutes and 99.99% in 20 minutes—and the rest is history," says Evans. "And by offering custom risk mitigation assessments to our customers, we ensure they understand the investment they're making in protecting the people in their space."
Getting Back to the Way School Should Be
Evans explains that ceiling fans are uniquely suited to provide UV purification because:
They are on the ceiling and can safely disinfect the air in the upper room before circulating it back to the occupant level.
With any kind of UV light purification of the air, the air must flow through the "kill zone" of the light to receive the proper dose and the most effective way [pdf] to do this is with a fan.
Fans are constantly at work in the room with occupants, unlike with UV lights in ductwork that provide a source of clean air, but only minimally clean contaminated air being created in an occupied space. 
Clean Air System customers include learning institutions such as Carnegie Mellon University, which recently purchased 20 Haiku fans with UV-C technology in order to help bring in-person education back to its students. "I'm really excited about what we're going to do in the educational space," Evans says. 
"At least half of the value of education is being around other people, interacting with them, being on campus. So rolling out large overhead fans that provide sanitized air in cafeterias or theaters, or Haiku UV-C fans used in classrooms and football locker rooms, is really about getting us back to the way school should be—a social affair."