Join us for the inaugural University Exchange with PwC, April 26-27, 2023, in Simmons Auditorium, Pittsburgh Campus.
Learn from preeminent thought leaders in AI and leave armed with the network and know-how to transform your organization with human-led, tech-powered solutions.
Engage with experts building and deploying operating models at scale with responsible and ethical frameworks.
MORE INFORMATION COMING SOON!!!
 PREVIOUS EVENTS.....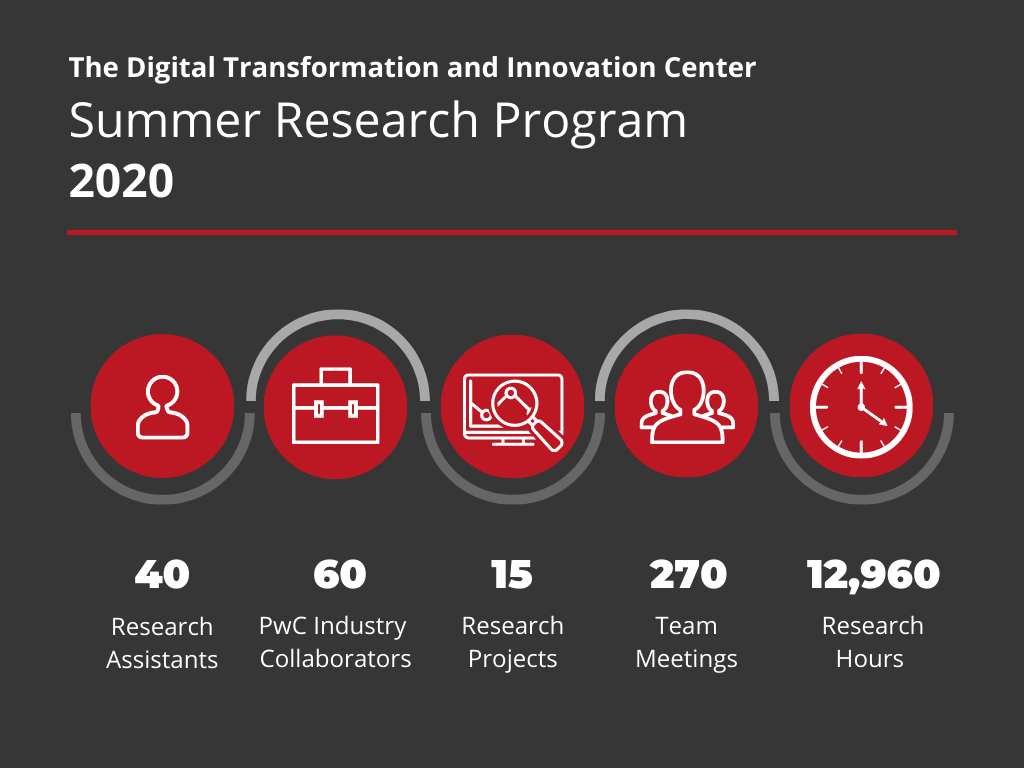 In 2020, due to the limited availability of summer internship opportunities for our Heinz College students because of the COVID-19 pandemic, The Digital Transformation and Innovation Center of Carnegie Mellon University created a summer research program to give students an opportunity to work within multi-disciplinary teams to help address real-life business issues through innovation. Students were hired as full-time Research Assistants to conduct research in collaboration with PwC.
The Summer Research Program at The Digital Transformation and Innovation Center covered research projects in a variety of topics and industries and was divided into four phases:
Market Overview
Deep Dive on Chosen Topic
Prototyping
Presentation 
Please see below for a complete list of Summer Research Projects (*denotes summer topic explored further in a Fall 2020 funded research project).  
Summer Program Topics
1. *Anomaly Detection in Large Volumes of Transactional Data
2. Business Applications of Causal Models
3. *Cloud Benchmarking and Maturity Model
4. *Collaborative VR
5. Document Data Capture
6. *Financial Crime Risk
7. FutureForward:  Architecting the PwC of Tomorrow. Today.
8. Improving WfH Workforce Performance
9. IoT/IIoT Anomaly Analysis
10. Public Health Return to Work Policies
11. *RegTech - Control Descriptions
12. *RegTech - Depth
13. Resilience Stress Testing / Recovery Testing Simulated Environment
14. Star Chart - Knowledge Graph Project
15. VR Platform Evaluation