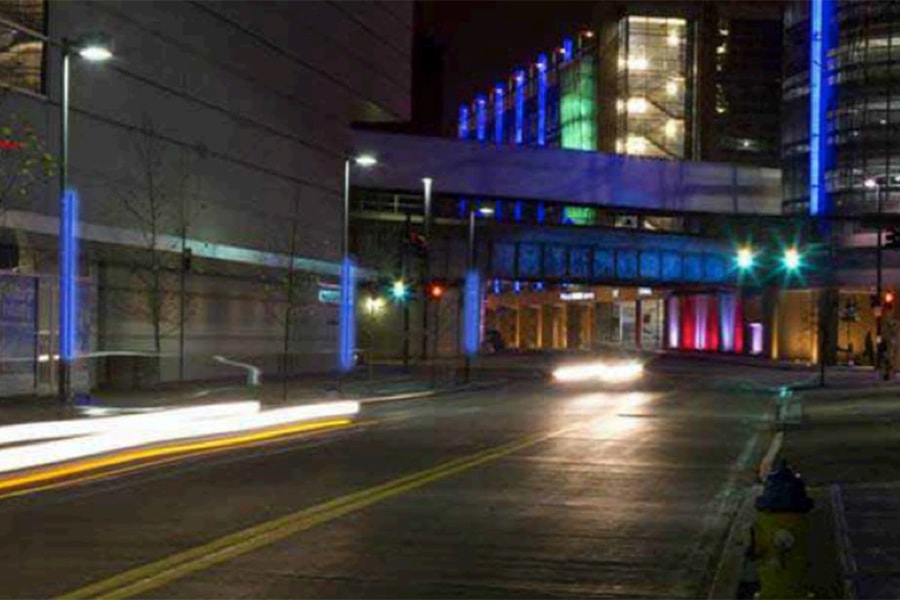 LED Street Light Research Project Part II: New Findings
The City of Pittsburgh and the Remaking Cities Institute (RCI) conducted a project in 2011 to test the effects of LED light quality and develop model specifications for new LED street lighting. Beginning in 2012, the City installed more than 4,500 LED lights around Pittsburgh in a phased installation. LED Part II, completed in 2016, updated the original report with additional research and developed model specifications for lighting controls and recommendations for system management and procurement to replace the city's cobra head street lights.
The report provided an understanding of recent industry and technology changes, addressed common concerns raised when using LED light sources, recommend model specifications for LED luminaries and lighting controls in the public right of way, made suggestions for improving industry norms and code changes, commented on add-on features that showed promise, and discusses what to expect as technology advances and the LED lighting industry matures.
STATUS: http://repository.cmu.edu/cgi/viewcontent.cgi?article=1120&context=architecture
PARTNERS:
City of Pittsburgh Department of Innovation and Performance
FACULTY:
Donald K. Carter (Director)
Director, Remaking Cities Institute, Carnegie Mellon University
doncarter@cmu.edu
Stephen Quick (PI)
Adjunct Professor, School of Architecture and Remaking Cities Institute, Carnegie Mellon University
squick@andrew.cmu.edu
Kayvon Fatahalian
Assistant Professor, Computer Science, Carnegie Mellon University
kayvonf@cs.cmu.edu
Cynthia Limauro
Professor of Lighting Design, School of Drama, College of Fine Arts, Carnegie Mellon University
limauro@andrew.cmu.edu
Marantha Dawkins
Research Associate and Masters Student, Remaking Cities Institute, Carnegie Mellon University
Michael Hill
Research Associate, Remaking Cities Institute, Carnegie Mellon University
Olivia Wells
Research Associate, Remaking Cities Institute, Carnegie Mellon University
Xuan Xu
Research Associate, Remaking Cities Institute, Carnegie Mellon University