Recognize the rejected

I disagree with the idea of affirmative action. [See "Carnegie Mellon joins battle for affirmative action," News, spring.] However, if affirmative action is to be practiced, those who are rejected because of it should at least be publicly recognized for their arbitrarily enforced sacrifices. This is the honorable policy that the university should pursue.
Ralph Coffin E'57, E'63
Altadena, Calif.

In search of vacuum tubes

When I read the spring issue, I was particularly interested in Jennifer Margulis's article on Philip Morrison. Being familiar with his work from television and his articles in Scientific American, I was charmed to learn that he is a Carnegie Tech physics graduate (Class of 1936).
I dare say that when Morrison entered Tech in 1932, there were no offerings related to what came to be known as electronics. That situation had changed hardly at all by 1942, when I became a freshman. Physics was clearly the best available choice as major, since at that time the single course that conceded the existence of the vacuum tube was offered by the Physics Department! At the time of my post-military return, things had changed and, while I graduated as a physics major, I happily opted for a master of science in electrical engineering.
I will certainly look forward to reading other articles on the careers of distinguished Carnegie Tech and Carnegie Mellon graduates—but I will be pleasantly surprised if any excite the same degree of interest as did "From A-bombs to burnt doughnuts."
Lawrence Johnson S'48, E'49
Brooklyn, N.Y.

Where credit is due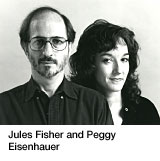 In the article "Rob Marshall wows with 'Chicago'" (Makers & Shakers, spring), you credited me as a lighting legend. Unfortunately, this is only half true. The most important half that you omitted was the brilliant contribution to the "razzle-dazzle" of the lighting made by my partner, Peggy Eisenhauer (A'83). The proper and full credit on the film was "Theatrical Lighting by Jules Fisher and Peggy Eisenhauer."
Jules Fisher A'60
New York City, N.Y.


Bring on the music

As a parent of a vocal music major, I would love to hear more about what is going on in the music programs at Carnegie Mellon. My son Nathan, a senior, has nothing but praise for the faculty, programs and performance opportunities available to him. Music may not be what the majority of the alumni majored in; nonetheless, it is right at the top of my list of interests. I do enjoy receiving your magazine. Please keep it coming.
Gary Hylan
Wakefield, Mass.