Ann Curran ends 22 years as magazine editor
As Carnegie Mellon Magazine editor, Ann Curran filled this space with insightful personal reflections and observations. Between the Lines was her forum, her letter from the editor to the magazine's 80,000 readers. Ann resigned from her post this past April, leaving a tough act to follow.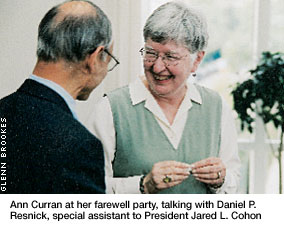 Under Ann's 22-year leadership, the magazine won numerous awards for its feature stories, design, illustrations and photographs. Ann personally won many writing awards. Her "Moving South to Outer Space" feature on Dante, a robot created at Carnegie Mellon that traveled into an active volcano on Mount Spurr in Alaska, earned a first-place commendation from Women in Communications.
Respected by her peers, Ann played an instrumental role in the national Council for the Advancement and Support of Education, helping to establish and initiate a set of standards and a code of conduct for college and university editors.
In a letter to the magazine's advisory board, Ann recalled her interviews with the late Andy Warhol (A'49), astronaut Judith Resnik (E'70), actress Holly Hunter (A'80) and the cast from the "Hill Street Blues" television series, which featured Charles Haid (A'68), Bruce Weitz (A'66), Barbara Bosson (A'70) and producer Steven Bochco (A'66), as some of her most memorable moments as editor.
"Ann raised the magazine to the top level of professionalism and provided a service to all alumni by making it inclusive of all of the activities of the university," says Art Marino (E'58), a 20-year member of the magazine's advisory board. "Ann made sure that the alumni were aware of the university's increasing status in the academic world."
Marino, an adjunct associate professor of public relations and business writing at Point Park College and principal of his own firm, am/pm pr, recalls some "spirited give and take" between Ann and the board. "She was a strong and excellent editor," he says.
At a reception in Ann's honor last April, the university presented her with a framed display of miniature covers from the 80 magazines she helped to produce as editor. Some of her favorite covers featured Nobel laureate Herb Simon, chess master Hans Berliner and the crew team rowing down the Allegheny River at dawn.
As Ann begins a new phase in her life, we wish her well. Meanwhile, we continue our work at Carnegie Mellon Magazine. This issue brings you more of what you've asked for: news about alumni, faculty, staff and students who are making an impact on the world in imaginative and provocative ways.
—Bruce Gerson
Ruling on affirmative action
The Supreme Court's split decision this past summer in two cases filed against the University of Michigan supports the use of affirmative action in university and college admissions. The Supreme Court ruled that race could be used as one factor among many in admissions in an effort to increase diversity. The court also ruled that "points" should not be awarded to prospective students based on race alone.
Carnegie Mellon was the leader of an amicus curiae, or friend of the court brief, signed by 38 colleges and universities across the country earlier this year in support of the University of Michigan's use of affirmative action in admissions.
Gift aids Hispanic recruitment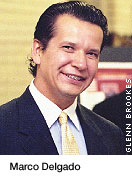 International trade attorney Marco Delgado (HNZ'90) has given the Heinz School $250,000 to establish the Marco Delgado Fellowship for the Advancement of Hispanics in Public Policy and Management. The fellowship aims to strengthen recruitment efforts in the school by providing scholarship funds to talented Hispanic graduate students. The gift is the largest by an alumnus in the history of the Heinz School, which will match the funds 100 percent.
"We're living in an era in which affirmative action and other diversity initiatives are being severely questioned," said Delgado, who is Mexican-American. "I was impressed that the Heinz School was willing to go beyond mere rhetoric to provide matching fund support."
Fund-raising goal surpassed
Carnegie Mellon surpassed its fund-raising goal by more than $2 million in fiscal year 2003, closing its books with $49.4 million in gifts and commitments. The effort marked an increase of more than $12 million over fiscal year 2002's total of $37.3 million.
The success is the result of strong corporate, foundation and individual giving, particularly at the annual fund and leadership giving levels. A record $4.84 million was raised through the annual giving appeal, and $22.3 million was raised in the leadership gift category, with contributions between $1 million and $4.9 million. The level of leadership gifts nearly doubled the highest level set in the last campaign—$12.4 million in 2000.
Ron Schiller, associate vice president for University Advancement, says fiscal year 2003 saw a much-expanded annual giving program, in which all alumni had the opportunity to contribute both to their college or school and to university-wide funds that support students. Schiller also noted that university communication with international alumni, including annual giving mailings, was greatly enhanced.
"As the university plans a new campaign to fund strategic objectives we are very pleased with these results and the momentum they help to build, particularly in a challenging economic climate," said Robbee Baker Kosak, vice president for University Advancement.
Students redesign postal manual
Most people wouldn't have known they shouldn't use commas or periods when addressing a letter until they received in their homes last year a brochure titled "A Customer's Guide to Mailing."
The guide reflects the efforts of 15 graduate students and three faculty members in the School of Design, who have been working with the U.S. Postal Service to transform its thick Domestic Mail Manual into user-friendly guides that effectively communicate with many different types of mail users. The team's second publication is a guide for businesses and organizations. Professor Richard Buchanan is the project director.
Robot Hall of Fame opens Nov. 10
R2D2, Hal and Carnegie Mellon's volcano-exploring Dante have presumably been working on their acceptance speeches. The first class of the new Robot Hall of Fame is being inducted at 6:30 p.m., Nov. 10, at Pittsburgh's Carnegie Science Center, thanks to School of Computer Science Dean Jim Morris, whose idea it is to honor robots that work, entertain and inspire—and their creators.
The hall, complete with replicas of the winners, will initially be housed in the Carnegie Science Center along with a permanent interactive exhibit honoring the robots. The hall will eventually move to the School of Computer Science.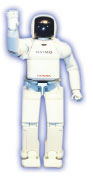 "In the coming decades, real robots will play increasingly important roles in our society," said Morris, who will step down as dean and return to teaching in May. "We want to honor robots that have served an actual or potentially useful function and demonstrated real skill, along with robots that entertain and those that have achieved worldwide fame in the context of fiction."
The selection committee includes Morris; Raj Reddy, the Simon University Professor of Computer Science and Robotics and founder of the Robotics Institute; Charles Thorpe, director of the Robotics Institute; Donald Marinelli, co-director of the Entertainment Technology Center; Ellsworth Brown, president of the Carnegie Museums of Pittsburgh; Minoru Asada, professor of engineering at Osaka University and founder of the International RoboCup Federation; Rodney Brooks, director of MIT's Artificial Intelligence Laboratory; Arthur Clarke, science fiction writer; Henrik Christensen, computer science professor and director of the Centre for Autonomous Systems at the Royal Institute of Technology in KTH Stockholm, Sweden; and Ray Jarvis, director of the Intelligent Robotics Research Centre at Monash University in Melbourne, Australia.
French professor Barbara Freed makes film
on Henri Matisse and his model
During her childhood, Barbara Freed spent a year in the French village of Vence, and like the artists who made their homes there, she fell in love with it. Vence is on what is sometimes called "the other Riviera," a series of small towns inland from the Mediterranean coast that were home to some of the 20th century's greatest artists, such as Marc Chagall, Pablo Picasso and Henri Matisse.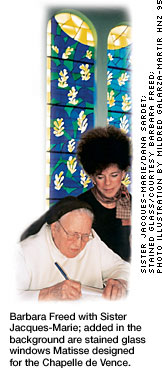 These artists, the towns that inspired them and the legacy they created captured Freed's heart in 1960, when she lived in Vence with her parents, both artists. That passion led Freed, a professor of French at Carnegie Mellon, to write a book about the region's artists, and then to return to Vence to direct her first film. "I went abroad, and as a result of the year that I spent in France, every aspect of my life has been affected—my professional goals and ambitions, my passions in life," Freed said. "It imbued my whole life with an enduring appreciation for the art of the area."
Freed completed the documentary "A Model for Matisse" last spring. It tells the story of how Matisse, known primarily for his paintings and sculpture, came to create the Chapel of the Rosary in Vence. He designed the entire chapel, including the ceramic wall tiles, the stained glass windows, even the priests' vestments.
"He considered it his masterpiece, because it was the assimilation of everything he had ever done," Freed said. The model of the film's title is Sister Jacques-Marie, a Dominican nun who, in Matisse's words, was the "true initiator" of the chapel. In 1941, Monique Bourgeois (later to become Sister Jacques-Marie) was a nursing student and amateur artist living in Nice, where Matisse also lived. She answered the elderly artist's ad for a "young and pretty" nurse to attend to his multiple ailments.
Bourgeois, who was then 21, modeled for Matisse, and they became close. When Nice became a potential target of Allied bombing against the occupying Nazis, Matisse fled to Vence. Bourgeois also ended up in Vence and joined a Dominican convent. She met the artist again in 1946.
One night, Sister Jacques-Marie painted a watercolor of the Assumption, the ascent into heaven of the Virgin Mary, both body and soul, according to Catholic doctrine. Matisse saw the sketch and urged Sister Jacques-Marie to turn it into a stained glass window for a chapel. Matisse oversaw every aspect of the construction of the resulting chapel in Vence. He worked on the four-year project until 1951. Three years later, he died.
Freed learned the story of the chapel while researching her book "Artists and Their Museums on the Riviera," which was published in 1998. She found Sister Jacques-Marie to be as sharp as ever. The octogenarian nun had written a book about the chapel, "Henri Matisse: La Chapelle de Vence," which Freed translated into English.
As word of the friendship between Matisse and his former model spread, Freed was encouraged to turn the story into a film.
"I certainly never planned to become a filmmaker. I just thought their relationship would be a beautiful story," Freed said.
Freed and her small crew filmed the project in 2002, then spent about a year editing it and doing archival research. The first major screening of the
67-minute film is scheduled for November at the Matisse Museum in Nice.
Freed has fallen in love with filmmaking much as she fell in love years ago with France and the artists of the Riviera. She'd like to do other films, but she doubts that any will compete with "A Model for Matisse." Freed is too modest to call the film her masterpiece, but it's likely it will stand alone in her career—much like a chapel in Vence for the artist who created it.
"It was the joy of my lifetime—the most wonderful project I have ever worked on," Freed said.—Jonathan Potts
New building to house rare books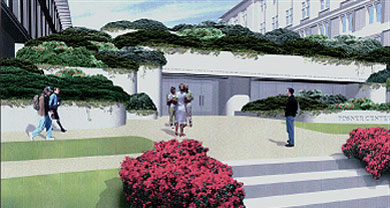 Ground has been broken for a new building between Posner Hall and the College of Fine Arts that will house the Posner Family collection of rare books and jade and ivory carvings, as well as executive meeting rooms. The new building, scheduled for completion in early 2004, will be mostly underground. Designed by WTW Architects, the 11,400-square-foot building is a gift of Henry and Helen Posner. Henry Posner is an emeritus life trustee of the university. The Posner collection, which includes one of only four copies of the Bill of Rights printed by Thomas Jefferson in 1792, is currently housed in Hunt Library.
New partnership with Taiwan
Carnegie Mellon has signed an agreement to establish new research and educational outreach programs with the Industrial Technology Research Institute (ITRI) and National Chiao-Tung University (NCTU) in Taiwan.
Pradeep Khosla, head of Carnegie Mellon's Electrical and Computer Engineering Department, said the lab is an important part of the university's strategy to integrate research in various centers.
Research at the ITRI lab will focus on circuit design and its application in communication, information technology, computer and consumer electronics, and multimedia. Other research will include developing and applying security on a chip, a technology now in demand by both consumers and industry.
Carnegie Mellon Electrical and Computer Engineering Professor Tsuhan Chen, co-director of the ITRI lab, said the research will contribute significantly to technology developments in Taiwan, where semiconductor foundries are in one of the worst slumps in the industry's history.
"Carnegie Mellon is a world leader in research involving system-on-a-chip work," said Chun-Yen Chang, president of NCTU. He hopes the Carnegie Mellon/NCTU collaboration will help Taiwan move up the technology ladder.
The agreement with NCTU will include student and faculty exchanges and educational outreach programs.
Smile a day keeps the doctor away
People who are happy, relaxed and generally optimistic are less likely to catch colds than those who are unhappy or anxious, according to a study by Psychology Professor Sheldon Cohen published in Psychosomatic Medicine, the journal of the American Psychosomatic Society.
Researchers interviewed volunteers over several weeks to assess their moods and emotional styles, and then infected them with one of two types of cold viruses. The volunteers were then quarantined and examined. People who had exhibited positive emotions were less likely to get sick than others. If they did get sick, they reported fewer symptoms than one would expect.
"This is the first study that measures emotions in initially healthy people and finds that those who are generally happier are more resistant to infectious disease," said Cohen, who collaborated with researchers at Children's Hospital of Pittsburgh, the University of Pittsburgh School of Medicine and the Medical University of South Carolina.
Freshman facts
This year's freshman class of 1,367 students (533 women and 834 men) is one of the most diverse in university history. The Class of 2007 includes 73 African Americans, 90 Hispanics, 10 Native Americans and 228 international students representing 32 foreign countries. The freshmen's average overall SAT score is 1,350 (650 verbal, 700 math).
Protein analysis at home



Imagine being able to conduct complex analytical chemistry experiments while sitting on your couch at home. A new Virtual Mass Spectrometry Laboratory (VMSL) at http://svmsl.chem.cmu.edu/ makes that possible. A team of experts from Carnegie Mellon and the University of Pittsburgh is developing the site with funding assistance from the National Science Foundation.
When the VMSL is complete, students and armchair scientists will be able to analyze four complex problems. The first, already available, presents a topic ripped from the headlines: drug use at a sporting event. Virtual lab users analyze five blood samples to determine which race animal received an illegal drug injection to enhance its performance.
A mass spectrometer is a highly sophisticated electronic instrument that identifies the chemical compositions of various substances based on their molecular weights and electric charges. Scientists use it to identify unknown substances or detect the presence of a known substance in a prepared sample.
The project addresses several major hurdles facing universities: the high cost of mass spectrometers, the difficulty in teaching real-life problem solving and the shortage of mass spectrometrists. The VMSL allows schools that cannot afford the instruments, which can cost upwards of $1 million, to add mass spectrometry experiments to their science program.
"The development of this system will allow us to educate many more undergraduate students at one time in challenging technologies that are increasingly essential for conducting much of today's research," said Mark Bier, director of the Carnegie Mellon Chemistry Department's Center for Molecular Analysis, which houses mass spectrometers used in the VMSL project. Bier and University of Pittsburgh Chemistry Professor Joe Grabowski are the project leaders. —David W. Platt
C-MITES challenges the younger crowd
The description of an introductory architecture course makes it sound like typical college freshman-level fare. "Students will develop skills in spatial thinking, architectural drawing, research and presentation, and creative problem-solving...."
But this class was created specifically for much younger children—gifted and talented students in fifth through seventh grades—as part of the Carnegie Mellon Institute for Talented Elementary Students (C-MITES).
Since director Ann Lupkowski Shoplik founded C-MITES in 1992, the nonprofit organization has enriched the education of nearly 20,000 elementary-aged students in Pennsylvania.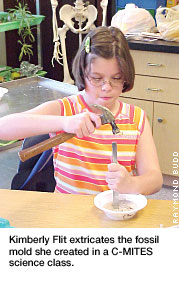 C-MITES conducts tests to identify children's talents and offers advanced classes for them around the state. The program also trains teachers to give math lessons to gifted students and counsels parents to help them determine what's best for their children. C-MITES reaches the most students though its Talent Search—academic testing that identifies students in third through sixth grades who are skilled in mathematics, science or verbal reasoning and could benefit from supplemental education. Students are eligible for testing if they score in the 95th percentile or above on one category of a standardized test (like the Iowa Tests of Basic Skills). More than 2,500 students across Pennsylvania participated in the Talent Search last year. Details are at www.cmu.edu/cmites/.
Summer and weekend courses, in which high-level content is taught at a fast pace, are the heart of the program. Groups of no more than 20 students work with a certified teacher and teaching assistant to explore topics ranging from aeronautics to writing. While classes in materials science, robotics and physics are historically the most popular, new courses—like a program in French—draw more and more students each year.
"Research shows that gifted students learn best with other gifted students, that ability-level grouping is very important," Shoplik says.
The emphasis is on hands-on learning. In the introductory architecture class described above, students built a geodesic dome from gumdrops and toothpicks. They also reproduced famous structures like the Parthenon with graham crackers and other snack foods. Trial and error deepened the children's understanding of the design concepts their teacher had introduced.
"Gifted kids tend to think in very complex ways, so they need to be able to be in an environment where they can see the relationship between different things," Shoplik says.
In a C-MITES Observational Astronomy course taught on Carnegie Mellon campus last summer, computer software simulated the night sky. Students used the constellations for their astrological signs, which they could see on their computer monitors, to learn about the movement of the North Star over centuries. They were taking information they already understood—constellations— and manipulating it to absorb difficult concepts like the movement of stars in the universe.
It was reassuring to note that, even as the students pushed themselves academically, they still made room for fun. "I'm ruined," a boy in the astronomy class shouted. "Ruined forever! Venus is in my constellation—it has to mean something about love!" —Susan Cribbs
Keith analyzes energy savings
Windmill power and hydrogen-fueled cars are all the rage, but are they viable solutions to meeting the world's electricity needs and reducing air pollution? David Keith, associate professor of engineering and public policy, says yes, and no.
Keith and Joseph DeCarolis, members of Carnegie Mellon's Electricity Industry Center, recently weighed the economic and environmental costs and benefits of windmill power. In their report "Is the Answer to Climate Change Blowing in the Wind?" they argue that despite the added cost of supplying wind energy to meet more than 20 percent of the nation's electricity demand, large-scale wind power can enable deep cuts in carbon emissions while remaining cost competitive with other zero emissions energy technologies, like nuclear power and coal with carbon capture technology.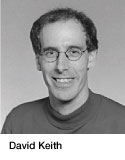 Conversely, in an article that appeared in the July 18 issue of Science, Keith and Alexander Farrell, assistant professor in the Energy and Resources Group at the University of California at Berkeley, state that hydrogen-fueled automobiles will not offer a cost-effective way to reduce automotive air pollution for at least several more decades.
"Strong air pollutant rules and inspections could reduce air pollution at a cost roughly 100 times less than the costs associated with using hydrogen cars," Keith says. Similarly, he says it is much cheaper to reduce carbon dioxide emissions from large stationary sources, such as power plants that burn coal, than it is to reduce such emissions from cars.
Keith and Farrell say it makes far more sense to first use hydrogen in ships, trains and large trucks.
Business school distinguishes itself by adding tracks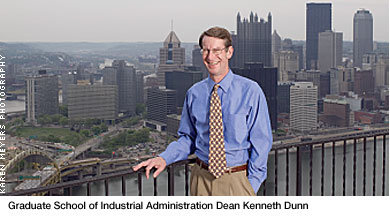 When Kenneth B. Dunn took over as the eighth dean of the Graduate School of Industrial Administration last year, he immediately began talking to students and faculty about ways to make the school stand out. Even though the school is highly regarded, with the Wall Street Journal ranking its M.B.A. program sixth among 266 full-time M.B.A. programs worldwide, its small size means it's not as well known as it could be.
With a speed more familiar in the world of asset management, where he'd just spent 14 years, than in an academic setting, Dunn developed a plan for change. In November of last year, just four months after he took the helm, the business school announced that its students would be able to choose among nine specialty tracks. When they graduate, they'll have expertise not only in the latest management techniques but in the technologies and concentrations of the companies they'll lead.
The tracks are asset management, biotechnology, computational marketing, computer science, e-business technologies, entrepreneurship, general management, integrated product development and operations management.
Students will have complete exposure to the specialty field, taking eight to 10 electives in that specialty along with the core management curriculum. The tracks leverage Carnegie Mellon's strengths—what it can do that its competitors can't do as well, Dunn said. By differentiating the business school and putting it in the front tier of change in business education, Dunn hopes it will be prospective M.B.A. students' first choice and will attract corporate recruiters who now bypass it in favor of larger business schools that yield more job candidates.
Angel Hollis, a second-year M.B.A. student who is active in the school's student government, said her classmates appreciated being involved in the planning. "The students now feel like they have a voice and they can make changes," she said. "When I started business school in August of 2002, there was no such thing as a track, and now I can graduate with one: That has to say something about the intensity that was pushed behind this." She hopes the tracks will bring greater awareness of the strengths of the school's faculty and curriculum, which she rates higher than those of larger, more sought-after schools.
"None of this could have happened without the faculty being ready for it," said Dunn, who was on the business school's faculty for a decade himself, leaving as a tenured professor of finance and economics in 1989. Before returning last year, he was co-head of Morgan Stanley Asset Management's U.S. Core Fixed Income and Mortgage teams. Carnegie Mellon turned him from a shy academic into a self-confident, successful risk taker, he has said.
"If you're afraid to try something until you're perfectly certain that everything's going to work about it, then by the time you do it, somebody else will have done it as well," he said. "So if you're going to be an innovator, you have to be willing to take some risk." —Ruth Hammond
Is there life on Mars?
In the hope of someday answering the question of whether there's life on other planets, Carnegie Mellon researchers completed the first phase of a three-year effort to develop and deploy a robotic system to search for life on Mars.
Last April, the autonomous solar-powered robot Hyperion traveled farther (20 kilometers) and collected more data (27 data sets) while operating in Chile's Atacama Desert than any planetary rover tested to date. The desert is analogous to Mars because of its aridity, soil composition and extreme ultraviolet radiation.
The team of NASA and Carnegie Mellon scientists, including William L. "Red" Whittaker, David Wettergreen and Alan Waggoner, used Hyperion as a platform for experimentation that will help them to design a system specifically suited to looking for life in a desert environment.
The system will actually detect the components of life, instead of simply providing evidence that an environment exists that supports life, says Waggoner, who is director of the Molecular Biosensor and Imaging Center in the Mellon College of Science. For more information, visit www.frc.ri.cmu.edu/atacama.
New dorm is green
The New House residence hall on Morewood Avenue, which welcomed its first students this fall, has many environmentally friendly features. So many, in fact, that it is the first university dormitory in the nation to receive certification from the Leadership in Energy and Environmental Design Green Building Rating System.
Features include a continuous air circulation system designed to reduce the incidence of colds and allergy symptoms, motion sensors that dim lights when spaces are unoccupied, recycled carpet, energy-efficient commercial washers and dryers, and an Energy Star white roof that reflects away most of the sun's energy, reducing air-conditioning costs. Ninety-eight percent of the construction waste was recycled. —Susan Cribbs
University maintains high ranking
Carnegie Mellon ranks 23rd overall, and its undergraduate programs in business and engineering rank 7th and 8th, respectively, in U.S. News & World Report magazine's 2004 survey of "America's Best Colleges."
In business specialties, Carnegie Mellon ranks second in management information systems, production and operations management, and quantitative analysis. In engineering specialties, Carnegie Mellon ranks fourth in computer engineering. For the second straight year Carnegie Mellon's undergraduate research and creative projects were listed as "Programs to Look For."
Carnegie Mellon ranked 21st overall in the 2003 rankings. Business and engineering ranked 7th a year ago.
Carnegie Mellon has also been named one of 12 "Hot Schools" in the 2004 Kaplan/Newsweek "How to Get into College" guide. The university is listed as "Most Tech Savvy."
US-CERT protects cyberspace
Carnegie Mellon's CERT Coordination Center (CERT/CC) has joined the U.S. Department of Homeland Security to create US-CERT, a collaboration to protect America's critical infrastructure and prevent and respond to attacks across the Internet.
The US-CERT will begin as a partnership between the National Cyber Security Division within the Department of Homeland Security and CERT/CC. The US-CERT is expected to grow to include other partnerships with private-sector security vendors and domestic and international organizations.
Carnegie Mellon's CERT/CC, the world's first and foremost authority on cyber security, alerts U.S. industry and computer users worldwide to potential threats to the security of their systems and provides information about how to avoid, minimize or recover from the damage. The center has played a key role in coordinating responses to major security breaches, such as the MS Blaster worm and the Sobig.F virus.
Managing software engineering, Russian style
Russia has a good reputation for its advances in science, but to compete in the global marketplace, its information technology companies need to adopt better project management skills.
A year ago, Dmitry Dakhnovsky (CS'97) and Ilya Antipov (HS'00), with the help of global information technology executives, founded the center for Russian Software Engineering Education (RUSSEE) in Moscow to provide crucial management training.
It was only natural that Dakhnovsky would turn to his alma mater for help in offering courses. "Carnegie Mellon is very well known in Russia because of the industry standard called CMM [Capability Maturity Model for Software], which was developed at the Software Engineering Institute," Dakhnovsky wrote in an email to Carnegie Mellon Magazine. "Analogously, Carnegie Mellon-certified education helps the Russian companies build credibility in the eyes of potential global clients."
The cross-continental collaboration explains why Gil Taran (IT'02) had "Happy Birthday" and "Happy Holy Day" written in Russian on the chalkboard of his Wean Hall office last summer. Taran has been traveling back and forth to Russia since March, when he and Manuel Rosso-Llopart (CS'92) offered a two-day master class in managing software development to 45 participants from 18 companies. It was the first time an American university had offered such a seminar in Russia, Taran said. Rosso-Llopart and Taran both teach in the Master of Software Engineering Program at Carnegie Mellon's Institute for Software Research International.
Taran teaches RUSSEE workshops based on the Master of Software Engineering curriculum in English, the language participants prefer. He's learning a bit of Russian from Carnegie Mellon students to bridge the cultural gap. "If I use Russian key phrases, it's an icebreaker, and they love it," he said of his students, whom he describes as attentive and highly interactive. "The Russians are fabulous trainees," he said.
Only 14 years after the fall of Communism and the conversion from government-controlled industry to capitalism, Russians are seeking advice on how to manage a process fraught with peril no matter what the country. "Almost 80 percent of all software projects fail," Taran said. They don't come in on schedule, don't meet customer expectations or are over budget. A project manager has to keep software developers eager to work the extra hours to finish a project on time, even when a customer's demands change mid-process.
The collaboration with Russia is part of a larger effort to bring a Carnegie Mellon-brand education to various parts of the globe, both by sending Pittsburgh faculty to foreign countries and by training lecturers in those countries to teach Carnegie Mellon-licensed courses. The international efforts are often sparked by alumni like Dakhnovsky, who act as agents of change.
Besides continuing to teach seminars for RUSSEE, Taran is building relationships with Russian business and government leaders. Last summer he went to Seattle to train a senior manager from Russia's giant oil company, Yukos. A delegation from the Moscow Higher School of Economics was planning to visit Carnegie Mellon this fall to learn more about its Master of Science in Information Technology program.
"It's very exciting," Taran said. "It's the whole global feeling. We're not alone."
—Ruth Hammond


---
> Back to the top
> Back to Carnegie Mellon Magazine Home