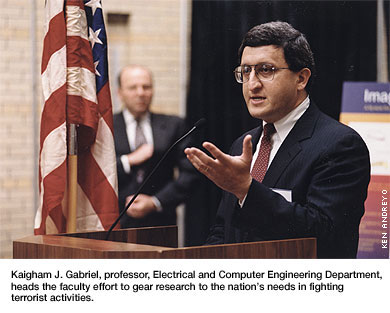 Researchers Respond to Sept. 11
Carnegie Mellon Faculty Collaborates to Counter Terrorism
In answer to the attack on the U.S., faculty came together offering everything from snake robots to software that could identify possible suspects through facial features.
By Ruth Hammond

Twelve days after two planes struck the World Trade Center and another hit the Pentagon, leaving thousands dead, Carnegie Mellon University faculty met to discuss how they could respond. The Sept. 11 terrorist attacks led faculty, along with everyone else in the country, to reexamine what they were doing with their lives, says M. Christina Gabriel, vice provost of corporate partnerships and technological development. "A lot of people on this campus said, 'OK, how can I help? And what about my work can help? Or, how can I take my work and change it a little bit and help more?'"
When faculty members looked around, they realized there were already numerous research projects under way on campus that could be adapted for use in the fight against terrorism. With modification, one technology could be applied to rescuing victims of attacks, another to protecting the country's infrastructure from sabotage and others to rooting out intelligence on potential terrorists and terrorist acts.
Researchers on the various projects decided to organize into a loose federation so each would be aware of the others' research and could collaborate more easily. They also hoped to make it easier for government agencies that had inquired about the university's capabilities—such as the U.S. Office of Homeland Security, headed by former Pennsylvania Gov. Tom Ridge—to identify what the university has to offer.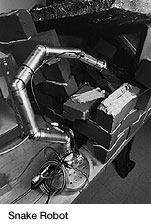 Faculty debated what form the federation should take, what it should be called and how soon its existence should be made public. Given the urgent situation, some thought the new office should forge ahead without delay, while others were concerned about appearing insensitive and opportunistic in the wake of tragedy.
At the end of October, Carnegie Mellon announced the establishment of the Office for Security Technologies. Headed by engineering professor Kaigham J. Gabriel, the office will match technology experts at Carnegie Mellon with the government agencies that need their skills.
"If you just think about the war on terrorism, or the way wars might be different in the future, you can't afford to be locked into an old mind-set. You have to have an open mind," says Chris Gabriel, Kaigham's wife as well as one of the new office's principal organizers. Because of its interdisciplinary approach to solving problems and its emphasis on teamwork, Carnegie Mellon is particularly suited to respond to the nation's crisis, she says. Prima donnas aren't attracted to Carnegie Mellon; instead, researchers come to the school "because they want to work with other really smart people, and they want to work in groups, and they want to work on really important problems," she says.
Organizers of the Security Technologies Office drew up a list of projects at Carnegie Mellon that could become instrumental in protecting the country. Among them are snake robots used for bridge inspection that could also be sent out to look for explosives or search through rubble; language translation software that could learn to translate intercepted communications from Arabic to English; studies of corporate organizational systems that could be applied to understanding and weakening terrorist networks; and facial identification software that could detect suspected terrorists at airports.
Faculty responds on many fronts
Like others across the nation, Carnegie Mellon students and employees reacted to the tragedy of Sept. 11 with sympathy for the victims. They donated money, blood and other requested resources, including desks for a damaged school in New York City. As befits its identity as an institution of higher learning, the university also responded intellectually and technologically.
After the World Trade Center collapsed, Carnegie Mellon's Robotics Institute received a call from retired Lt. Col. John Blitch, an Army robotics expert, asking if it could send a robot to search through the debris, says Robotics Institute Director Chuck Thorpe. A team of Carnegie Mellon scientists had built a crawling robot of the sort Blitch needed. "Unfortunately, when we're done building these robots, we deliver them to customers. That particular one had been sent off to the Jet Propulsion Lab, so it was off in Pasadena," Thorpe says.
The institute had another robot on hand to offer at a site of terrorism closer to home. On Sept. 11, United Airlines Flight 93 crashed into a field in Somerset County, about 90 miles southeast of Pittsburgh, after an apparent struggle between passengers and hijackers. Thorpe and others thought the institute's self-piloted robotic helicopter could create an image of the crash site to assist the FBI's investigation.
Carnegie Mellon's robotic helicopter is able to make accurate passes back and forth over an area in order to build a three-dimensional map. It can fly lower, more smoothly and more precisely than a helicopter with a human pilot, says Thorpe. FBI investigators decided to rely primarily on conventional images of the crash site but allowed the robotic helicopter to map the area a few weeks after the crash. Interested in the technology, officials talked about using it in the future, Thorpe says.
While her colleagues were mobilizing their robots, a Carnegie Mellon historian with expertise on the Cold War was preparing to go to the Pentagon to discuss the direction the country's military should take. On Sept. 19 and 20, Kiron Skinner, an assistant professor of history, political science and public policy, met for the first time with other members of the Defense Policy Board. It was just a month earlier, on Aug. 16, that Secretary of Defense Donald Rumsfeld invited her to join the board, which advises him on major defense policy matters.
Skinner could not comment on the board's deliberations, which are classified. Instead, she reflected on what she hopes to contribute to a panel that includes such seasoned political veterans as former House Speaker Newt Gingrich and former secretaries of state Henry A. Kissinger and George P. Shultz. "Bringing the university perspective—being able to talk about what's going on in the university, what people are saying, what students are thinking—is useful," she says. Skinner drew attention last year with publication of "Reagan, In His Own Hand," a book she co-edited.
Other representatives of the university traveled to Washington, D.C., in the weeks and months following the attacks to discuss vulnerable points in the nation's security with members of Congress and other government leaders.
On Sept. 26, Rich Pethia, director of the CERT Centers in the Software Engineering Institute, testified before a House subcommittee about the nation's capacity to protect information technology from terrorist attack. CERT analyzes computer and network security and responds to threats. Pethia's talk was not reassuring. Although attack technology has become more sophisticated, "there is little evidence of movement toward improvement in the security of most products," he said. Software developers need to make security a higher priority, applying safeguards against vulnerabilities when introducing newer versions of products, he said.
University already plays a role in defense
Before the terrorist attacks on the U.S., few could have imagined the extent of the horror that could be wrought on a powerful nation in a matter of hours. But many researchers at Carnegie Mellon are already highly attuned to national defense issues. Most of the university's research money comes from the federal government, especially the Department of Defense. In 2000, for instance, 38 percent of the university's total research funding came from the Defense Department; 70 percent, from the federal government.
High technology and the war against terrorism are not two separate subjects but endeavors that are already intricately intertwined. Even before Sept. 11, Carnegie Mellon researchers were considering grim scenarios, including the harm that Osama bin Laden, chief suspect in the terrorist attacks, could do.
"Osama bin Laden and other Muslim extremists are using the Internet to plan terrorist activities against the United States and its allies," warned the Feb. 10, 2001, edition of MSECurity Update, published by the university's Institute for eCommerce. "Terrorists and extremists hide maps and photographs of targets as well as instructions for terrorist activities in sports chat rooms, on pornographic bulletin boards, and on popular Web sites. Messages are scrambled using open source encryption programs set up by groups that advocate privacy on the Internet."
When university leaders drew up a list of faculty who could play crucial roles in the crisis, more than 40 names surfaced. Some have already been deeply involved in security issues. They include Heinz School Dean Jeffrey Hunker, who was a senior director in the National Security Council's Office of Transnational Threats; Peter Lee, a computer security expert who has served on the Army Science Board and Defense Science Board; and Victor Weedn, an expert in cell and tissue engineering. Weedn is scientific co-director of the BioMedical Security Institute, established by the University of Pittsburgh and Carnegie Mellon in October 2000 to detect, analyze and respond to bioterrorism.
The head of the Security Technologies Office, Kaigham J. Gabriel, also has a strong defense background. He worked at the Defense Advanced Research Projects Agency (DARPA), where he founded and managed the Microelectromechanical Systems program and later directed the Electronics Technology Office. He left DARPA in 1997 to become a professor of electrical and computer engineering and robotics at Carnegie Mellon. His involvement in federal defense policy has continued. In 1999, he co-chaired the Defense Science Board's study on 21st Century Defense Technology Needs, Acquisition and Management.
Many other researchers, with fewer government ties, also have roles to play. Among them is Elizabeth A. Casman, a research engineer in the Engineering and Public Policy Department. She is one of several people at Carnegie Mellon who are studying the most effective and economical methods of detecting a bioterrorism attack. Her research gained added significance after Sept. 11.
Like others interviewed on campus, Casman doesn't anticipate that war-related research will become the dominant theme at Carnegie Mellon—just one among many. "People who have some insight into relevant subjects are trying to be helpful, but this is not Counterterrorism University," she says. "Life goes on."
Urgent need should accelerate research
Research is in a constant state of development. The tragedies of the past months bring into focus not just what technology developed at Carnegie Mellon and elsewhere can do, but what it can't—yet.
The search-and-rescue robots Lt. Col. Blitch assembled from various sources at the ruins of the World Trade Center had mixed results. Armed with video cameras, they crawled through the site and found human remains. But the caterpillar treads that give them mobility, although better than wheels, are "not as good as legs so we really need to pursue work on walking robots," Thorpe says. The robots also need heat sensors, as was demonstrated when a rescue robot at the disaster site came to a sudden halt. "It turns out that it was sitting on a hot spot, and its treads burned off."
Robotics researchers are eager to apply the lessons learned in the disaster. Thorpe will play a role at Carnegie Mellon and with Blitch's nonprofit Center for Robot-Assisted Search and Rescue.
"There's lots more money starting to flow around for robotics research," Thorpe says. "I hate to sound like the institute is profiting from the terrorists, but the truth of the matter is we have technology that can help prevent and respond to terrorism."
He anticipates that the robot helicopter and other robots developed at Carnegie Mellon could be called upon again to provide assistance. "I certainly hope that the war is over quickly enough that we don't have time to use that stuff but, in general, I hope that the helicopter and some other robot technology can be the eyes and ears and nose of the U.S. I would much rather have my robots out there subject to unknown chemicals and unknown threats than have people out there."
Whether robots will make it to the front lines or go over the hill and check for land mines during this war is uncertain. What is more predictable is that the nation's universities will influence the policies the government is instituting to protect national security.
"We're talking about terrorists who are living among us," Chris Gabriel says. "And how does that change the way we do defense policy, policy for how we live, policy for everything, really? Those bigger questions are things where the university can really play a role."


---
War sparks activism on campus
With all the flag-waving and righteous anger in the nation, sophomore Mark D. Egerman's question didn't seem to capture the spirit of the times. About 40 people on campus had just listened to Christina W. Michelmore, associate professor of history at Chatham College, speak on the history and religion of the Middle East, Oct. 9.
Egerman's question: "Why is the richest country in the world bombing the poorest?"
Michelmore's response: "Because bin Laden's there."
With the nation under attack, students have responded with a range of emotions. "America needs to strike back with destruction on a scale never before seen on this Earth," said a letter from six members of the Carnegie Mellon Objectivist Club, Sept. 24, in the student newspaper, The Tartan. "The only alternative is larger mountains of corpses in our own cities."

On the other side, a coalition of Carnegie Mellon student activists held one of the first post-Sept. 11 peace rallies in the nation at The Fence, Sept. 17. Afterwards, about 40 formed Students for Peaceful Action, says Egerman, an organizer. The group joined with students at Chatham College, Duquesne University and the University of Pittsburgh 11 days later for a demonstration at Pitt's Cathedral of Learning.

How could such activism occur at Carnegie Mellon, the school The Princeton Review named as having the most politically apathetic student body in the nation? "A lot of it is the fact that we were so apathetic that none of this had been tried before," Egerman says. "Students here have been so receptive to it, it's been phenomenal. There are students here who have been dying to get involved, who have been dying to become a part of something larger than just their schoolwork."

As they sought to understand the source of resentments against the U.S., Carnegie Mellon students attended campus films and lectures on parts of the world that had not been high in their consciousness before Sept. 11. A session in Doherty Hall on achieving a just peace in the Middle East drew about 250 people, Oct. 10, including students, community peace advocates and professors emeriti whose peace activism dates back to the Vietnam War and earlier.

Sophomore Khalid Kamhawi, who is from Amman, Jordan, is vice president of the Arab Student Association, a sponsor of the Middle East talk. He notes that students feel a need to learn more about Arab issues, "but, of course, there's some anger in their curiosity.... Now it's starting to affect their lives.... The desire to know is a matter of survival now for them." He and some other Arab and Arab-American students favor a peaceful solution to the international crisis, hoping the terrorists can be brought to justice without a widening war that would endanger the countries they or their ancestors are from.

The sudden switch to a war economy has heightened other students' concern about the fruits of their research. A group of graduate students in the School of Computer Science decided to revive a chapter of the international organization, Computer Professionals for Social Responsibility. The chapter will encourage public discourse on such war-related issues as the use of computer technology for surveillance, electronic privacy rights, and military applications of robot and computer research, says Matthew C. Deans, a student in robotics. Because of its fragmented nature, Carnegie Mellon doesn't have the "intellectual infrastructure" some other liberal arts colleges do to address "the holistic aspects of these kinds of issues," says Sonya J. Allin, a student in the Human Computer Interaction Institute. She credits the organization, Women@SCS, with aiding the revival because it deals with the social implications of technology.





For more information about the Office for Security Technologies, contact Sandra L. Nevel at 412-266-5438


---
Features, Spring 2002

• Jonathan Borofsky
Nobody Knows His Name,
Everybody Has His Number

• Researchers Respond to Sept. 11
Carnegie Mellon Faculty
Collaborate to Counter Terrorism

• College of Fine Arts
Fallen Stones Spur Restoration

News, Spring 2002

• University buys
wind-generated electricity

• New dorm boasts green design

• "West Wing" and John Wells win
again

• Supersite monitors Pittsburgh air

• Spider-Man to the rescue

> Back to the top

> Back to Carnegie Mellon Magazine Home