The New Entrepreneurs
When Ernst & Young announced the winners in its prestigious 2001 Entrepreneur of the Year competition, the roster of awardees had a distinctly Carnegie Mellon flavor. Among the winners were Ron Bianchini (E'86, '89), cofounder and CEO of Spinnaker Networks and a former faculty member at the university, and D. Lansing Taylor, president and CEO of Cellomics Inc., a former Carnegie Mellon professor who still serves in an adjunct role. • Three other entrepreneurs with connections to the university were cited as finalists: Abu Noaman (IA'91), founder and president of Elliance; Astro Teller (CS'98), founder and CEO of BodyMedia Inc.; and Robert Longo, then president and CEO of Carnegie Learning Inc. (While Longo has no direct ties to the university, the company was founded by a group of faculty based on 17 years' research at Carnegie Mellon.) • The traditional image of the entrepreneur is that of the wild-eyed inventor who emerges from the garage, bestows his vision on legions of detail drones, then rides off into the sunset in search of the next revelation, a Shane of brain. That picture always was distorted, and it's even less relevant in the post-dot-com meltdown era, when entrepreneurs must be hands-on as well as visionary. • These five entrepreneurs embody the new ideal. As their profiles demonstrate, new entrepreneurs have a vision, surround themselves with talented people, effectively communicate their vision and allow it to be improved by colleagues and mentors. And they plan on sticking around for a long time.
By Evan Pattak

Ron Bianchini—A Postnatal Revelation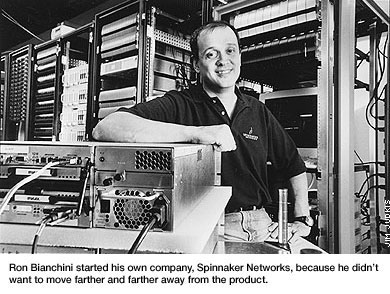 Ron Bianchini determined that he was an entrepreneur moments after the birth of his third child. It wasn't so much the magic of the delivery that persuaded him as it was the phone call from his employer-right there in the hospital room-offering him a promotion he soon would reject.
Bianchini taught for seven years in the Electrical and Computer Engineering Department before he and his university colleague Hyong Kim, in 1996, cofounded Scalable Networks, which produced gigabit ethernet switches. They're to the Internet what phone switches are to telephone service. Just four months later, FORE Systems (later Marconi) purchased Scalable and made Bianchini its vice president of product architecture. It was Marconi that tracked Bianchini to the birthing center to offer him an even bigger job.
"I had taken a week off for my daughter's birth," Bianchini recalls. "During that week, I called the office to learn more about what I would be doing. They were talking about coordinating these big locations within Marconi, about the corporate jet and when I would be traveling to Europe and Dallas.
"Clearly it was a promotion within the organization, but it was much more administration, much more management than I was used to. I would be farther and farther away from the product. So my first day back, I walked into my supervisor's office and said, 'Not only am I not accepting the position, I'm resigning.' I wanted to get closer to product development, to having a vision and creating and delivering that as product."
Cofounding Spinnaker Networks gave Bianchini that opportunity. Headquartered in O'Hara Township, north of Pittsburgh, the company is developing hardware and software for data storage by blending server and networking technology-two disciplines that Bianchini says have been largely distinct until now.
"No one has put these two pieces together like we have," he says. "I'm convinced that we'll be wildly successful."
With the volume of digital information nationally expected to double over the next few years, bold approaches to storage likely will be in demand. Spinnaker's initial product has yet to be released, but in its first 18 months, the company attracted significant investment while growing to 105 employees.
Communication has been a key element in Spinnaker's rapid expansion. Bianchini, in fact, describes his role as "95 percent communication."
"To be an entrepreneur," he says, "you do need that gut-wrenching feeling in your stomach that a product or process can be improved. You do need to see the disruption that's needed in the market. But there are a thousand ideas born every morning before breakfast. Being able to take your ideas and deliver them to the marketplace is what's crucial.
"What helps that is communication. In bigger companies, employees often don't understand why decisions are made. If decisions are made for the right reasons, it's easy to get everyone on the same page."
His communication mission takes him outside the company for advice from such mentors as Jack Roseman, former associate director of the Jones Center for Entrepreneurship at Carnegie Mellon and now director of The Roseman Institute. Roseman acknowledges that he long has admired Bianchini's leadership abilities but once harbored doubts about his toughness.
"He's so excited about what he's doing that it's contagious," Roseman says. "That made him a great teacher. My students used to tell me how much they loved him. But I thought he might be somewhat naive for the business world. When he asked me what would be a reasonable valuation for Scalable, I guessed $3 million, given that he didn't even have a prototype. When I heard he sold the company for $39 million, I figured he was tough enough."
But it is to internal communication management that Bianchini dedicates most of his time. Veteran venture capitalist Bill Hulley had the opportunity to observe Bianchini when Hulley worked for Adams Capital Management, a key investor in Scalable. Bianchini's communication skills, Hulley says, may be his most important asset.
"He can manage a group of really smart, motivated, ambitious people and get them all pointed in the same direction at the same time. That's impressive," says Hulley, now a consultant and adjunct faculty at the Jones Center for Entrepreneurship.
So vital is give-and-take at Spinnaker that Bianchini holds a company-wide meeting each Monday.
"I took a lot of flak for it early on," he says. "All 105 employees in the room for an hour; that's 105 man-hours when you're not doing other things. But you know what? The hours outside of that hour are so much more productive because of it."

Lans Taylor—a Biotech Company AND a New Field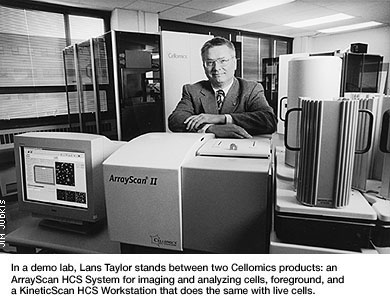 Lans Taylor was an entrepreneur of sorts well before he founded Cellomics. After coming to Carnegie Mellon from Harvard in 1982 as professor in biological sciences, he helped found the Center for Fluorescence Research, under Alan Waggoner. In 1991, he and Waggoner spun off a start-up called Biological Detection Systems, which commercialized fluorescent labels for tagging DNA and antibodies. They sold the company four years later.
"He had done a terrific job building the center," now known as the Center for Light Microscope Imaging and Biotechnology, Waggoner says. "He has an endless source of energy, a terrific vision as to what can be a success down the line-and he's a tremendous salesman for that vision. Put those parts together, and you have a powerful package. The next step was to go out and do it in the business world."
That next step was Cellomics, which develops software and equipment for testing new drug therapies, combining elements of biology, physics, chemistry, computer science and engineering. The company boasts nearly 200 employees and important partnerships with such international biotech leaders as Carl Zeiss, Beckman Coulter Inc. and Molecular Probes Inc. Cellomics soon will occupy high-profile new headquarters at the Pittsburgh Technology Center.
"Our vision is to be the leading provider of what we call the integrated solution to define cellular functions of genes and proteins within the living cell," Taylor says. "It's the field of cellomics, and we kind of created it."
Among his mentors, Taylor cites the late Richard M. Cyert, former university president, who lured Taylor from Harvard and inspired him to create Biological Detection Systems.
"I came to Carnegie Mellon," Taylor says, "because it was an academic entrepreneurial environment. That's what Dick Cyert used to call it. It means you easily can cross the boundaries between disciplines. Cyert won me over after my first meeting with him."
Like Ron Bianchini, Taylor devotes countless hours to communication, both inside and outside his company.
"He has a tremendous ability to explain, convey and sell the technical story to lay persons, whether they be employees or investors," says L. Robert Johnston Jr., Cellomics' executive vice president and chief financial officer. "He's tremendous at networking and identifying potential synergies and opportunities for strategic collaborations."
Johnston was mesmerized by the spell Taylor wove in their initial meeting, when Johnston was still considering whether to accept the Cellomics job and relocate from Washington, D.C.
"I had offers that would not have required moving my family," Johnston says. "He told me that cellomics would be the next wave; that was what I wanted to hear. We compared notes; we discovered that we both want to win. He's very forthright about that."
At Cellomics, the emphasis on communication includes a culture-shaping initiative necessitated by the company's rapid growth. Explains Taylor: "Your environment can be characterized by two extremes-command and control, which is a top-down, dictatorial approach, or collaborative management. We are building that environment where there is a welling up of solutions rather than the other way and where employees work in teams representing all departments."
An outside consultant is leading the charge; the project is nine months old and still going strong, a measure of Taylor's commitment to it.
Commitment, finally, is what marks Taylor as a new entrepreneur. He doesn't expect to be riding into the sunset anytime soon. And don't even mention the words "serial entrepreneur"-the founder who quickly abandons each company he starts for the rush of the next idea.
"I don't like that term," he says. "It sounds like a pervert roaming the streets, looking for an opportunity. I don't know what my future holds. I take opportunities as they come. Anybody can manage a company in the greatest of times. It's a much bigger challenge in tougher times, and we're in tougher times. Right now I'm still the right CEO."

Abu Noaman—Fearless, Not Reckless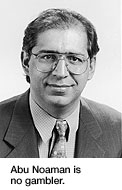 The new entrepreneur takes chances but only after careful study of the odds. So says Abu Noaman, who worked as a research fellow in the Computer Science Department for seven years. In 1993 he founded an Internet service provider called Internet Services Corporation, but the competitiveness of that sector caused him to reposition his business.
"It started as a Web design company," Noaman says. "Then we moved to building e-commerce catalogues, e-business development for clients. We kept evolving to higher levels of service, staying ahead of the crowd. A lot of people in our original space have gone out of business."
Now known as Elliance, the firm achieved sales growth of 178 percent from 1998 to 2000, even as it expanded its staff by 75 percent. In May 2001, Inc Magazine named Elliance one of the 100 fastest-growing companies in America's inner cities, an honor echoed by the Pittsburgh Business Times several months thereafter.
The company has developed e-business solutions for such national clients as Reader's Digest, Water Pik Technologies and Staples Inc. It created an online bidding system for Weirton Steel, a secure credit card transaction Website for Mellon Bank and an on-line product recall system for Kidde Safety.
For all that, Noaman never considered the reinvention of his company a headlong dive into the unknown.
"Entrepreneurs are considered to be risk takers. That's a misnomer," Noaman says. "Entrepreneurs are calculated risk-takers. There's a big difference. I'm not a gambler. I'll only pursue something if I think there's a chance of success."
Moreover, Noaman doesn't list boldness among the key characteristics of successful entrepreneurs.
"Creativity, perseverance, hard work, and a certain level of humility are most important," he says. "You must know that you can't know everything, so you must surround yourself with good people and advisers and learn the power of leverage. You become a great salesperson in the process because you're constantly selling-whether it's internally or to customers or bankers. You learn to dance nicely."

Astro Teller—Sweating the Details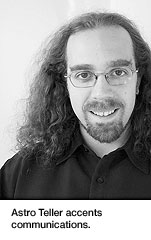 Astro Teller, who completed his Ph.D. in artificial intelligence at the university and founded BodyMedia in 1999 with three Carnegie Mellon associates, scoffs at the perception of the entrepreneur as a spacey visionary without operational know-how.
"If there are people like that, without meaning any disrespect, academia might suit them better," Teller says. "Business is about the details, not just having ideas that would be cool if they were built. Being involved with sales, customer service, human relations, finance-that's all part of being an entrepreneur.
"Building a team is extremely important and, almost by definition, one of the requisite jobs of an entrepreneur. The first 20 or 30 people in really define a lot of culture and the work ethic. And the biggest challenge is communication within the company. You're creating a business and selling a new kind of product, so you tend to surround yourself with bright, creative, willing people. But if you can't communicate, you won't make it."
BodyMedia is something of an evolutionary step for Teller and his colleagues. In 1998, they launched a start-up called SANDbOX Advanced Development Inc., which provided strategic planning and technology consulting services. SANDbOX experienced a degree of success, but it was destined to be closed down as part of Teller's long-range plan.
"From day one, the purpose of SANDbOX was to allow us to build up prototypes and the intellectual property we would need for BodyMedia," Teller explains. "It produced $700,000 that was the first money into BodyMedia. It gave us a chance to get up and running and work as a team."
BodyMedia has developed a product called SenseWear; wear it on your arm, and physicians and researchers can remotely monitor your blood pressure, sleep patterns, even adherence to obesity programs. UPMC Health System has joined with BodyMedia for a study of SenseWear, while Highmark Blue Cross Blue Shield has begun offering the device to its subscribers, who access a Web site to track their personal health data.
Current cost to Highmark members for SenseWear and a year's service is $625; Teller expects the price to decline over time.

Robert Longo—Entrepreneurship in the Blood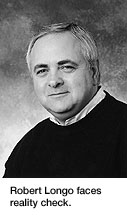 The spirit of entrepreneurship runs thick as tomato soup in Robert Longo, who learned his first marketing lessons as a child in his family's East Liberty grocery store in Pittsburgh.
"I have vivid memories of my Dad doing things like pricing Campbell's tomato soup at five cans for a dollar, at the same time raising the price of crackers," Longo recalls. "Or he would have too many peaches, so he would place baskets of them at the register and tell everybody how great they were. At the end of the day, the peaches were gone."
Carnegie Learning was launched in 1998 by psychologist and computer scientist John R. Anderson and a group of his Carnegie Mellon colleagues. The company has pioneered a learning approach called Cognitive Tutoring that replaces textbooks with a blend of print and computer-based instruction.
With more than 100,000 students in 40 states using the Carnegie Learning methodology, it appeared that Longo had plucked the juiciest peach of all. Then in October, with the slumping economy showing no signs of rebounding, the company reorganized, completing a new round of financing but shedding staff to reach profitability quicker.
In the wake of these actions, Longo left his position, remaining with the company as a consultant only. It was a cold dash of reality for a promising company, painful proof that the new entrepreneur requires yet another trait-resilience.