College of Fine Arts
Fallen Stones Spur Restoration
Planners respect Henry Hornbostel's masterpiece in Fine Arts repairs.
By Charles Rosenblum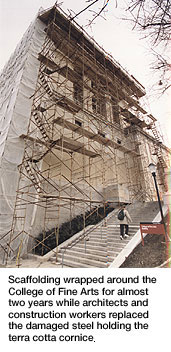 It began with a crash. Or maybe several. Fortunately, when a number of pieces of the cornice came loose from the College of Fine Arts building and plummeted through the skylight of the Hewlett Gallery, in November 1999, it was nighttime. No one was around to get hurt by the sizable chunks of granite or the shattered glass. Also, fortunately, Carnegie Mellon's reaction to objects falling from the sky was more Isaac Newton than Chicken Little. "This was a wake-up call," says University Architect Paul J. Tellers. Instead of panicking, he and a group of other experts assembled in rational fashion to prevent further damage, assess the extent of the problem and then correct it. Their multimillion dollar repair operation averted a larger crisis, even as it underscores a larger appreciation of the university's distinctive architecture in aesthetic and symbolic terms.
"We got a call early one morning that pieces had fallen the night before," recounts Ray Sekowski Jr., a project manager with Cost Co. His company is a masonry specialist working in both new construction and restoration. Although Cost Co. had done construction work on earlier renovation projects for Carnegie Mellon, this request was initially different from previous ones. "We were called by the university to prevent anything else from falling," he recalls. Immediately, workers assembled scaffolding to secure the cornice and to permit closer inspection. The initial results were slightly alarming. The chunks had not fallen because of superficial damage. Rather, the steel frames that held the granite and terra cotta cornice to the rest of the structure had, over a period of 80-plus years, deteriorated severely. "There was not a lot holding the terra cotta back to the building," Sekowski admits.
Along the 1,000-foot top perimeter of the building, the more of the cornice that workers inspected, the more damage they found. Architect Lucian Caste, who has worked on numerous restorations at Carnegie Mellon, including Margaret Morrison Carnegie and Hamerschlag halls, describes the painstaking inspection process. "It was like Pandora's box. Every day more of the steel was revealed, and much of it was in very bad shape. "This serious problem was, after the initial shock, not necessarily a surprising one. The College of Fine Arts was built between 1911 and 1916, before the days of galvanized or stainless steel. "It was solidly built," says Caste (A'50), a university trustee. "It just had lower quality steel than we use today." As a result it was susceptible to corrosion. All of the pieces that anchored the cornice to the building's larger structural frame (which did not have corrosion problems) had to be replaced, as did an elaborate box gutter system.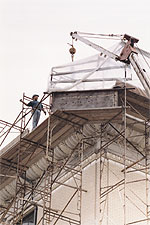 One of the most challenging aspects of this project, though, was replacing the terra cotta. Most of the granite was in good enough condition to be reattached to the new galvanized steel. But much of the terra cotta had been damaged beyond repair, "somewhere in the 40 percent range," recounts Joseph Greenaway, senior project manager with Facilities Management. Steel had been the essence of the structural problem, but terra cotta embodied a crucial aspect of the building's historical and architectural character.
Terra cotta, which literally means "burnt earth," is a ceramic technique that was used for small sculptures and vessels even before Roman times. Its use as an ornamental building material is more recent, dating to early 19th century England; manufacture in the United States began in 1848. The material gained real popularity during building booms of the late 19th and early 20th centuries when Beaux Arts-style architecture was in ascendance. The sculptable nature and range of matte or glazed finishes possible in terra cotta were ideally suited to the intricate historical ornamental details of the academic Beaux Arts, especially since terra cotta was typically one third the weight of and one tenth the cost of masonry. Of course, terra cotta was also an ideal medium for more creative essays in architectural expression. In a 1920 publication on the material, writer Walter Geer said that terra cotta was "as sensitive to a creative brain as a dry plate is to the lens of a camera."
Surely, Henry Hornbostel was one of those creative brains. The competition-winning architect of the original university master plan and of all its buildings through the early 1930s, Hornbostel was renowned for his skill at large-scale planning. But he was also a very original designer of small-scale ornament, which distinguished him from many of his contemporaries, who drew straight from historical examples. Some writers have compared the colored terra cotta bands on Baker and Doherty halls to the colorful silk ties that Hornbostel wore. The College of Fine Arts' terra cotta is white, probably to defer to the building's prominent stone sculptural niches (which remained largely incomplete in Hornbostel's lifetime). Nonetheless, the terra cotta is innovative and even jaunty. It has what the architectural historian Walter Kidney described as "special brilliance...with the occasional touch of mischief." Hornbostel's cornice in particular is a lively pattern of leaves and medallions that projects four feet out from the building walls. As inventive as they may be, these pieces, which were manufactured by the Atlantic Terra Cotta Company in New York, were surely never intended for the mischief of unexpected dislodging. Some new solution was necessary.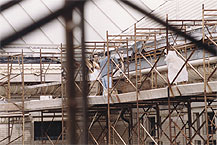 In their search to replicate Hornbostel's personal touch, the project team found that a new material had supplanted terra cotta in much the way that terra cotta had once displaced carved stone. Although a few manufacturers of terra cotta ornament still operate in the U.S., the nature of their product is, as it has always been, slightly irregular. Terra cotta, when it is fired at 2,400 degrees, typically shrinks one inch per foot, so many pieces get rejected. "You can usually use only two or three pieces out of four," says Caste. Precast concrete—a mix poured into a urethane mold and dried at regular temperature—allows a very exact and longer-lasting shape, which also matches the exact appearance of the terra cotta, as the final results of the project demonstrate.
What does not match, though, is the price relative to initial projections. Originally estimated at $800,000, the project cost expanded as more damaged steel pieces came to light. Final outlay was over $2.3 million. Jeffrey W. Bolton, Carnegie Mellon's vice president for business and planning and chief financial officer, says, "We had not anticipated this. We had to reallocate funds." Still, the university administration did not hesitate to fund the restoration. "They wanted the building restored exactly the way it was, and they wanted it to last at least 100 years," says Caste.
As if to confirm the wisdom of Carnegie Mellon's financial commitment to its architecture, Pittsburgh History & Landmarks Foundation (www.phlf.org) awarded bronze plaques to 13 Hornbostel buildings at Carnegie Mellon, including the College of Fine Arts, during the restoration. Like all of the involved parties, Tellers was gratified. "These buildings are one of the most interesting parts of my work," he says. "They're a resource that's beyond price. They are part of our identity." The attention from Pittsburgh History & Landmarks shows that the legacy of this architecture is long-lasting. With this restoration complete and others planned, the buildings themselves will continue to be long-lasting as well.


---
Features, Spring 2002

• Jonathan Borofsky
Nobody Knows His Name,
Everybody Has His Number

• Researchers Respond to Sept. 11
Carnegie Mellon Faculty
Collaborate to Counter Terrorism

• College of Fine Arts
Fallen Stones Spur Restoration

News, Spring 2002

• University buys
wind-generated electricity

• New dorm boasts green design

• "West Wing" and John Wells win
again

• Supersite monitors Pittsburgh air

• Spider-Man to the rescue

> Back to the top

> Back to Carnegie Mellon Magazine Home