Merline Saintil (MSSM '05)
For Merline Saintil (MSSM '05), being an executive leader is more than leading large-scale transformations and bringing products to market: It's also about inspiring others — whether they're the end users or aspiring software leaders— to be the very best they can be.
Saintil began her career as a software engineer at Sun Microsystems, where she gained some of her early management experience. As her career advanced, she led software development teams at global organizations like Adobe, Paypal, Intuit, and now, the on-demand online emotional support platform, 7 Cups. As the new Chief Operating Officer at 7 Cups, Saintil is leading an organization with 2 million monthly users while building an inclusive, innovative work culture from the ground up.
"I'm excited to help people from all walks of life gain access to tools that can really help them," Saintil says of her new position. "Whereas previously I mobilized my team around prosperity; now, I'm using technology to scale access and achieve outcomes."
As COO, Saintil is responsible for overseeing product, engineering, research, and finance, in addition to shepherding 7 Cups's unique health system initiatives, global community, and its AI-powered, emotionally intelligent chatbot, Noni. Noni is trained on hundreds of thousands of top-rated emotional support interactions. She can support those who might prefer a technology-enabled conversation or connect users to counseling services, making 7 Cups an affordable gateway to mental healthcare. The service is currently available in 189 countries in 140 languages.
Outside of the office, Saintil spends her time helping other people find success. She has served on the boards for Watermark and Iridescent, organizations focused on increasing the number of women in leadership positions and empowering underrepresented girls through STEM initiatives.
Giving back and helping out is something Saintil has always done. She encourages others to consider an elevator analogy: Don't wait for the elevator to go back down after you get off at the top, but instead, invite others to join you on the way up. Soon after graduating from Carnegie Mellon's Master of Science in Software Management program, she learned how to stay connected with the school and support its students.
"A lot of people have invested in me, and it's truly a pleasure to do the same for others," Saintil notes. For years, she sat on the alumni board for CMU Silicon Valley, mentoring young women at the start of their careers and during their pursuit of public board roles. Saintil was also the CMU alumni representative while working at Intuit, recruiting students for work and internships throughout the company.
After transitioning from engineer to business leader, from advisee to adviser, Merline Saintil's success and service was celebrated this year with the 2018 Return on Education Award, a designation celebrating select M.S. Software Management graduates for their professional accomplishments and potential to inspire students and fellow alumni.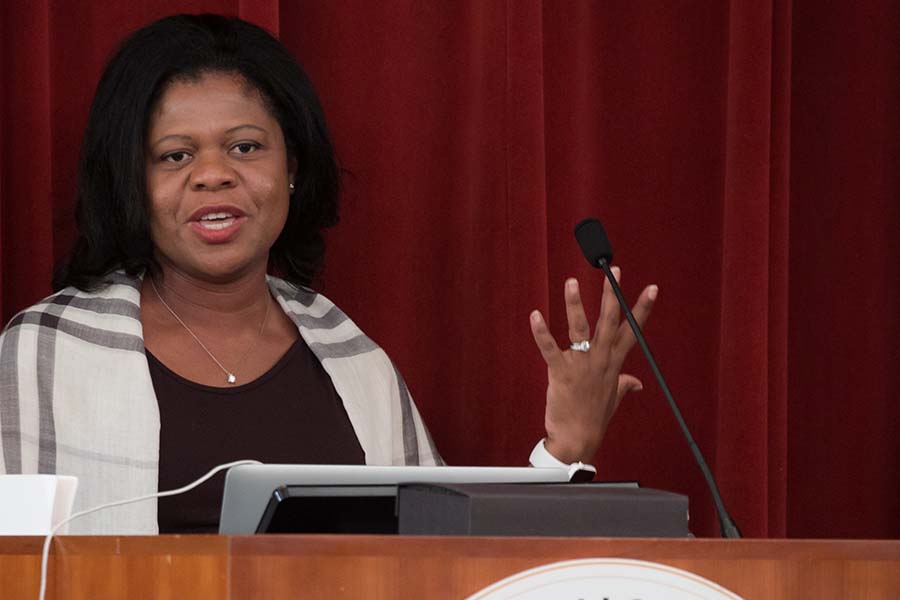 Merline Saintil at the August 2018 M.S. Software Management Diploma Ceremony
Upon acceptance of the award, Saintil remarks: "Just as I had hoped, my education at Carnegie Mellon served as a foundational piece that accelerated my career trajectory. I know that there are many, many CMU grads with exceptional stories of success. So, it is a truly a great honor to be recognized with this award."
The Integrated Innovation Experience
As a member of the inaugural M.S. Software Management class, Saintil was one of the first to experience Carnegie Mellon academics in the context of the Silicon Valley tech ecosystem.
"The skills you're learning are not building coding or architecture, but how to build teams and great cultures and great products. You're also learning these skills in the context of learning-by-doing, which is the natural corporate setting. I moved from engineering to a business role because the skills I learned were immediately applicable."