Celebration of Education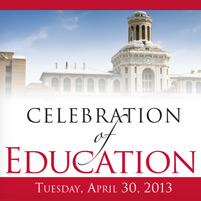 Carnegie Mellon University is honoring four distinguished faculty at the 2013 Celebration of Education on Apr. 30. The event celebrates their outstanding contributions as well as devotion to and effectiveness in teaching.

"This year's Celebration of Education award recipients embody many of the aspects of a Carnegie Mellon education," said Amy Burkert, CMU's vice provost of education. "These educators are innovators who never stop striving to find new and exciting ways to share their knowledge and love of learning with their students. They embrace educational practice that bridges disciplines, extends beyond traditional approaches and classroom walls and empowers students to use what they learn to make a real world impact."

Burkert added, "They are each driven by a passion that is palpable and inspiring and through their work they have transformed individuals, communities, and fields of study."

The four primary awards and their recipients are:
In addition to these, Celebration of Education will recognize nine other professors with
College Teaching Awards
.
Wimmer Faculty Fellows
and recipients of the
Graduate Student Teaching and Service Awards
are also being honored at the event.
Free and open to the public, the Celebration of Education begins at 4:30 p.m. with a reception followed by the awards ceremony at 5:00 p.m.
Related Links: Celebration of Education | Past Winners
---