Most Int'l Scholarships in a Year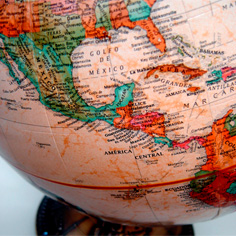 Through highly competitive scholarship programs, 15 Carnegie Mellon students and alumni were selected this year to study and research abroad. It's a new record for the university's Fellowships and Scholarships Office (FSO).
Six earned Fulbright grants — the highest number of university representatives to the program in a single year. The U.S. Student Fulbright Program, sponsored by the U. S. Department of State, is the largest U.S. international exchange program offering opportunities to undertake international graduate study, advanced research and English teaching assistantships worldwide.
"Fulbright selects grantees on the basis of their individual character, efforts and vision," said Judy Zang, fellowship advisor for the FSO. "It is clear that their work will increase our country's cultural awareness of the rest of the world."
Jonathan Minard, a 2007 graduate of the Bachelor of Humanities and Arts program, will conduct artistic research in Mongolia. He plans to make audio recordings of music, nature, religious rituals and everyday life as he travels throughout the North Western Altai region.
John Pena, who received a Master of Fine Arts degree in 2008, will explore the intersection between arts and language education while teaching in Colombia. Pena may be best known on Carnegie Mellon's campus and throughout the region for delivering hand-written letters through the "Pittsburgh Pedal Express" with co-founder and fellow MFA student Ally Reeves.
William Schlough, a 2007 grad with a major in fine arts, will study sculpture in Iceland. He plans to research and explore the relationship between Icelandic culture and the country's natural landscapes.
Rebecca Shore, a May 2008 grad with a major in architecture and minor in business management, will study at Germany's Cologne University of Applied Sciences. She will attend a two-year master's program in architecture focused on energy-optimizing building.
Shore is no stranger to Germany or sustainable building practices. As a member of Carnegie Mellon's 2007 Solar Decathlon Team, she visited Germany to collaborate on building designs with Technische Universitat Darmstadt students.
Rashi Venkataraman, a May 2008 grad with a dual major in biology and ethics, history and public policy, will travel to Indonesia. In addition to her English teaching assistantship, she plans to conduct research on international public health, an extension of her three years as a health educator intern in Carnegie Mellon's Student Health Services Office.
And Rebecca Snyder, a May 2008 grad with majors in materials science and engineering and biomedical engineering, will conduct research at Nanyang Technical Institute in Singapore. Following her Fulbright experience, Snyder will pursue a Ph.D. in bioengineering at Stanford University.
"Every one has an important part to play in the process, but it is the collective actions that bring the Fulbrights to fruition," said Stephanie Wallach, director of the Office of Undergraduate Research and Fellowship Resources. "The remarkable support of our academic community allows our talented, creative students to realize their potential and reach their goals."
Other scholarships and winners included: 
The National Security Education Program David L. Boren Undergraduate Fellowship (China), which was awarded to Rhiannon Dominique Low, a sophomore in materials science and engineering and chemistry.
German Academic Exchange Service Scholarships (Germany), which were awarded to Caitlin Corrigan (HSS '08), Ariel Levavi (MCS,CS '07), and Vanessa VanSickle (A,HSS '08).
Freeman-Asia Scholarships (East and Southeast Asia), which were awarded to Tiffany Kim, a sophomore with majors in business administration and modern languages; Suzanna Mei, a first-year business administration student; and Ian Pytlarz, a junior business administration student.
The Benjamin A. Gilman International Scholarship (Russia), which was awarded to Natalie Boatner, a junior in modern languages.
The Winston Churchill Foundation Scholarship (United Kingdom), which was awarded to Courtney Ondeck (E '08).

More information on recipients of nationally competitive scholarships and fellowships, both domestic and international, is available at www.cmu.edu/fso/winners/2008.html.
 
Related Links: Fellowships & Scholarships Office  |  Office of Undergraduate Research
---