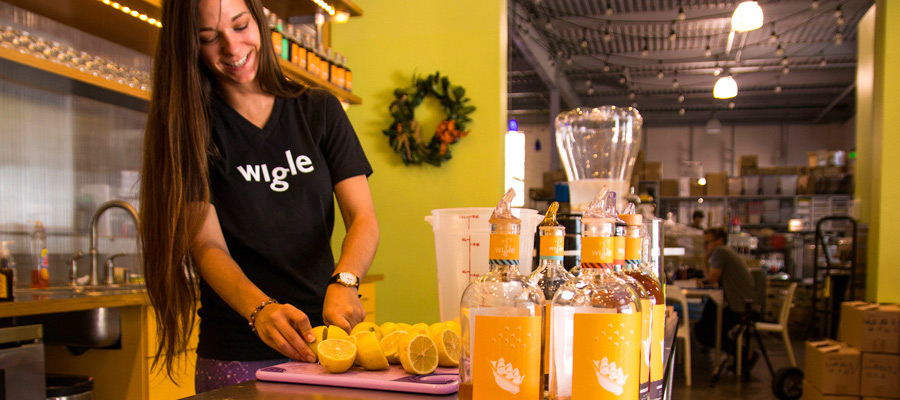 About ENAiBLE
We are a new initiative from Carnegie Mellon, dedicated to the unprecedented challenges facing the retail and service industries. Our mission is to create more humane, efficient, and positive retail and service experiences.
Today's businesses are struggling in a rapidly evolving landscape with new consumer behaviors and an escalation of omnichannel (with or without lockdowns). Then there's the competitive demand for artificial intelligence, pressure for the efficiencies of automation, and the need to balance the humane management of workers, all the while predicting the future of the supply chain — a tangle of opportunity and risk.
Here's How We Can Help
Designing Integrated Solutions
We bring the world-class expertise of CMU faculty into collaborative conversations with industry professionals in management, R&D, and operations from major retailers and service providers across the U.S. The result is a vibrant community that can clearly articulate today's challenges and develop solutions that work across technical, managerial, operational, and consumer dimensions.
Adapting the Organization
We are experts in technologies such as artificial intelligence, data science, robotics/automation, and Internet of Things — and we know that technology alone is not a business solution. We understand critical aspects of retail and services, such as virtual assistants and clienteling, pricing and procurement, operations and logistics — and we know that the organization itself must evolve in order to deliver better services from new technologies.
Developing New Competencies
Whether you represent a brick-and-mortar store, an e-commerce presence, a competitor in the hospitality industry, a technology service provider, or supply chain logistics company, we can support your entry or evolution into omnichannel and new markets from the perspectives of organizational structure, technology competence, and user experience.
Combining Technology, Business, and Design
We invite you to participate in our unique integration of world-class practices in technology, business, and design. All three must smoothly braid to effectively address the rapid changes in market demands and consumer behavior that is upending today's retail and service businesses.
ENAiBLE Sponsors Can Participate in Three Ways
Collaborative Communities
Through virtual roundtables, the ENAiBLE Speakers Series, and workshops, we bring together CMU experts and industry leaders from across retail and service industries to share pain points, leverage expertise, invent new approaches, and form new industry networks.
Talent Acquisition
We connect ENAiBLE sponsors to a talented pipeline of doctoral, master, and undergraduate CMU students who are excited and knowledgeable about modern business challenges in retail and services.
Research
Capstone projects offer access to highly-skilled students who deliver creative and focused responses in real-world projects. Sponsored research offers faculty-led teams who develop high-impact solutions to specific industry problems.
ENAiBLE's Focus Areas
Predictive Analytics Under Data Shift
The coronavirus pandemic has disrupted the usual cycle and efficacy of predictive models. Old models based on old data are increasingly less accurate as the pandemic unfolds. How can previous prediction models incorporate new shocks to the data generating process, aided by human expertise?
Social Media Content Engineering
What content in social media engages users better? What content is appropriate for long-term brand marketing vs. immediate lead to purchase? Are there data-driven strategies?
Multiview (multi-source) CRM
Novel methods are available for customer purchase prediction and churn management using a multi-view bayesian model. This model is flexible enough to incorporate multi-faceted data sources (clickstream, history, Salesforce data, chatbot data, emails, and customer complaints) to predict customer churn and purchase behavior. Multiview CRM could be employed when some aspects of consumer data are missing.
Unintended Consequence of Recommenders
Explainable recommenders: Recommenders are known to increase purchase probabilities and revenues. But do they have unintended consequences? What is the impact on sales diversity and niche items vs. popular items? How do product attributes and reviews interact to influence efficacy? Can we build a recommender system that tells both the users and retailers why certain products are being recommended?
Review Content Analytics
What content in customer-read reviews actually cause customers to purchase? Is there specific information that increases short-term conversion and decreases return rate? What is the best way to present reviews?
AI For Retail With Human-in-the-Loop Approach
How do we incorporate domain expertise into an AI algorithm? When can AI and humans working together help? When do they harm?
AI Scheduling for Promotion
Can we automate promotional calendars? The algorithm should be aware of cross-elasticity among products and seasonality.
The ENAiBLE Landscape
Artificial Intelligence
Explainable AI 

Personalization

Human-in-the-Loop Approaches

Bias and Fairness



Design
Human-Computer Interfaces

Services Innovation

Organizational Change

Privacy and Security
Consumer Privacy

Health (COVID-19 Precautions)

Blockchain / Cryptocurrency

Analytics
Customer / Market / Predictive

Fraud / Shrink

Data Visualization

Marketing
Multiview (multi-source) CRM

New Customer Behavior

Social Media Content Engineering