December 21, 2015
From steel town to startup sector, why Pittsburgh has it all
"Few people know the real Pittsburgh. As the world's foremost producer of coal and steel in the 19th century, the city has a lingering reputation as a smoggy, blue collar steel town. In fact, as recently as just a few years ago, I met a visitor who had never been here before. Upon entering the city he said, "Wow. This is not how I expected Pittsburgh to look. It's a beautiful city." My response? "It's been a long time since it was pitch black at noon due to steel mill soot." The mills have long since closed and the fact is that Pittsburgh has an amazing history of firsts — from commercial radio to banana splits — that were born from the same entrepreneurial passion and ingenuity that made it the capital of the steel boom. This innovative spirit is what's fueling Pittsburgh's vibrant business sector."
Read more at Upstart.
---
December 19, 2015
Pittsburgh shines as beacon of opportunity for tech firms
"Pittsburgh was not on Jeh Kazimi's radar when he eyed North American expansion for his tech startup, Breezie. Then he met an executive from an Ohio-based private equity fund who grew up near Pittsburgh. "People who were born here or lived here, no matter where they are in the world, have such a strong connection to this place. They love to talk about it. That's how we got to know about Pittsburgh, and I'm glad we did," said Kazimi, an India-born entrepreneur from London who splits his time between the United Kingdom and Pittsburgh."
Read more at Trib Live.
---
December 15, 2015
Whitacre Named Fellow of National Academy of Inventors
"Jay Whitacre, a professor of engineering and public policy and materials science and engineering at Carnegie Mellon University, has been named a 2015 Fellow of the National Academy of Inventors (NAI). The NAI Fellows Induction Ceremony will be held on April 15, 2016, at the United States Patent and Trademark Office (USPTO) in Alexandria, Virginia. To be named a Fellow of the NAI, a nominee must be named an inventor on at least one patent issued by the USPTO and must be affiliated with a university, government or nonprofit research institute, or other academic entity. The NAI Fellows Program represents more than 400 inventors worldwide, and between them, the Fellows have been issued nearly 14,000 patents. Whitacre joins four others at CMU who have achieved this high professional distinction: CMU faculty Krzysztof Matyjaszewski, José F. Moura, Raj Reddy and President Subra Suresh. "This is an amazing honor, and I'm thrilled to see NAI recognize the importance and impact of energy technology innovations as they look to recognize inventors," Whitacre said."
Read more at CMU News.
---
December 3, 2015
Census shows millennial population growing in Pittsburgh
"Justin Sabo works with six other well-educated people in their mid-30s or younger at the company he co-founded three years ago, Digital Dream Labs on the North Side. It's a workplace group that would have been hard to find not so long ago. Many, like Mr. Sabo, have connections to Carnegie Mellon University, where he obtained a master's degree attending its Entertainment Technology Center. None of them is from the Pittsburgh region originally. His two co-founders of the educational gaming company are from California and Delaware, and Mr. Sabo, 32, is from the Philadelphia suburbs in Bucks County. They're the kind of creative young people Pittsburgh is increasingly able to not just attract but retain — a valuable turnaround for a Rust Belt region long known for its graying population and aversion to change. New census data released today help highlight Pittsburgh's and Allegheny County's growth in the age 25-to-34 population, a key demographic for the city's vitality that shrunk along with the jobs in the late 20th century manufacturing collapse."
Read more at CMU News.
---
November 2, 2015
SpeckSensor App Compares Air Quality Locally and Nationally
Users Can Track Pollution Wherever They Choose
"A new smartphone app called SpeckSensor allows users to get up-to-date Air Quality Index (AQI) numbers for their current location and for other locales of their choosing, enabling them to quickly see if the air they are breathing is healthy and how it compares to other sites. The app, developed by the CREATE Lab of Carnegie Mellon University's Robotics Institute and Airviz, a lab spinoff that produces a low-cost particulate air quality monitor called Speck, automatically loads the latest AQI from the federal air quality monitor nearest to the user's location. The user can specify additional locations, either by name or ZIP code, to monitor or use as a basis of comparison. It also can link to online Speck monitors."
Read more at Pittsburgh Post-Gazette.
---
October 30, 2015
Pittsburgh's Smart Traffic Lights are Taking a Bite Out of Vehicle Pollution
"Driving around with Steve Smith, it's sometimes unclear whether he's a guy that fixes traffic problems or causes them. "This is the classic Pittsburgh left turn," Smith says, laughing, waiting for his chance to bolt—illegally—in front of oncoming traffic the moment the light turns green. "Generally, it's an accepted practice in Pittsburgh if you're at a light, and want to turn left, that approaching vehicles expect you to dart in front of them. " Smith is only half joking when he insists this practice of "squeezing one guy through" helps traffic flow better. But traffic flow is something he knows a lot about. A professor in Carnegie Mellon University's robotics department, he's the guy behind the roll-out of an experimental adaptive traffic signal system meant to heal traffic congestion in the city's busy East End."
Read more at The Allegheny Front.
---
October 29, 2015
CMU surgical robotics spinoff sells for $275M to London medical tech company
"A robotics surgery company that spun out of Carnegie Mellon University has been acquired by a London-based medical technology giant for $275 million. Smith & Nephew plc announced the purchase of Blue Belt Holdings Inc. on Thursday, and said the deal will help it to secure a leading position in orthopedic robotics-assisted surgery. Blue Belt, whose R&D is based in the Strip District, was founded in 2003 to further develop technology from CMU's Robotics Institute. Its investors include Innovation Works, and Pittsburgh Life Sciences Greenhouse. Blue Belt's corporate offices are in Plymouth, Minn., but co-founder and COO Craig Markovitz is based in Pittsburgh, as are some other C-level executives, as well as half of its 120 employees. The deal is expected to close by year-end."
Read more at Pittsburgh Business Times.
---
October 26, 2015
Why Pittsburgh is becoming a hub for additive manufacturing (think 3D printing)
"If hitting the print button and producing a solid object on your own seems like science fiction, think again. "Now you can buy a 3D printer for your home at less than $1,000," Scott Deutsch says. But in the grand scheme of the technology's capabilities, "That is just a small pebble on the beach."
"I don't think people realize that Pittsburgh has this strength in additive manufacturing," Erica Fuchs, associate professor in the Department of Engineering and Public Policy at Carnegie Mellon University, says. She is part of a growing number of university faculty members who are conducting research and providing instruction on behalf of the technology."
Read more at Next Pittsburgh.
---
October 26, 2015
Duolingo is one of "The App 100: The World's Greatest Apps"
"With millions of apps at our fingertips, it can be harder than ever to find the best of the best. Tech Insider is here to help, with our first annual list of the 100 best mobile apps in the world. Duolingo tries to make learning another language manageable. The app breaks down complicated curriculum into easily digestible lessons that are designed to motive you with points and unlockable power-ups. The service itself is completely free and doesn't require you to drop cash during the learning process."
Read more at Tech Insider.
---
October 6, 2015
Industry Data Portal from Conviva Sheds New Light on Benchmarking QoE Metrics
"Conviva, the leader in Over the Top (OTT) video experience optimization, today announced the launch of its new Industry Data portal, providing unparalleled access to quality and engagement data. "Experience and engagement are inextricably linked," said Dr. Hui Zhang, CEO of Conviva, "Every month, Conviva aggregates and anonymizes billions of streams of data in real time to help its customers provide optimized viewer experiences to maximize engagement. Providing public access to such QoE metrics is an industry first, which we believe will benefit businesses, analysts and consumer viewing audiences alike.""
Read more at PRWeb.
---
October 6, 2015
Peter Thiel's Breakout Labs Selects Four New Companies Pushing the Boundaries of Science and Technology
"Breakout Labs, a program of Peter Thiel's philanthropic organization, the Thiel Foundation, announced today that four new companies advancing scientific discoveries in biomedical, chemical engineering, and nanotechnology have been selected for funding. "We're always hearing about bold new scientific research that promises to transform the world, but far too often the latest discoveries are left withering in a lab," said Lindy Fishburne, Executive Director of Breakout Labs. "Our mission is to help a new type of scientist-entrepreneur navigate the startup ecosystem and build lasting companies that can make audacious scientific discoveries meaningful to everyday life. The four new companies joining the Breakout Labs portfolio – nanoGriptech, Maxterial, C2Sense, and CyteGen – embody that spirit and we're excited to be working with them to help make their vision a reality.""
Read more at Business Wire.
---
September 30, 2015
Voci Technologies Releases Latest Version of V-Spark Voice Analytics Solution
"Voci Technologies, the leader in accelerated Speech-to-Text transcription and analytics, today announced their release of V-Spark Voice Analytics™ 2.0. This latest release of V-Spark features new, customizable scorecard applications for more personalized call analysis and agent evaluation.V-Spark 2.0 also contains a variety of new features to improve search capabilities, emotional intelligence, trending topic monitoring, and ease of use, among others. V-Spark's variety of analytics tools has turned heads at multiple speech analytics companies as well. Scott Bakken, co-founder of MainTrax says "Voci's voice analytics tools are top-notch, and when you add high accuracy and speed to the mix it really takes business intelligence to the next level.""
Read more at Business Wire.
---
September 25, 2015
Amazon.com acquires Pittsburgh tech form Safaba Translation Systems
"Amazon.com Inc. has acquired a Pittsburgh-based developer of automated text translation software that counted PayPal and Dell Inc. among its customers. Financials were not disclosed. Safaba Translation Systems LLC, based in Squirrel Hill, is now known as Amazon Machine Translation R&D Group, according to the LinkedIn profile of its co-founder and chief technology officer, Alon Lavie, a research professor at the Language Technologies Institute at Carnegie Mellon University."
Read more at Pittsburgh Business Times.
---
September 22, 2015
UMeWorld Partners with Carnegie Speech to Launch English Language Speaking & Listening Solutions in China
"UMeWorld Limited (OTCMKTS:UMEWF) today announced a partnership with Carnegie Speech to launch their NativeAccent(R) online English assessment and training program in China. UMeWorld intends to market NativeAccent(R) with its collaborator, South China Normal University (SCNU), as previously disclosed. SCNU provides the expertise to rebrand and localize NativeAccent(R) for the Chinese market. Further, students who complete NativeAccent(R) will receive a Certificate of Completion endorsed by SCNU, including a seal of approval. The SCNU certification validates the proven effectiveness of NativeAccent(R) and provides Chinese employers with an assurance of the certificate holder's spoken English competency. NativeAccent(R) is Carnegie Speech's online adaptive-learning program, which helps students improve their spoken English language and listening assimilation skills. Using advanced speech recognition and intelligent tutoring technologies developed by Carnegie Mellon University, NativeAccent(R) analyzes each student's spoken English and determines their individual strengths and weaknesses. The program then creates a customized learning plan for each student, maximizing learning gains and minimizing study time."
---
September 16, 2015
Carnegie Mellon battery whiz wins Lemelson-MIT prize
"Jay Whitacre, professor of materials science at Pittsburgh's Carnegie Mellon University, has been awarded the $500,000 Lemelson-MIT Prize for 2015. Whitacre won the prize for his invention of the aqueous hybrid ion, a cost-efficient rechargeable battery designed to save surplus energy produced by wind and solar power generators. This makes it possible to store the energy when it's plentiful, for later use at night or when there's no wind. Whitacre has founded a company, Aquion Energy, that markets his battery technology."
Read more at beta Boston.
---
September 9, 2015
Duolingo, Uber partner to certify English-speaking drivers in Latin America
"Beginning Wednesday, English-speaking tourists traveling to Colombia will be able to order an English-speaking Uber driver through a new partnership between Pittsburgh-based Duolingo and the San Francisco-based ride share service. Through the new UberEnglish program, the company is using the Duolingo Test Center English Certificate to verify the English skills of its drivers without having to interview each individually. The UberEnglish service is slated to launch in other major cities in Latin America throughout the rest of the year, according to Duolingo."
Read more at Pittsburgh Business Times.
---
September 1, 2015
Social enterprise accelerator InterSector opens application cycle
"Idea Foundry's social enterprise accelerator InterSector is accepting applications for its seventh cycle. Founded in 2012, InterSector is "the region's first and only accelerator that supports for-profit social enterprises," says Nicole Muise-Kielkucki, business manager at Idea Foundry. InterSector defines social enterprise companies as "for-profit ventures that are motivated to solve some social or environmental issue in our society." Previous InterSector companies include Thread, which turns trash into fabric; Marinus Analytics, which brings human traffickers to justice and Optimus Technologies, a technology company developing biofuel solutions to reduce the carbon footprint of trucks. InterSector is searching for ambitious ideas that create change. "We're looking for big, innovative ideas that drive forward social change but also create economic opportunity in Pennsylvania," says Muise-Kielkucki. While the business should be scalable, it needs to be located primarily in the Pittsburgh area to be eligible for InterSector."
InterSector's Fall 2015 Application Cycle Now Open! Applications Due October 15, 2015.
Read more at Next Pittsburgh.
---
September 1, 2015
Data rich but info poor? UPMC Enterprises raising the bar for health care innovation
"We all feel the pain of health care costs—customers and providers alike. "Health care is a huge industry, and costs are escalating through the roof," says Dr. Rasu Shrestha, EVP and chief innovation officer of UPMC Enterprises, a newly-branded group at UPMC which integrates technology with medicine to improve the quality of health care. "Quality of care often is not so great compared to our peers in the top 20 countries," he offers. "There's a lot that we can do in the industry." That includes bringing down the cost of health care. Formerly part of the UPMC Technology Development Center, UPMC Enterprises works with homegrown startups, universities and partners to develop and refine technology that provide innovative solutions in the health care industry. As an example, the group is partnering with University of Pittsburgh and Carnegie Mellon University to leverage big data to improve patient care."
Healthcare pitch competition September 24th at Thrival sponsored by UPMC Enterprises. Pitch application deadline is September 9th.
Read more at Next Pittsburgh.
---
August 31, 2015
"Molecular Tweeting" Could Hold the Key to Busting Superbugs
A broader understanding of bacterial social networks might help scientists combat antibiotic resistance
"Twitter's hundreds of millions of users form communities that grow through the exchange of information, like-minded banter or biting criticism—sometimes all three. At its best, Twitter helped enable the Arab Spring revolutions that swept through North Africa and the Middle East beginning in 2010 to be broadcast to a global audience. Could a closer study of interactions among Twitter users likewise help put an end to antibacterial-resistant superbugs? A team of Carnegie Mellon University (C.M.U.) researchers thinks so. They are using the microblogging service as a metaphor to better understand how different bacterial strains communicate with one another via certain chemical signals to form densely matted biofilms that protect them against antibiotics."
Read more at Scientific American.
---
August 31, 2015
CMU among most entrepreneurial universities in U.S.
"Carnegie Mellon University is among the most entrepreneurial colleges in the U.S., according to a ranking released Monday. While Stanford University took the top spot, out of the 50 most entrepreneurial schools in the country, CMU ranked 13th in the AffordableSchools.net ranking. The list is based on the average rankings of the institutions' graduate computer science program and MBA, as well as the average earnings of graduates and the metro area ranking for entrepreneurial activity. The ranking relies on data from PayScale and the Kauffman Index."
Read more at Pittsburgh Business Times.
---
August 30, 2015
CMU grad builds cybersleuthing tool to snare sex traffickers
Traffic Jam mines the 'deep Web' for information, clues
"The universal scope of Internet advertising makes it an ideal way to attract customers and lure young participants into human trafficking activities including sex and prostitution. But behind those ads are layers of online data that can help investigators track down the criminals who organize and profit from such exploitation. A fledgling Pittsburgh startup, Marinus Analytics, has a software product, Traffic Jam, that mines the so-called "deep Web" for information and clues about trafficking operations. It is being used by law enforcement officials, including the FBI, to identify offenders and rescue victims. Emily Kennedy, the founder of Marinus founder and its chief executive, began developing the product while she was a student at Carnegie Mellon University. She said Traffic Jam has helped locate more than 120 victims of human trafficking and the firm has trained and assisted more than 75 law enforcement agencies and prosecutor's offices that work on such cases."
Read more at Pittsburgh Post-Gazette.
---
August 28, 2015
A Spotlight on Pittsburgh Startups: BirdBrain Technologies
"Today's startup spotlight is on BirdBrain Technologies LLC, a company focused on introducing robotics and hardware design to the classroom. Here we talk to founder and CEO Tom Lauwers..."
Read more at Imagine Careers.
---
August 24, 2015
Jay Whitacre and the Edible Battery
"Solar panels and wind turbines are everywhere these days, but the sun doesn't always shine and the wind doesn't always blow. Meaning, the more panels and turbines you build, the more you need a backup for rainy days (literally). Storing excess solar and wind energy would be ideal, but conventional batteries wear out quickly, sometimes catch fire, often leak toxic crud and leave behind heavy metal waste when they go. That leaves unconventional batteries — say, power cells built out of something cheap, plentiful and nonflammable that's also utterly nontoxic. Maybe, since we're dreaming here, even safe enough to eat. Make that, safe enough to eat and drink, and somewhere Jay Whitacre's ears perk up. For the past five years, the Carnegie Mellon professor and a team of engineers at his startup, Aquion Energy, have been developing a long-lived, eco-friendly and inexpensive battery out of nothing more than salt water and other simple components. This isn't a battery that will juice your phone or your car, at least not directly; instead, it's intended for big power farms that could soak up excess electricity during the day — for instance, from home solar systems — and then shoot it back out at night when the sun's down. The French consulting firm Yole Développement figures this "stationary storage" market could be a $13.5 billion opportunity by 2023, compared with less than $1 billion this year."
Read more at OZY.
---
August 24, 2015
Carnegie Mellon Spinoff nanoGriptech Is First Mass Manufacturer of a Strong and Sensitive Gecko-Inspired Adhesive
"Carnegie Mellon University spinoff nanoGriptech has announced the launch of Setex™, the first commercially available gecko-inspired adhesive. Because it is dry and can repeatedly grip to surfaces without leaving a residue, Setex™ addresses the needs of many industries, including automotive, manufacturing, medical, defense, aerospace and apparel. nanoGriptech was founded by Metin Sitti, a professor of mechanical engineering at Carnegie Mellon who worked for nearly a decade to understand and synthesize biologically inspired micro/nanostructured adhesives. Headquartered in Pittsburgh, nanoGriptech exemplifies how universities and industry work together to support innovation and economic growth."
Read more at BusinessWire.
---
August 11, 2015
Carnegie Mellon, GE Ventures bringing robotics accelerator program to Pittsburgh
"A new accelerator program and a $20 million venture fund started by Carnegie Mellon University and GE Ventures could brand Pittsburgh as the official home of the globe's growing robotics industry. CMU's National Robotics Engineering Center and GE Ventures, the investment arm of Fairfield, Conn.-based General Electric, have teamed up to create The Robotics Hub, an early-stage startup accelerator program designed to draw the nation's best advanced robotics firms to Pittsburgh and to keep those started here firmly in place. The for-profit Robotics Hub will provide funding through newly created Coal Hill Ventures and access to equipment at CMU and the NREC to chosen companies by 2016, in addition to putting their creations on a fast track toward commercialization. "The strategy that's most important to GE is to really get behind startups and help them scale. A lot of companies can come with the money, but what we bring is the ability to scale and the opportunity to commercialize quite quickly, said Alex Tepper, GE Ventures managing director."
Read more at Pittsburgh Post-Gazette.
---
August 5, 2015
World Economic Forum Selects CMU Brainhub Startup as Technology Pioneer
"The World Economic Forum has selected Carnegie Mellon University startup Neon as one of its 2015 Technology Pioneers. Neon is among 49 innovative global companies involved in the design, development and deployment of new and proven technologies that the WEF predicts will have a significant impact on business and society. Neon uses models derived from cognitive neuroscience research to increase viewer engagement with online images and videos. "Neon is part of a group of entrepreneurs who are more aware of the crucial challenges of the world around them, and who are determined to do their part to solve those challenges with their company," said Fulvia Montresor, head of the Technology Pioneers program at the WEF."
Read more at CMU News.
---
August 5, 2015
Obama praises two Pittsburgh startups during White House 'Demo Day'
Astrobotic, Duolingo featured in 'Demo Day'
"One Pittsburgh-based company is on the verge of landing on the moon and the other is helping people learn to speak English, French, Germany and even Klingon. Innovators from Astrobotic Technology and Duolingo were among 32 companies highlighted Tuesday during the White House's first ever "Demo Day." President Barack Obama held up both as examples of strong, innovative startups. "This is a great idea. I'm going to tap into this," Mr. Obama said after a quick Duolingo demonstration. "My high-school Spanish was just painful.""
Read more at Pittsburgh Post-Gazette.
---
August 4, 2015
Delphi buys CMU spinoff that makes self-driving car software
"Vehicle technology giant Delphi Automotive bought a Carnegie Mellon University spin-off that supplied the software used to pilot a self-driving Audi across the United States this year. Combined with Uber's work in Lawrenceville on driverless systems and CMU's continued research, the acquisition of Ottomatika Inc. by U.K.-based Delphi adds to Pittsburgh's reputation as a center for innovation in self-driving technology. "This is great for the region," Ottomatika founder Raj Rajkumar said Tuesday."
Read more at Trib Live and PR Newswire.
---
August 3, 2015
BNY Mellon and The Forbes Funds Name Winners of $1 Million Social Innovation Challenge
Pittsburgh area startups Conversant Labs, Marinus Analytics and PHRQL recognized for their transformative business ideas to address social challenges
"UpPrize has named Conversant Labs, Marinus Analytics and PHRQL as the winners of BNY Mellon's $1 million Social Innovation Challenge. The winning ideas will expand digital access for visually-impaired people, help government agencies fight human trafficking, and ensure poor families have access to healthier foods. UpPrize, a unique collaboration between BNY Mellon, the BNY Mellon Foundation of Southwestern Pennsylvania and The Forbes Funds, combines impact investing with a research-based social innovation challenge. The first-place prize is a combination of a $200,000 investment and $200,000 in grants. Each runner-up prize is an investment of $150,000, plus a grant of $50,000. All three UpPrize challenge winners, as well as the competition's five other finalists received two months of personalized support during the competition, including $10,000 seed grants. In total, the BNY Mellon Social Innovation Challenge has awarded approximately $1 million in investments, grants and technical assistance."
Read more at BNY Mellon and Next Pittsburgh.
---
August 2, 2015
CMU Technology Transfer and Portuguese Start-Ups
"It was the most critical period of the Portuguese economy that the partnership between Portuguese universities and a US counterpart, the Carnegie Mellon University (CMU, Pennsylvania) took its most unexpected fruit: born ten new companies (start-ups), high innovation, facing global markets, which created more than 100 highly skilled jobs. Three of them, Feedzai the Mambu and veniam, have raised 26.8 million dollars (24.4 million euros) in several rounds of financing to develop the business."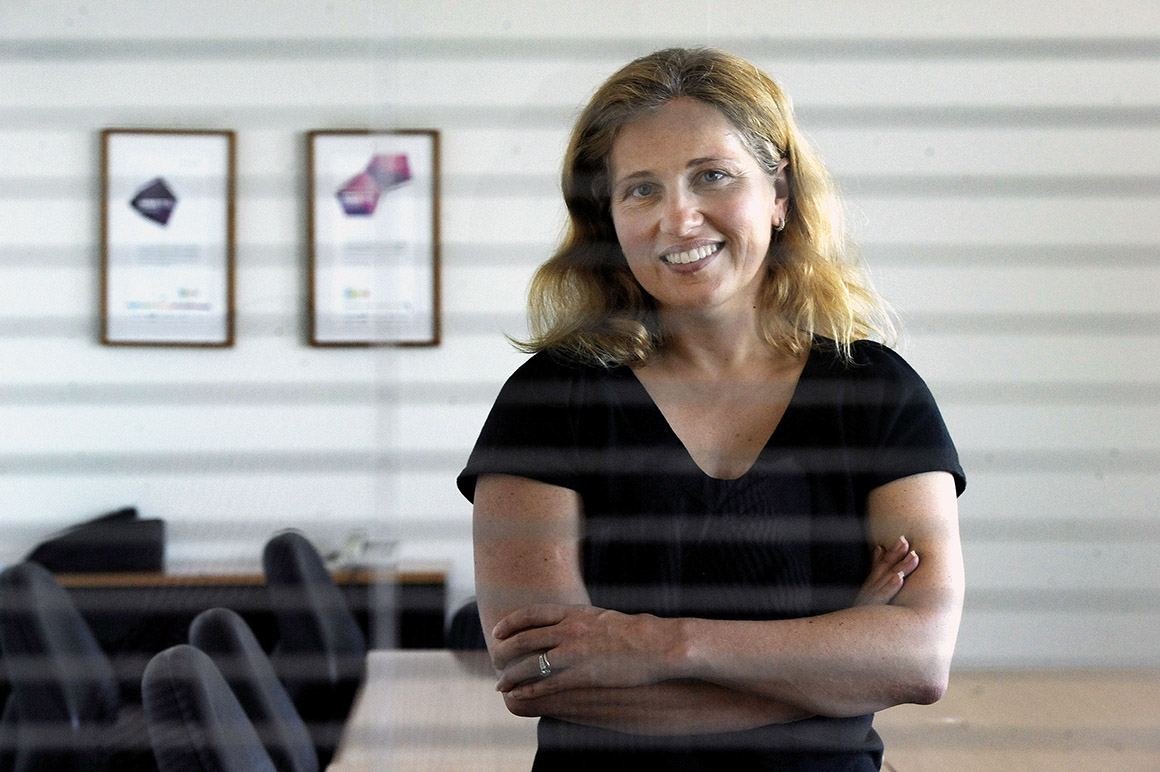 Tara Branstad of CMU's CTTEC in Portugal
Read more at Público.
---
July 28, 2015
CMU's Software Engineering Institute Contract Renewed by Department of Defense for $1.73 Billion
"The U.S. Department of Defense has renewed its contract with Carnegie Mellon University for the Software Engineering Institute. The contract ensures that the institute, a federally funded research and development center, will continue to support the nation's defense by advancing and transitioning the science, technologies, and practices needed to engineer and secure software systems. The SEI, which is sponsored by the Office of the Under Secretary of Defense for Acquisition, Technology, and Logistics, is the only FFRDC focusing specifically on software-related security and engineering issues. The contract was awarded for a term of five years with an option for an additional five years. The contract has an overall ceiling of $1.73 billion."
Read more at CMU News.
---
July 28, 2015
Gates Foundation invests in Pittsburgh startup
"Last year, startup Acrobatiq was a recipient of a next-generation courseware challenge grant from the Bill and Melinda Gates Foundation. Now the Gates Foundation has made an equity investment in the company, as Acrobatiq completed a $9.75 million Series A funding round. Draper Triangle Ventures led the round, and Hearst Ventures also invested in the developer of personalized online learning solutions that improve outcomes for students. It's unclear how much the Gates Foundation funded Acrobatiq. The capital will be used for product development and to add software engineers and sales and marketing staff, as well as a chief operating officer, growing the staff from the current 19 to 30. Most of the posts will be in Pittsburgh's South Side, although the software engineering team is based, with its chief technology officer, in New York."
Read more at Pittsburgh Business Times and PR Newswire.
---
July 24, 2015
A Look Inside Google and Carnegie Mellon's IOT Campus
The "Internet of Things" is Headed to College...
"For the "Internet of Things" to thrive, all it needs is for all devices to get along—which is currently wishful thinking. Last week, however, Google announced a partnership with Carnegie-Mellon University, which is leading a collaboration of faculty from several other academic institutions on a project to jumpstart the Internet of Things revolution. Their plan: Build a universal platform that lets any device talk to any other device. And fittingly, that master-key solution will be open source. The problem is that IoT software and devices are mostly proprietary, built by each company and working well within their own sandboxes, but they don't communicate well together. The joint project between CMU, Cornell, Stanford, Illinois at Urbana-Champaign, and Google wants to wipe away the private-industry middlemen that keep sensors in separate sandboxes by creating a new, open platform: GIoTTO. The CMU team leader, Anind Dey, and his fellow professors are building GIoTTO's middleware, which is a pretty technical job—stitching all the right software together so any sensor you pick up off the shelf (measuring temperature, pressure, light, etc.) will work with your system. Dey wants their platform to receive info via any signal type—whether BLE, passive infrared, or otherwise—and show people that info in ways they'll understand."
Read more at Fast Company.
---
July 23, 2015
FDA Approves Robot Developed at Carnegie Mellon for Surgical Procedures
CMU Spinoff Medrobotics To Begin Commercial Launch in U.S. Hospitals
"Carnegie Mellon University spinoff company Medrobotics Corp. announced today it has received clearance from the U.S. Food and Drug Administration (FDA) to market its Flex® Robotic System, which is based on the research of CMU Robotics Institute Professor Howie Choset. A flexible endoscopic system that enables surgeons to access and visualize hard-to-reach anatomical locations, the system extends the benefits of minimally invasive surgery — shorter hospital stays and recovery times — to a broader population of patients. Medrobotics initially has targeted the system for use in head and neck surgery, operating through the mouth. The FDA clearance marks another high point for Carnegie Mellon and its successful entrepreneurial culture. Startup activity among the university's faculty, students and alumni has led to the creation of more than 138 companies since 2009. Choset serves as the company's acting chief technology officer and a partial owner."
Read more at CMU News.
---
July 16, 2015
Pittsburgh: The Comeback
"Watch the story behind Pittsburgh's transition from steel city to research hub"
Read more at TIME.
---
July 13, 2015
GIoTTO makes CMU a living lab for Internet of Things
"There's a Renaissance going on at Carnegie Mellon University right now. A $500,000 Google-funded project led by a team of CMU tech experts will turn the campus into a "living lab," creating a platform to allow Internet-connected sensors, devices and buildings to communicate with one another across an infrastructure that radically enhances human-to-human and human-to-computer interaction. It's called Internet of Things, or IoT. And it's such a cultural game-changer that CMU researchers named their campus-wide project GIoTTO after the revolutionary Florentine Renaissance painter."
Read more at Next Pittsburgh.
---
July 9, 2015
CMU experiment aspires to make Pittsburgh world's first 'smart city'
"Pittsburgh residents who dream of the day that the region's bridges and roads can talk to their Internet-connected cars to plot the best pathway around potholes should be willing guinea pigs in Carnegie Mellon University's latest experiment. After claiming the title of the world's first university with an integrated computer network in the 1980s, CMU is now gunning for the designation as frontier for the Internet of Things — a term for products with Internet connectivity built into them — by turning its Oakland campus into a living lab. And it plans to make all of Pittsburgh part of the experiment."
Read more at Pittsburgh Post-Gazette.
---
June 10, 2015
Astrobotic inks payload deal with Mexican space agency
"Astrobotic Technology Inc. has signed an agreement with Mexico's national space agency that will see the Pittsburgh-based company deliver the first payload from Latin America to the moon. Announcing the deal Wednesday, Astrobotic said the agreement marks Agencia Espacial Mexicana's first step to another planetary body. "Opening access to the Moon is precisely at the core of Astrobotic's mission," John Thornton, CEO of Astrobotic, said in a statement. "AEM's rising space science and exploration community is yet one more example of the immense international interest in the Moon as a destination for science, exploration, and other activities. We are proud to be partnered with our friends in Mexico.""
Read more at Pittsburgh Business Times.
---
June 10, 2015
Duolingo Raises $45 Million Series D Round Led By Google Capital, Now Valued At $470M
"Duolingo, the free language learning service co-founded by reCAPTCHA inventor Luis von Ahn, today announced that it has raised a $45 million investment round led by Google Capital. The company's previous investors, which include the likes of Union Square Ventures, NEA and Kleiner Perkins Caufield & Byers, as well as Ashton Kutcher and Tim Ferris, also participated in this round. This round brings Duolingo's total funding to date to $83.3 million and the company says its valuation is now around $470 million."
Read more at TechCrunch.
---
June 7, 2015
Robot Finishes Third in DARPA Robotics Challenge
"CHIMP, a four-limbed robot designed and built by Carnegie Mellon University's Tartan Rescue Team, finished third and won $500,000 Saturday (June 6) at the DARPA Robotics Challenge (DRC), a two-day event that pitted 24 of the world's most advanced robots against each other in a test of their ability to respond to disasters. During its best run on Friday, the robot engaged the enthusiastic audience as it overcame several mishaps and missteps to complete all eight of the possible tasks in 55 minutes, 15 seconds — good enough to put the team in first place on the first day of competition."
Read more at CMU News.
---
May 15, 2015
Nasa bigwig visits Astrobotic
"Pittsburgh-based Astrobotic Technology Inc., which aims to land a rover on the moon in 2016, got a visit from one of the top NASA administrators Thursday. Dr. David Miller, chief technologist of the space agency and a Pittsburgh native himself, visited the Strip District offices and saw the lander and rover that Astrobotic hopes to use on the missions. NASA has given Astrobotic a number of contracts. "This visit by Dr. Miller was a great opportunity to showcase Astrobotic's technologies and highlight the value of public-private partnership under Lunar CATALYST. Transportation to the Moon is fast becoming the domain of commercial space," Astrobotic CEO John Thornton said."
Read more at Pittsburgh Business Times.
---
May 6, 2015
Indian IT firm takes stake in CMU robotics spinout
"Infosys is investing$2 million in a Pittsburgh maker of an air quality monitor for home use. Squirrel Hill-based Airviz Inc. publicly introduced its product, called Speck, two months ago at the South by Southwest Interactive Festival in Austin, Texas. Speck was developed at the Community Robotics Education and Technology Empowerment — or CREATE — Lab at Carnegie Mellon University's Robotics Institute. The capital infusion from Infosys, a Bangalore, India-based IT firm, will come in handy as Airviz is in the process of broadening distribution."
Read more at Pittsburgh Business Times.
---
May 5, 2015
The age of the hardware start-up has arrived
"There's a fundamental problem with much of the technology developed in university labs: It usually stays in university labs. The call for greater emphasis on technology transfer between universities and the marketplace isn't new, and while tech startups are booming, hardware remains a tough sell for investors looking to back promising technology entrepreneurs. But that may be changing..."
Read more at ZDNet.
---
May 1, 2015
Astrobotic, CMU awarded NASA contracts
"Astrobotic Technology Inc., in partnership with Carnegie Mellon University, has been awarded $375,000 in contracts from NASA, the Strip District-based robotics firm announced Friday. The three contracts, each worth $125,000, will develop sensing and navigation technologies to expand the capability for resource exploration on and under the surface of the Moon, Mars and other planets, according to a release from the company. Founded in 2007, Astrobotic is pursuing the $30 million Google Lunar XPRIZE in partnership with CMU."
Read more at Pittsburgh Business Times.
---
April 23, 2015
DOT secretary 'bullish' on CMU transportation technology
"When you think about transportation, think of it as an evolution, said Anthony Foxx, U.S. Secretary of Transportation. First there was walking, followed by the use of machinery controlled by humans, but up until today, that's pretty much where the story ends. "Now we're entering into a phase where the technology is becoming much smarter, much more capable of taking on tasks than human beings have previously taken on," Foxx said while speaking Wednesday at Carnegie Mellon University's National Robotics Engineering Center in Lawrenceville."
Read more at Pittsburgh Business Times.
---
April 9, 2015
Qapla'! Learn Klingon with the Duolingo app
"Attention, Trekkies: Son you will be able to learn Klingon via Pittsburgh-based Duolingo's language-learning app. On Thursday, Duolingo announced it has officially begun building a course to teach Klingon, the language spoken by Vulcans such as Dr. Spock in the TV and movie series 'Star Trek.'"
Read more at Pittsburgh Business Times.
---
March 18, 2015
Speck monitors your home's air quality
"Monitoring the level of particulates in the air inside the home can be a life-saver for people with health issues. A new personal air pollution monitor promises a more precise alternative, empowering users to take measures to mitigate and eliminate those tiny particles. Developed at Carnegie Mellon University Robotics Institute, Speck was presented at the SXSW Interactive Festival in Austin, Texas, that took place between March 13 and 17. Speck can reportedly detect unhealthy levels of particulates more precisely than other products, thanks to the use of machine learning algorithms. According to Prof. Illah Nourbakhsh, these programs can recognize and make up for interference noise in sensor signals at a low cost. This way, the device provides a high level of data regarding the user's exposure to tiny particulates which can lodge in the lungs and aggravate heart and lung diseases."
Read more at gizmag.
---
March 13, 2015
Startup Goes Public With Its Energy Disaggregation Results
"One of the biggest questions facing the providers of energy disaggregation technology is how to prove that it works as advertised. Then there's the inevitable follow-up question -- how well does it work compared to the competition? Over the past few years, we've been covering companies like Bidgely, PlotWatt, Smappee, Neurio (formerly Energy Aware), Navetas, Belkin, Intel, and others offering technology to disaggregate whole-home energy data into specific breakouts of air conditioning, water heating, appliances and other typical building electricity loads. But without large-scale, standardized testing methods, it's hard for would-be users of the technology to know whether they're getting what they've paid for. Enes Hosgor, CEO and founder of EEme, says that his company wants to change that. Last week, the Carnegie Mellon University spinout released results from what may be the biggest disaggregation technology test out there -- a comparison of the results turned out by EEme's algorithms against the circuit-level, real-time data being collected from 264 homes that are part of the Austin, Texas-based Pecan Street Project."
Read more at greentech media.
---
Thursday February 26, 2015
Startup Gets Bite on "Shark Tank"
"On Feb. 6, Bobbie Rhoads (TPR'93) appeared on Shark Tank to pitch her company, FunBites. Rhoads entered the Tank with hopes that the "sharks" would invest in her product — food cutters that slice meals and snacks into fun shapes. She had been in business for three years, and was hoping that one of the sharks, a judging panel of investors, would open doors to get her into big-box stores... Rhoads' husband Ed Rhoads (E'85, TPR'93) currently does the background operations and IT for FunBites. His degree in mechanical engineering from CMU helped him work with the product and tooling designers. An on-campus job also assisted them in the growth of the company. 'I worked with the Center for Technology Transfer and Enterprise Creation (CTTEC) and that exposure to the patenting process was helpful in applying for our patent,' he said."
Read more at CMU News.
---
Tuesday February 24, 2015
Eric Burns Appointed Panopto CEO
"Panopto, a leading video platform provider for enterprise and education markets, today announced the appointment of Eric Burns to CEO. Burns is a co-founder of Panopto who has served as the company's chief product officer since its founding in 2007. William L. Guttman, who has led Panopto's growth and expansion as CEO since 2010, will continue as the company's Executive Chairman. Panopto was founded as a technology transfer from Carnegie Mellon University. Since 2007, the company has experienced tremendous growth."
Read more at PR Newswire.
---
Monday February 23, 2015
Astrobotic takes on Japanese partner for lunar mission to win $20M Xprize
"Pittsburgh-based Astrobotic's lunar mission will include a Japanese team's robot, the company said Monday. Both Team Hakuto's robot and Astrobotic's rover will be deposited on the surface of the moon before the race to win the $20 million Google Lunar Xprize. The deal between Astrobotic and Team Hakuto gets the Carnegie Mellon University spinoff that much closer to filling its payload poised to launch in the second half of 2016."
Read more at Pittsburgh Business Times.
---
Thursday February 19, 2015
CMU selects Innovation Corp Site teams
"On Wednesday, Carnegie Mellon University announced 16 teams of faculty members, alumni and students that have been chosen for the spring cohort of the university's Innovation Corp Site. In June, CMU received a three-year, $300,000 grant from the National Science Foundation for creation of the I-Corp Site. The goal is to train entrepreneurial faculty and student teams to commercialize research and concepts related to science, technology, engineering and math."
Read more at PR Newswire and Pittsburgh Business Times.
---
Wednesday February 4, 2015
Carnegie Mellon researchers develop software to help police detect prostitution websites
"Researchers at Carnegie Mellon University (CMU) have developed software that helps police departments investigate online ads that offer prostitution services. Developed by a research team under Artur Dubrawski of CMU'S Robotics Institute, Traffic Jam is intended to expose sex traffickers who exploit disenfranchised female teenagers and women."
Read more at Tech Transfer eNews Blog.
---
Monday February 2, 2015
CMU dean on Uber deal: 'This cements Pittsburgh as a center for robotics'
"In partnership with Carnegie Mellon University, Uber Technologies Inc. announced Monday it has established an advanced technologies center in Pittsburgh. The Uber Advanced Technologies Center focuses on the development of key long-term technologies, primarily in the areas of mapping, vehicle safety and autonomous vehicles, according to Jeff Holden, chief product officer at Uber. He said the partnership provides a forum for the company to work closely with CMU faculty, staff and students, both on CMU's campus and at the National Robotics Engineering Center."
Read more at Pittsburgh Business Times, New York Times, Wall Street Journal, and CMU News.
---
Monday January 26, 2015
Astrobotic awarded $2M from Xprize foundation for technological advances
"Pittsburgh-based Astrobotic will officially be awarded more than $2 million in prizes from the Xprize organization that is running a competition for a privately funded moon landing. The Pittsburgh-based CMU spinoff is vying to become the first private team to carry out a successful landing on the lunar surface by the deadline of the end of 2016."
Read more at Pittsburgh Business Times.
---
Saturday January 17, 2015
Ottomatika grabs attention at CES 2015!
"Delphi showed off its self-driving car system at CES. Hidden under the fenders and strategically positioned on the dash and roof of an Audi SUV were 20 sensors, including 360-degree LIDARs, radars, high-accuracy GPS, collision detection and more — all powered by an Nvidia Tegra K1 running Ottomatika's automated driving software."
Read more at Mashable, CNET, and ABC News.
---
Monday January 12, 2015
Forbes names nine top Pittsburgh-area leaders under 30
"...Currently on a 10-month leave from his Ph.D. work at CMU to focus solely on his start-up, Mr. Samadi said he hopes to launch the service by summer. With Solvvy, users will be able to ask a question out loud and "receive data that is relevant only to the query," said Mr. Samadi. Instead of providing suggestions through links, Solvvy will actually answer the user's question based on data collected through social networking sites and previous searches.
Three CMU alumni were included on the 30 Under 30 in Energy list. Graduates from CMU's engineering program, Hahna Alexander and Matt Stanton, both 24, were recognized for co-founding Pittsburgh-based startup SolePower, a company that develops power-generating shoe insoles. Abe Othman, 29, is a 2012 CMU computer science graduate, who made the list for co-founding Building Robotics, a software-based systems that helps buildings become energy efficient."
Read more at Pittsburgh Post Gazette.
---
Monday January 12, 2015
CMU's 'Snake Monster' making it easier to customize robots
"While it looks more like an arachnid than a reptile, Carnegie Mellon University's "Snake Monster" is set to make robotic customization faster and less expensive. Developed in just six months by CMU researcher Howie Choset, Snake Monster is the first in what CMU said is a new breed of reconfigurable modular robots being developed at the university's Robotics Institute."
Read more at Pittsburgh Business Times, GizMag, and PopCity.

---
Thursday January 8, 2015
Duolingo expands classroom presence with platform for schools
"Pittsburgh-based Duolingo unveiled its latest offering Thursday, which will allow educators to better incorporate the company's language-learning app in the classroom. Duolingo for Schools provides educators with a dashboard to track student progress on the company's free app. The platform can also identify patterns in the way individuals learn and react accordingly to reinforce areas of difficulty."
Read more at Pittsburgh Business Times.
---
Thursday January 8, 2015
Tomorrow Transformed: Could virtual traffic lights reduce your commute?
"CNN's Richard Quest looks at new technology that could vastly improve the flow of traffic and reduce commute time for urban workers by 40%."
Read more at CNN.
---