February 24, 2021
Update on Remote Work Dates and Vaccines
Dear Members of the Pittsburgh Campus Community:
I write to you today with updates and reminders about Carnegie Mellon University's response to the COVID-19 pandemic.
I want to begin by updating our previous guidance from last December regarding returning to work on campus. It is now our expectation that CMU employees who have been working partially or completely remotely will continue in that mode through at least June 30, 2021. As virus prevalence and vaccine availability evolve, vice presidents, deans and department heads will follow up with specific information pertaining to their divisions, colleges and departments.
Research projects approved to be on-site may continue, while complying with university-wide minimum requirements. All other researchers will continue to operate remotely unless authorized to return to a CMU facility. Should you desire to have your work authorized for a return to campus, please submit a plan for review and approval.
As I mentioned in my last message, we have experienced a few clusters of cases in off-campus settings since the start of the spring semester. We continue to see positive cases appearing and the majority of them are related to gatherings where people are sharing meals. This is a high-risk activity. Please do your best to refrain from sharing meals in close proximity to others from outside your household, especially while in poorly ventilated spaces.
It remains essential that you continue to wear facial coverings. Unfortunately, we have seen an uptick of people on campus wearing facial coverings improperly. The CDC recently posted information on correct and consistent use of facial coverings. The mask should cover both the mouth and nose and fit snugly around the sides of your face.
---
Improve How Your Mask Protects You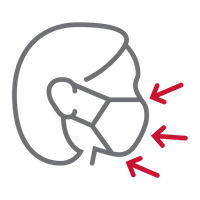 Make sure your mask fits snugly against your face. Gaps can let air with respiratory droplets leak in and out around the edges of the mask.
Pick a mask with layers (or wear a disposable mask underneath) to keep your respiratory droplets in and others' out.
---
The ramp-up period of the Tartan COVID-19 Asymptomatic Testing Program is now over, and beginning this week all Pittsburgh-based faculty, staff and students are invited to participate weekly in Tartan Testing. If you are planning to be on campus this week and have not already done so, please schedule your asymptomatic COVID-19 test.
We know that many of you are eager for more information about the COVID-19 vaccine and its availability to our community. To date, approximately 8% of the population in Allegheny County has received a vaccine. If you are among the population that is currently qualified to receive it, we encourage you to remain persistent, patient and resourceful about securing appointments that are available throughout the county.

The university is still awaiting news of whether we will be approved as a vaccine distributor; we have made logistical plans should approval be granted. As we continue to understand the data from ongoing vaccine research, we will monitor our posture on mitigation protocols post-vaccine. Until we learn more, it is imperative, even after receiving the vaccine, to remain vigilant with all protocols to protect the broader community. In the interim, we encourage you to learn more about the vaccines and we will continue to keep you apprised as more information becomes available.
As we approach the one-year mark of the onset of the pandemic I know we are all feeling the weight of COVID-19 fatigue, and I know it is not made easier by the winter weather. While hope is on the horizon, we must remain vigilant, and your Tartan community is here to support you. I thank you for your continued dedication to our shared efforts in ensuring that we do all we can to keep our community healthy and well as each passing month brings us incrementally closer to a post-pandemic normalcy.
Sincerely,
Daryl Weinert
Chief of Staff, Vice President for Strategic Initiatives
CMU COVID-19 Coordinator