By Mark Kramer
Drones are helping farmers in the field and with the bottom line through Skycision, a farm management platform founded by Carnegie Mellon University alumnus Brendan Carroll.
Skycision's iOS software application instructs drones to capture infrared images of damaged crops from the effects of weather, pests and disease. This data frees farmers from spending hours, and sometimes days, inspecting their fields, allowing them to spend their time focusing on growing healthier crops and enjoying better harvests.
"The farmer isn't going to stop scouting, but the drone is now an extension of what he can do. He can be working on his tractor, walking the fields, but now the drone is autonomously going to be operating alongside of him," explained Carroll, who in 2015 earned his master's degree in information systems management (MISM) from CMU's Heinz College of Information Systems and Public Policy.
With Skycision, farmers "tap the fields they want to fly" on a smartphone. Drones then capture aerial photos and upload them to the Skycision system.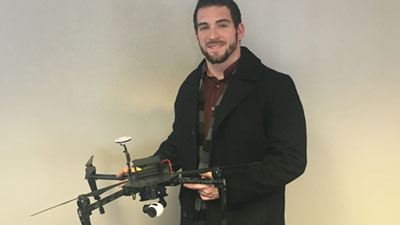 A Global MISM student, Carroll led a student team in Adelaide, Australia researching iOS apps for drones, initially considering pharmaceutical deliveries before identifying a niche in agribusiness. Just before his graduation, his project, which would eventually become Skycision, placed second in the Heinz College's annual Social Innovation Solutions Challenge.
Tim Zak, director of CMU's Institute for Social Innovation, helped secure a $50,000 National Science Foundation grant used to launch Skycision.
"The team just made a very compelling case for how that was an interesting market, how the combination of drone sensors and big data could play an important role in adding value for farmers and other people involved in agriculture," Zak said.
Within the past year, Skycision has received additional funding from AgLaunch, an agritech-focused business acceleration program and Acceleprise, an accelerator that focuses on software as a service (SaaS) companies.
Jorge Brito — a viticulture technician for Renteria Vineyard Management, which oversees 2,000 acres for growers and wineries in the Napa Valley — has used the Skycision app to strategize sugar testing of grapes and prioritize harvesting. While other companies provide plane and satellite mapping, Brito said Skycision offers more detailed images and the freedom to launch his drone and take pictures at a moment's notice. He said the app allows him to choose an automated or manual flight plan.
"Brendan seems to have a genuine concern for the farmer, and for feeding people and using technology in a way that benefits people," said AgLaunch Director Pete Nelson, who praised Carroll's personable nature and high-energy approach.
To date Skycision, headquartered in Pittsburgh, has garnered more than $350,000 in seed money and nearly 80 clients. Carroll's goal is to grow internationally.
Pointing out that the world's population is expected to increase by 2 billion by 2050, Carroll predicts farmers will need Skycision to keep pace with the increased demand for food.
"We're on a mission to help the global agriculture industry grow more efficiently," he said.