The newest crop dusters are also the smallest.
"We're not using planes, tractors or other big spray equipment to deliver these products on crops," said Ashish Malik, a Carnegie Mellon University alumnus and chief executive officer of Bee Vectoring Technologies (BVT)."We're actually using bees to take small doses of those beneficial biological products and deliver it directly to the crop."
The company uses commercially reared bumble bees to spread natural substances to help curb plant disease while at the same time pollinating crops.
"Food safety and sustainability are critical for this generation, the next generation, two generations from now," said Malik, who earned his MBA from the Tepper School of Business in 1992. "BVT will hopefully have a role to play in both — helping to address hunger and food prices along the road."
The company, based in Canada, is in the process of receiving U.S. EPA approval for its technology.
"We are initially working with bumble bees but have also filed for a patent on a system which can be used with honey bee hives which we are now testing," Malik said. "Bumble bees were initially chosen because of the initial crop we were targeting — strawberries — and because there already exists a market structure for commercially reared bumble bees that we could leverage."
Beehives with specially designed trays are filled with naturally occurring microbes, which fight mold on strawberry plants and other crops.
"It's the same microbe to control similar diseases on multiple crops," Malik said. "The system enables the reduction in use of chemicals, many of which are coming under increasing pressure from consumers, growers and regulators alike because of concerns with their toxicity and impact on the environment."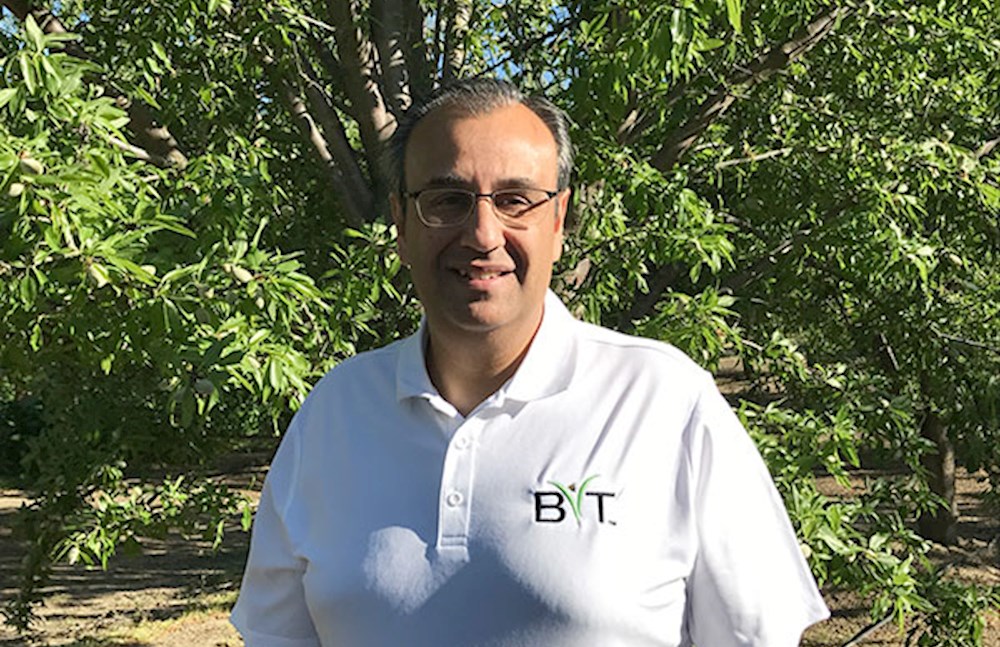 As the bees pass through the substance, they pick up powdery spores on their legs, which Malik points out doesn't affect the bees' health: "We had to conduct bee safety studies before submitting for EPA approval. Plus, we have been testing bee vectoring for over 10 years now and have never seen an effect on the bees."
Once on targeted crops, Malik said the bees do a little "shimmy," which deposits the spores that help protect the plant against diseases.
Malik explained that the microbe BVT uses helps manage botrytis, which is the gray mold seen on strawberries, and which affects other crops as well. The microbe also fights monilinia on blueberries and almonds and sclerotinia on sunflowers.
"Other microbes could be delivered using our system to control other diseases and pests that affect the crops in and around the flower," Malik added.
Successful trials have been completed for strawberries, sunflowers, apples, tomatoes, canola and blueberries. And the company is expanding its trials this year.
"The end result will eliminate common crop diseases, while at the same time stimulate and enhance crop yields," Malik said.
BVT brought Malik on board in August to commercialize the technology. A former vice president of global marketing for Biologics at Bayer CropScience, Malik previously worked for AgraQuest, which Bayer acquired.
Malik said he is comfortable working with emerging technology because of his CMU education.
"I chose the Tepper School of Business for pursuing my MBA because it's a demanding and rigorous program and provides a foundation in essentially every aspect of business, not the least of which is technology," he recalled.
BVT Executive Chairman Michael Collinson is delighted to have Malik serving as CEO.
"The significance of having an industry figure such as Ashish join the company at this early stage cannot be overstated," Collinson said. "It is unquestionably a remarkable endorsement of BVT's products and potential. Ashish is an exceptionally skilled specialist in our industry and has a rich and well-proven talent for driving innovative new products into global markets. We feel privileged to have Ashish on the team and excited about his ability to move BVT to the next level."