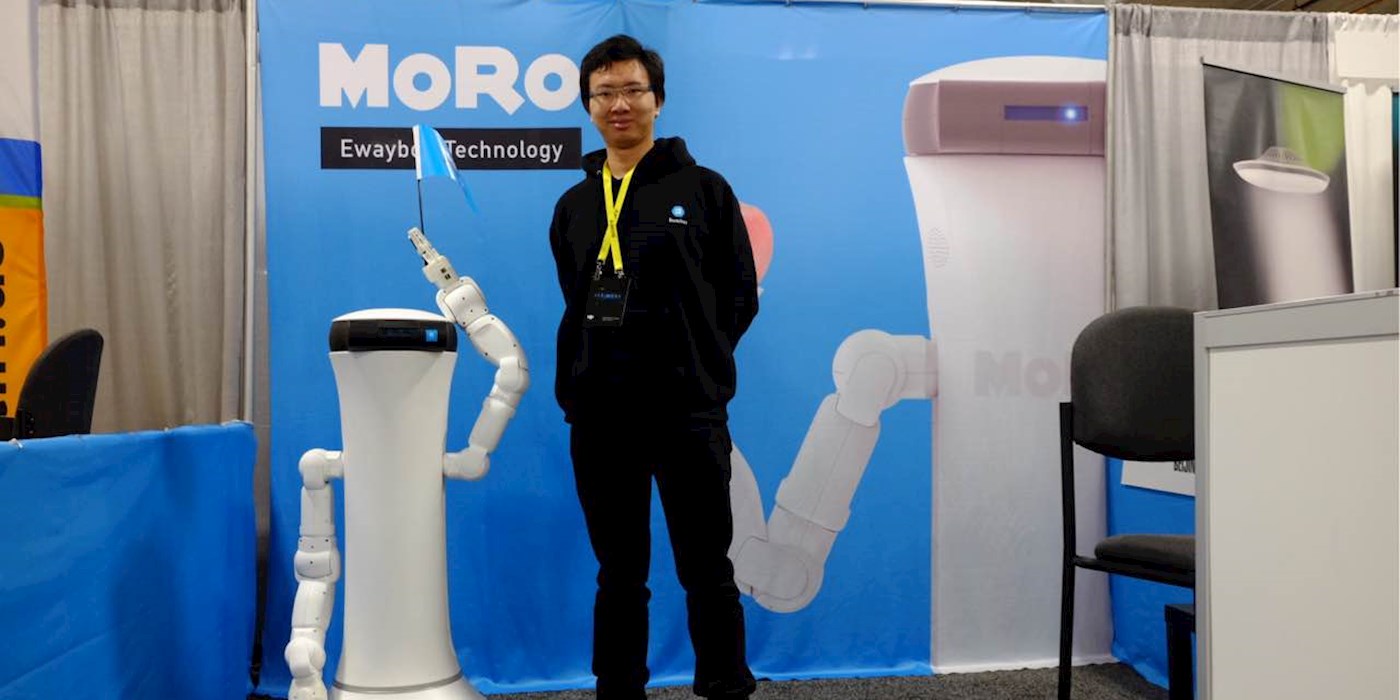 By Heidi Opdyke
Bowei Tang attended his first Consumer Electronics Show and created quite a buzz.
Tang, a Carnegie Mellon University alumnus, is the founder of Beijing Ewaybot Technology LLC, which showcased its robot MoRo at the world's largest tech conference, Jan. 5-8, in Las Vegas. MoRo, which stands for More Roboticists, is a 4-foot-tall, 77-pound mobile robot designed to help handle objects, guide people, record events and send out alerts. The robot is voice controlled and has two six-joint arms with three fingers at each end that enable it to grab items, from water bottles to tissues.
Ewaybot is aiming to have the robot available this May with a price tag of about $30,000.
"We are targeting the education and academic market," Tang said. "But we wanted to show our robot at the Consumer Electronics Show because it is a representation of the high-tech industry and let people know that our robot could help people's lives in the near future."
Tang said he hopes more and more young roboticists can learn robotics theories based on MoRo's platform.
Tang received a master's degree in mechanical engineering from CMU and took leave from the doctoral program. Based in Beijing, Ewaybot has received more than $2 million seed funding from Future Works, an educational-technology venture fund in China. Tang said that although he has not tapped the entrepreneurial resources at CMU, he appreciates the knowledge, vision and ability that he has received.
"I think the top engineering school gives me a great vision of the robotics field, as well as the hands-on engineering ability," he said. "Our team has an advantage to understanding robots and the market as well."
Chris Atkeson, a professor in CMU's Robotics Institute and Human-Computer Interaction Institute, and Hartmut Geyer, an associate professor in the Robotics Institute, were Tang's advisers.
Tang's team also includes Wei Jing, a CMU doctoral candidate in mechanical engineering and robotics, and Haotian Shi, who received his master's degree in mechanical engineering from CMU in 2014. He's hoping to bring on more CMU alumni as the company grows.