Inside White House meetings with top-level administrative leaders and policymakers, new members of the team listen to the FBI's concern: Is there a better way to interact with the private sector? They listen to the U.S. Department of Veterans Affairs' frustration with claims backlogs. They take notes on the National Highway Traffic and Safety Administration's plan to regulate self-driving vehicles.
Although the new folks in the room are there to address some of the government's most challenging problems, they aren't from the government at all. They are some of the top minds from the private sector — people who have started companies, launched university programs, and helped rebuild war-torn cities. They've stepped away from their jobs for yearlong Presidential Innovation Fellowships (PIF).
Three current participants have a common bond: Carnegie Mellon University.
The PIF program launched in 2012, and the need to attract top technical minds was underscored shortly thereafter by one of the White House's biggest technological embarrassments — the launch, and crash, of healthcare.gov in October 2013. The site had so many technical problems that in its first week less than 1 percent of people who tried to register for coverage were successful.
Behind the scenes, there was a mad scramble. In jumped Todd Park, then-U.S. chief technology officer. He grabbed a Presidential Innovation Fellow, who brought faster, Silicon Valley-style programming and project-management skills to the problem.
"They saved the day," said Rick Siger, who at the time was chief of staff for the presidential science adviser and director of the White House Office of Science and Technology Policy (OSTP). He is now Carnegie Mellon's director of Strategic Initiatives and Engagement. "The president saw how effective PIFs could be and quickly scaled the program to address other critical challenges facing the government."
More than 100 people have taken part in the PIF program, and 11 more joined this year. The program attracts people willing to pause their private-sector work and uproot their lives to embed themselves within the government. They bring start-up scrappiness and software savvy to a place long associated with slow-moving processes and outdated technology. And it's working.
The Cybersecurity Protector
Erren Lester is exhausted and ecstatic. His first child, a son, arrived this spring, a few weeks earlier than expected. Lester, who joined the PIF program in September 2015, took a short paternity leave. It wasn't long before he was back in the office wanting to make the most of every day of his time as a fellow, by helping the FBI solve issues with security.
"It was an opportunity to serve my country," Lester said of why he applied.
A double graduate of CMU, Lester had a resume that stood out. A 1999 alumnus of the School of Computer Science, he received his MBA from the Tepper School of Business in 2008. Four years later, he was selected for a three-year term as one of the few Young Alumni Trustees to serve on CMU's Board of Trustees. Coupled with his start-up experience and seven years at Microsoft, he had the blend of leadership and knowledge that the PIF program was designed to harness.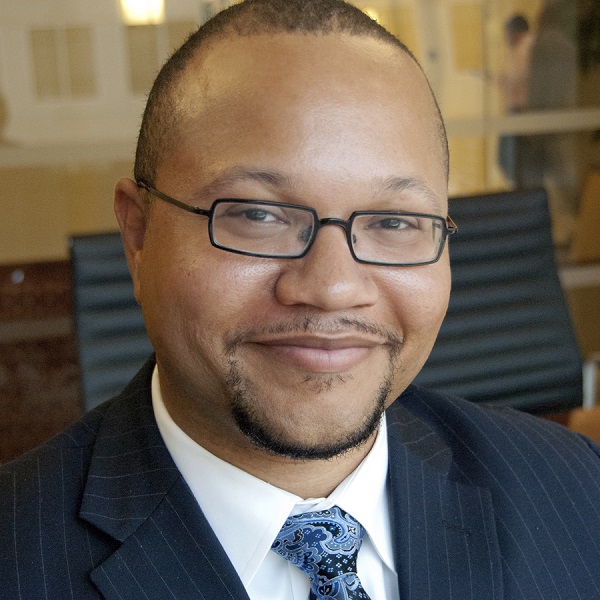 Lester knew of the federal government's technological issues, having worked as director of product management for Synteractive, a company the government would call when projects needed assistance. Lester would review these projects and try to solve their problems. He noticed that previous contractors, when pressed for a deadline, would often scale back the time they took for product testing. He's seen sites crash as soon as the government promoted them on social media.
"You go and look at the code, and it's obvious it would never scale," he said.
Lester's role as a Presidential Innovation Fellow is to help the government approach technology from the perspective and needs of the user. He and two other fellows are helping the FBI. Their challenge: How should the FBI interact with companies to help them manage their risks? And how could a new model of interaction reduce threats?
Lester's team is addressing that by focusing on cybersecurity with an eye toward other types of issues that impact companies.
"Our project is about helping the FBI to take a step back from what already exists and think about it more holistically," Lester said. "We live in a world where threats materialize very rapidly and the damage can be catastrophic. The goal is to look at how the FBI's role should evolve to meet the needs of the private sector and address the threats."
"The president [Barack Obama] saw how effective PIFs could be, and quickly scaled the program to address other critical challenges facing the government."
He and the other fellows travel a significant amount to conduct interviews to understand the current user experience and what users really need. It's a departure from the FBI's current approach of creating a list of requirements and a contract to fill those needs, which is then completed by a third party.
Instead, Lester and his colleagues are using a human-centered "low-tech" approach to designing the new solution. They gather information and regroup to debrief. They read through the reams of notes, tacking up Post-It notes to emphasize major themes. The idea is to reveal and observe problems, show whom they affect, and present a solution.
Although most of his time is spent working with the FBI, he collaborates with other fellows. Most Tuesdays, the fellows convene for a "product jam" where one PIF team will share design concepts, ideas and prototypes for their project with the rest of the PIFs.
"Because you have experts on so many subjects in one room, a half-hour conversation around the table with all of those different perspectives at play is something to behold," Lester said. "I've worked on a lot of high-performance teams, and there's something special about the PIF program."
During his tenure, the program has expanded to allow fellows to stay up to two years, and many have stayed on to work in the government positions, such as Marina Martin, the VA chief technology officer. Lester understands why.
"There are so many challenges in the country that will greatly affect the American people if we don't find real solutions now. I believe the PIF program presents a way to break through the bureaucracy and solve complex problems in a way that makes an impact," he said.
The Robotics Advocate
Eric Daimler came to the White House with unique experience: founding and helping to lead CMU's Silicon Valley campus. He helped establish and develop the degree programs, recruit students and faculty, and integrate the campus into the local corporate, venture, and entrepreneurial community.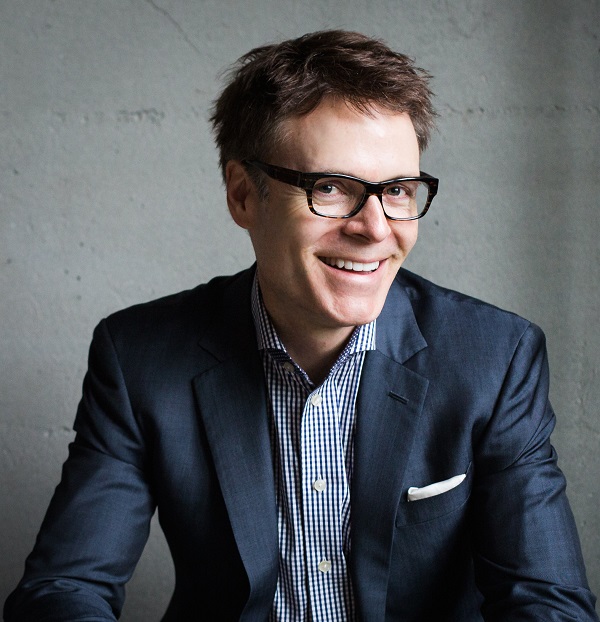 More than 8,000 CMU alumni work in the Bay Area, and 700 of those are graduates of the CMU programs based at the NASA's Ames Research Park. Daimler is a triple alumnus himself. He earned his bachelor's degree of science studying economics and computer science from CMU then later, after graduate studies at Stanford in Financial Mathematics, doubled down on his commitment to Carnegie Mellon by earning his master's degree and Ph.D. from CMU's School of Computer Science.
He has seen his CMU colleagues drawn to public service. Randy Bryant, the former dean of the School of Computer Science, and Chuck Thorpe, the former dean of Carnegie Mellon University in Qatar, have worked in the White House OSTP.
Back in 2011, the White House launched the National Robotics Initiative (NRI) at Carnegie Mellon's National Robotics Engineering Center (NREC). Five years later, Daimler is establishing himself as the leading robotics and artificial intelligence expert at the White House OSTP. He is helping to write the framework for the next five years of the initiative as well as plan events to highlight five years of progress during an anniversary event this summer on Capitol Hill. He wants people to understand the positive impact robotics can have on the economy and daily life.
"I'm doing everything that I can for the government to strongly encourage adoption of lifesaving, job creating, environment-conserving robots," he said.
On a policy level, he's consulting with the Department of Transportation about self-driving cars. When the National Highway Traffic and Safety Administration announced its intention to create federal regulations for autonomous vehicles, he saw it as good news.
"A federal standard can make innovation easier to take root and consumers more quickly get comfortable with the increased safety we expect in this emerging transportation landscape," Daimler said. "We have the opportunity to decrease automobile deaths by two orders of magnitude with this technology."
Multiple federal agencies, such as the National Science Foundation and the Department of Transportation, are leaning on the industry experts such as Daimler, to provide feedback into regulation policy process.
"It was an opportunity to serve my country."
Daimler was attracted to the larger picture of the new "Digital Coalition" established in the OSTP under the Obama administration. The coalition has three arms: the U.S. Digital Service (USDS), digital services agency18F and the PIF. He describes the USDS as firefighters — the first line of defense if something like the crash of healthcare.gov happens again. The people at 18F are the builders — they take technological ideas and make them into reality.
"The PIF brings a combination of a founder's sensibility in creating with limited resources, a consultant's skill of quickly forming solutions within agile teams and an executive's comfort from experience in navigating ambiguity," Daimler said.
Daimler holds a number of roles in the PIF program, working in robotics, machine intelligence, advanced manufacturing, and the privacy and security concerns of consumers.
"I'm working to apply myself wherever I can be most helpful," he said. "Sometimes, this is high-level thinking and contextualizing of a problem with a talented team. Other times, it can be making connections, initiating conversations, and seeding a collaboration."
Outside of his public-service career, Daimler is a partner at the Pittsburgh-based Robotics Hub, the world's leading firm at forming and growing transformative robotics companies. He appreciates the PIF program because he's able to keep private-sector ties while serving his government.
"In my broad sense of self-interest, I am excited to find expression for my sense of civic duty to contribute in a way that is appropriate to my experience," he said. "In a narrow sense of self-interest, I have so far been correct in my hypothesis that there is a value in experiencing the people and the processes by which decisions are being made around aspects of information technology that will affect the personal and commercial landscape for the next generation."
The Connector
Mitchell Sipus was working on his Ph.D. at CMU's School of Design when he encountered the PIF program.
"I tend to not fit sufficiently into most slots. I've looked at government jobs, and I was never aligned, but I was interested in the problems. This was actually something made for people who are more creative and have entrepreneurial kinds of thinking. I thought, 'if I ever worked in government, this would probably be it,'" Sipus said. "They felt the same way."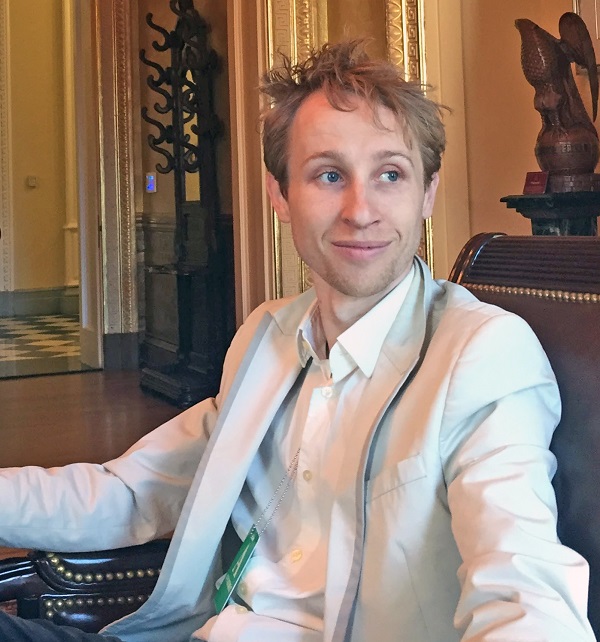 Sipus' work stems from hitchhiking through Asia in his early 20s. Having studied art and design, he wanted to see how his art could translate into social impact. He studied urban planning and transitioned to contracting with the United Nations and advising mayors in Mogadishu, Somalia, and Kabul, Afghanistan, about rebuilding.
"But I had never worked for my own government," he said.
Drawn to CMU's design program because of its multidisciplinary approach to innovation and problem-solving, Sipus sees design as a language to help a community understand itself. Science, he said, is about trying to understand the natural world. Design, however, is trying to understand the world as it's built, or as it is yet to be built.
"You have to create a methodology to help you make things in a way that will create the consequences that you desire," he said.
He has brought that thinking to the program, where he is working primarily in Veterans Affairs, seeking to provide better service to veterans. As of October 2015, there were roughly 1.5 million unanswered applications for benefits from veterans. Six months later, the unanswered applications number is closer to 500,000.
Part of the solution has been in-person, pop-up clinics around the country where veterans could show up and talk to someone about their claims. Although the clinics were helping to eliminate the backlog, there was potential for even more streamlining. Sipus was asked to help create a better model at the local level.
Sipus hit the road. He talked to the people running the pop-up clinics. He talked with local VA offices. He talked with the veterans themselves.
"What we do is gain a systems-level understanding of this complicated social government problem," Sipus said. "Then, with that systems-level understanding, we can start crafting certain kinds of interventions."
Sipus and others quickly came up with an initial, simple solution: a mobile-based RSVP system. Veterans could let the local offices know when they were coming by and what types of claims they had, before they arrived. The staff then knew how many people to have on hand and what resources to stock.
Sipus says bringing an entrepreneurial, problem-solving energy to government can mean navigating roadblocks. He's used to hearing "no" when he asks if something is possible. He has learned he has to figure out why they've said no; often someone might believe that what he's asking is against current policies. So he goes and finds those policies to prove that what he's suggesting isn't against the rules.
"That holds a lot of power," he said. "There is an embedded cultural belief that government change is a slow process because historically this has been true. My team can have a meeting and come back to the second meeting with a prototype. Heads turn."
He sees many of the fellows staying on. He, too, is considering extending his time past the traditional 12-month span.
"You have a unique opportunity to make really profound changes," said Sipus, a feeling that holds true for Daimler and Lester, as well.
Pictured above: Mitchell Sipus (photo credit: Patrick Koppola), Erren Lester, and Eric Daimler (photo credit: Suzanne O'Brien)