More than a million children worldwide will die this year from pneumonia, approximately 20 percent of them in India. Amit Srivastava is working to change that by 2020.
Srivastava, who earned his Ph.D. in biological sciences in 1999 at Carnegie Mellon University, leads pneumococcal vaccine development for the Bill & Melinda Gates Foundation, the world's largest private foundation.
The pneumococcal bacterium is the most common cause of childhood pneumonia, the world's leading cause of death in children under five. India, a geographic priority of the Gates Foundation, is particularly vulnerable.
Two efficacious vaccines are licensed but come at a high price.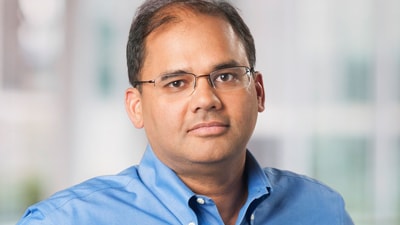 "They're completely out of reach of the developing world," Srivastava said. "My primary focus is to generate a product that is equally safe and efficacious but at a much lower cost. For perspective, in the U.S., the vaccine is about $600 per course. We'd like to bring it down to $10 in the developing world."
He noted that of the 17 pediatric vaccines provided to the developing world through the nonprofit Global Alliance for Vaccines and Immunization, just the pneumococcal conjugate vaccine (PCV) eats up about 45 percent of the current $7.1 billion budget (2016-2020).
Srivastava works with foundation partners to pursue low-cost manufacturing, as well as novel biological approaches and technologies — and is responsible for $125 million in foundation strategic investments.
"While the concept of using killed bacteria to immunize children is simple, its scientific development and implementation are not ... It took Amit's impressive ingenuity, creativity, rigor and passion for science to push our program forward."
"It is the most complex vaccine in the history of vaccines, technically quite a challenge," he said.
The foundation's Indian manufacturing partner is ready to enter the final phase of clinical testing and is preparing to bring an affordable pneumococcal conjugate vaccine to market by 2020. The impact would be felt worldwide, particularly in Srivastava's native India.
After receiving an undergraduate degree in infectious diseases and a master's degree in biotechnology there, Srivastava came to CMU's Mellon College of Science and earned his doctorate in in lysosomal cell biology under the renowned late professor Elizabeth Jones, followed by a year teaching at CMU.
During a post-doctoral position at Harvard he began early work on a killed-whole-cell pneumococcal vaccine in Richard Malley's lab and later, on his own diagnostic device, both funded by the Gates Foundation. Looking to widen his focus, he moved on to bio-pharma business strategy at the Boston Consulting Group.
When the Gates Foundation opportunity arose in 2013, Srivastava saw the chance to come full circle, bringing his professional experience and background together in designing interventions for the developing world.
"Amit's impact on the pneumococcal field should not be underestimated," said Malley, a senior physician in medicine at Boston Children's Hospital and a Professor of Pediatrics at Harvard's Medical School.
"While the concept of using killed bacteria to immunize children is simple, its scientific development and implementation are not," Malley said. "Killed whole cells are highly complex, difficult to standardize and generally defy the ability to identify critical components. It took Amit's impressive ingenuity, creativity, rigor and passion for science to push our program forward.
"Under Amit's guidance at the Gates Foundation, each of the programs he's overseen has made remarkable progress, offering the promise — soon, we all hope — of providing affordable and effective protection against a pathogen that claims over one million lives of children each year.
"We believe and know that Amit's transformative work in the global health and vaccine fields is not yet done," Malley said.
Srivastava said he relies on the "strong, rigorous scientific training" he received at CMU, noting his "extraordinary" thesis committee members professors John Woolford and Adam Linstedt.
"Amit was an excellent student in our department," recalled Linstedt. "He carried out his project with intelligence and skill."
Woolford concurs: "Amit was an extraordinary student. I always enjoyed how Amit thought both deeply and broadly about science. He enjoys the elegance of biology, which often lies in the details of mechanisms, and also always had the big picture in mind...scientifically and otherwise, e.g. how science and scientists can affect society."
Srivastava continues to practice what he calls the "attitude of inquiry" exemplified by the CMU faculty.
"We had very strong teachers who were very good about not talking down to those learning," Srivastava said. "Today, when I have business discussions with people who know both more and less than me, that ingrained attitude works wonders, catalyzing meaningful and productive conversation."
And after 2020 — what could possibly follow?
"I'm very interested in the broad impact of biopharmaceutical product development in industry and cutting-edge technology," Srivastava said. "There's so much unknown but such a lot of potential that it's intellectually a very, very rewarding space.
"I've had a very fulfilling and challenging career thus far, and would emphasize to today's CMU graduate students to seriously seek out opportunities for non-academic careers and encourage the faculty to provide meaningful support and encouragement."
Photo caption: Amit Srivastava, through the Gates Foundation, is making vaccines accessible for children in India and around the world.