Growing up in Manila Leah Lizarondo remembers the walls.
When foreign dignitaries were scheduled to visit the Philippines' capital city, the walls were erected to hide shantytowns visible from the highway. Lizarondo, who said she was fortunate to be in a prosperous family, knew what was behind those walls — hunger and poverty. The imagery haunted her.
Fast-forward a few decades. The 2003 alumna from Carnegie Mellon University's H. John Heinz III College is the co-founder of 412 Food Rescue, a nonprofit that fights hunger and promotes sustainability. The organization started in 2014 and seeks to recover fresh food — "every little bit of food" it can, — by connecting surplus from food retailers in the Pittsburgh area to hungry bellies.
This is all an effort to make use of the 40 percent of U.S. food discarded each year, even as one in seven struggle with food insecurity, according to federal statistics. Since 2015, 412 Food Rescue has distributed more than 600,000 pounds of food.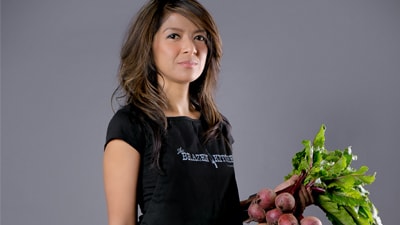 Leah Lizarondo
Lizarondo has taken it beyond caloric concerns for the hungry. She has made it a personal mission to focus on fresh foods, be it bread from a bakery, yogurt approaching its sell-by date or asparagus gleaned from the farm.
It's a personal mission. She watched her father struggle to eat sensibly in the face of kidney disease, an illness he endured for years before passing away. Combine that with her personal experience treating an autoimmune disease by using food as medicine, and her passion for the project becomes clear: nourishment shouldn't be a privilege.
Lizarondo spent years working for companies, often based out of New York City, helping sell products like toothpaste to international markets. She also studied nutrition and took college courses addressing farming, eating and the links between. But, realizing she wanted more, she was drawn to Heinz College for her master's degree in public policy and management. Once back in New York, she met a Pittsburgher who would become her husband.
Her family settled in Pittsburgh, and before long her food advocacy blog, The Brazen Kitchen, was born. When she saw the need for a fresh food recovery system, 412 Food Rescue was born.
Melissa Cronin, a food pantry coordinator in the city's Oakland neighborhood, reports that 412 donates up to 150 pounds of fresh food most weeks.
"The food is always high quality," Cronin said. "They are consistent and a pleasure to work with as well."
It's not as easy as it sounds.
"The difficulty is in collecting the food," according to Lizarondo. "Everyone wants to give; what's difficult is the transportation. The challenge brought out the CMU part of me."
She recalled thinking back to her logistics operations course. The result is a network of 300 active volunteer rescuers, with 400 more waiting in the wings.
"We have the largest network of transport for food in the area, and we don't own a single vehicle," she said.
An app is in the works, one that will further streamline what is already an effective operation and perhaps broaden 412's impact.
"Hopefully we can scale operations locally and that it can be replicated nationally," she said.