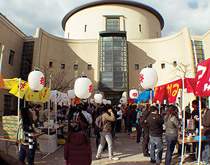 The courtyard outside the Cohon University Center has been transformed into a Japanese street fair. Booths are decorated in authentic Japanese fashion, with bright banners and hanging lanterns. The smell of okonomiyaki, or savory pancakes, fills the air. Students, faculty, and families from the Pittsburgh community are wandering around, eating fried noodles and chicken karaage, buying art, and playing arcade games. Women are dressed in colorful, traditional kimonos. Taiko, classic Japanese drumming, is pulsating out from the CUC.
It's all part of Matsuri, which translated from Japanese to English, means festival. Carnegie Mellon's Japanese Student Association (JSA) plans and hosts the event each year.
In Japan, Matsuri is a street festival celebrated throughout the country. Communities gather outside to eat, play games, listen to music, and be entertained. It's a longstanding tradition, which the JSA has brought to CMU's Pittsburgh campus.
Mirai Akagawa (E'15), the president of JSA, grew up in Yokohama, Japan, which is about 37 kilometers south of Tokyo. As a youngster, he always looked forward to Matsuri, where he played games with his friends in the countryside. That's why he was so excited to help share the celebration with the CMU community. Through the one-day festival, Akagawa says, JSA provides classmates with a "snippet" of Japanese culture.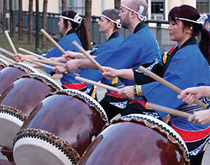 That snippet keeps getting bigger, too. Akagawa says he has watched Matsuri grow since its inception at CMU three years ago—both in the crowd and in the hand-crafted booths that closely resemble what exists in Japan.
For the 2014 Matsuri, the JSA welcomed performances from anyone within the university, and Akagawa says the turnout exceeded all expectations. Entertainers ranged from a unicyclist and juggler, to a group performing J-Pop and contemporary Japanese rock, to a traditional Koto performance.
Another measure of success, says Akagawa, was how quickly they ran out of food to serve.
All of Matsuri's profits—nearly $3,500—were donated to Minato Middle School in Ishinomaki, Japan. In 2011, the school lost its entire campus as a result of the East Japan earthquake and tsunami. Akagawa says he loves to see people who aren't familiar with Japanese customs come to CMU's Matsuri, experience it firsthand, and have a good time. He can't think of a better way to educate the campus community about Japanese culture and traditions, an integral part of JSA's mission.
—Abigail Nover (A'15)