On CMU-Qatar's intimate campus, it's hard to hide, but Narcis Jafarian is nowhere to be found. Her friends finally track her down and ask what's going on, and why is she wearing a suit?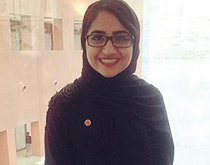 Jafarian, a senior business major, tells them she has been preparing for her Andrew Carnegie Society scholarship interview. She is nervous, so her friends impetuously give her a good-luck charm—a sticker with a Scotty dog on it. She sticks it under the collar of her suit jacket.
Students are selected to be Pittsburgh ACS Scholars by their deans and department heads to represent their classes in service and leadership. They have proven themselves top academic students who are also active in the university community by participating in arts, sports, and volunteer activities. As in Pittsburgh, the Qatar campus considers the scholarship to be an elite honor, and the nominated students are interviewed by a faculty panel.
As Jafarian settles into her chair for the interview, a panel member asks: "What is your biggest legacy going to be for the campus?"
Jafarian reflects on her own orientation. She had been shy, having attended only all-female schools, and she had been reluctant to join in the co-ed ice-breaker games. By her senior year, things had changed; she became the head orientation counselor for CMU-Q's largest incoming class, 120 students. She trained the counselors to create social scenarios to practice getting new students engaged, whether they were shy, new to co-ed campuses, or spoke a different language.
Jafarian's leadership impresses the panel, and she is named the campus's ACS Scholar. In addition to a monetary award, Mark Stehlik, associate dean for education, tells her she will be the first Qatar student to travel to Pittsburgh for the ceremony and attend the Stole Ceremony dinner at President Subra Suresh's house.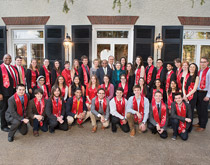 afarian made the trip to Pittsburgh, joining the 39 other ACS scholars for dinner with the president. "I was shy," she admits.
She says she returned to the Qatar campus with a new perspective, thanks to a quote she heard during a panel discussion in Pittsburgh: "Embrace the profound condition of uncertainty. You can't write a narrative of your life before it's happened."
Jafarian says the words have inspired her to not just be a high achiever, but to enjoy her life. So now, when she is asked what are her plans after graduation, she smiles and answers that she is embracing the uncertainty.
—Jennie Dorris