CMU-Q Graduation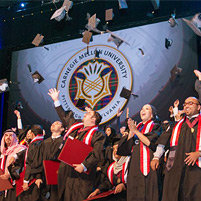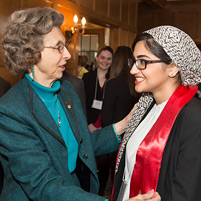 ACS Scholars Committee Chair Mary Louise Lehoczky congratulates Narcis Jafarian.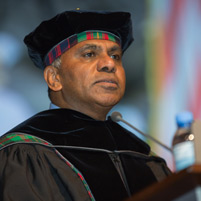 CMU President Subra Suresh speaks at the graduation ceremony.
Narcis Jafarian (CMU'14) is passionate about developing Qatar's business landscape and shaping the country's technology needs.

She is one of 80 Carnegie Mellon University in Qatar students celebrating graduation today. The ceremony will be webcast.

Jafarian was selected as this year's Andrew Carnegie Society (ACS) Scholar from the Qatar campus. She was the first ACS Scholar from Qatar to attend the ceremony in Pittsburgh, where she received her ACS stole at the home of CMU President Subra Suresh.

President Suresh will be this year's graduation speaker at the CMU-Q ceremony.

ACS Scholars are selected each year by their deans and department heads to represent their class in service and leadership. These students embody CMU's high standards of academic excellence, volunteerism, leadership, and involvement in student organizations, athletics or the arts.

"In addition to being an outstanding student in our business administration program, Narcis led new student orientation and served as president of the Debate Society. She has been an active member of the community by attending public lectures, volunteering at events and representing CMU-Q at competitions," said Ilker Baybars, dean of Carnegie Mellon University in Qatar.

"As the Qatar campus celebrates its 10th year, I continue to be impressed by our students and graduates," Baybars added. "Narcis represents the success, achievements and leadership skills demonstrated by the Class of 2014."

Carnegie Mellon University celebrated its decade in Doha with an event in March. The campus has seen enrollment grow from 41 students in two programs to 400 in five programs. The anniversary event inspired Jafarian with a sense of hope for the future.

"It was a brilliant event, focused on our alumni and what they've done, where they've gone," Jafarian said. "Two of the alumni who are doing extremely well were my teaching assistants during my freshman year. Sara Abbas (CMU'12) is working at Nestlé, and Belal al Kadhi (CMU'11) is working at General Electric (GE). That was incredibly inspiring to me to see them very successful, touching and brilliant at the same time. All of our alumni who have gone on to make an impact in the world are very impressive, and this is just our first 10 years."

Jafarian studies business administration finance and wants to work in the banking sector or consulting.

"The CMU Qatar campus doesn't have that many alumni in the banking sector so I was hoping to stay in the Middle East," Jafarian said.

Since its inception in 1975, the endowed ACS Scholars program has recognized more than 1,000 students with a monetary award that supports their academic and personal growth. The students also are asked to work together throughout their senior year to decide how best to contribute a grant of $8,000 back to the university through student-run clubs and organizations.

By empowering the scholars in this way, the ACS aims to instill a sense of the philanthropic spirit of its namesake in future generations.
Related Links: CMU-Qatar Graduation | ACS Scholars
---