As the publisher of Carnegie Mellon's weekly student newspaper, The Tartan, Rachel Cohen (DC'15) spends a typical weekend overseeing managers, copy editing, and writing stories on deadline. She could spend this Saturday cranking out her latest article, due at 5pm; instead, she drops another stack of logs onto a growing pile of firewood.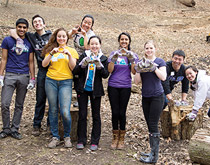 Cohen is a few miles from campus, plopped in the middle of Camp Guyasuta. This team-building hotspot—regularly occupied by Boy Scout troops, school groups, and non-profits—is filled with 90 volunteers, including Cohen, who are cleaning the campgrounds. It's all part of the seventh annual 1000Plus day of service, where approximately 1,000 CMU students, faculty, staff, and alumni take part in community service.
Throughout the region, the volunteers are at work; among some of their activities are tree planting, supply packing for medical organizations, litter pickup, and pet shelter assistance. Alumni networks across the country are pitching in, too, by volunteering in their cities.
At Camp Guyasuta, Cohen and her group transport logs across a span of 50 feet, organizing firewood for the upcoming camp season. After the first hour, the mechanical task evolves into an internal competition for Cohen. If she takes two logs on this round, she must take three on the next. Logs with branches attached count as two. Shaves of bark are only half a point. The game keeps her mind off the rain that has begun.
Cohen's sorority sister Lindsay Kincaid (DC'16) is also volunteering here, despite having plenty of studying to do for next week's midterms. Instead of holding a textbook, she holds the lever of the log splitter. A first-timer to power tools, Kincaid helps split the shrinking pile of tree trunks into logs, which Cohen and others then carry.
Each volunteer has specific responsibilities because at the core of 1000Plus is a teamwork mentality. As the four hours pass, Cohen and Kincaid find energy by glimpsing at the magnitude of work they and the other volunteers are accomplishing.
When there are only 15 minutes left in the service trip, an assembly-line finale forms. One by one, the last rain-soaked slices of wood pass through 90 sets of arms until the wood pile dwindles to a patch of damp soil, sprinkled with sawdust. Freshly stocked with firewood, Camp Guyasuta is ready to welcome visitors for the upcoming season.
—Elana Goldberg (DC'15)