Geres Akdikasimova is a grandmother who lives in Kyrgyzstan. To be precise, she lives with her extended family on a tiny farm in the village of Tendik. It's nearly a full day's drive to central Asia's "neighboring" cities like Kabul, or a seven-hour flight to Beijing. In other words, this is not an area that gets much foot traffic from tourists.
For more than 40 years, Akdikasimova has been hand-weaving Kyrgyz shyrdaks—rugs and wall hangings. She gets the wool from sheep sheared out back, dyes it in her house, and patterns and weaves it with some women in her village. With her decades of practice, she produces gorgeous, one-of-a-kind shyrdaks.
All she needs is a marketplace to find buyers. That's where Vladimir Ermakov (CS'11) enters the story. He is the founder and CEO of GlobeIn. It's similar to Etsy.com, where customers buy crafts directly from artisans, but it differs in one critical respect.
"In order to sell online, you usually have to have an Internet connection, have a way of processing payments, a bank account, electricity, a computer, etc.," says Ermakov. "That is fine for, say, a stay-at-home mom in Nebraska, but it does very little good for someone like Akdikasimova."
By providing a way to sell from an area as remote as Tendik, Ermakov says he and his GlobeIn team are doing their part to preserve the next generation of craftsmen, no matter what corner of the world they call home.
To find these one-of-a-kind artisans, GlobeIn taps into a network of world travelers, either paid or volunteers, called Artisan Helpers. When Artisan Helpers discover an artisan, they then serve much like agents—setting up a GlobeIn.com page, helping with marketing, and overseeing transactions.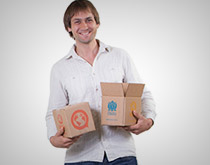 So, instead of visiting Akdikasimova in Tendik, a buyer can log in to GlobeIn.com, pick out one of her rugs, and have it woven and shipped in time for Christmas delivery. The sale's proceeds are hand-delivered to Akdikasimova. For its role, GlobeIn.com charges a 15% sales commission, and the community receives another 10%.The combined 25% surcharge is added onto the sale price established by the artisan, so there is no loss of income. The idea of GlobeIn, says Ermakov, is to be an enterprise that solves social issues, such as alleviating poverty, through a business approach, while also generating income.
GlobeIn is a life-changer for Akdikasimova. She offers a 9-square-foot rug for $366 dollars—the average annual income in her country amounts to $280. One sale of her handcrafted gems will have an incredible impact on her household.
GlobeIn has footholds in Kyrgyzstan and 37 other countries. Ermakov says he fully expects GlobeIn's reach will continue to expand. To help make that happen, the company has raised more than $2.1 million in venture capital funding, has launched a mobile app, and has announced a partnership and sponsorship with bestselling author and New Age guru Deepak Chopra.
In the meantime, Akdikasimova sits on her porch in Tendik, ready to make you a woven keepsake.