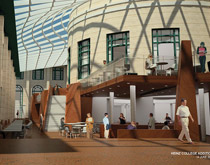 If you were hovering above Carnegie Mellon's Pittsburgh campus and removed the roof of Hamburg Hall to glimpse inside the H. John Heinz III College, you might see Liz Adams and Robert Saul diligently climbing stairs.
Adams—a second-year student in the Master of Information Systems and Management program—might be looking for an empty classroom to plan a presentation with her classmates.
Saul—a second-year student in the Master of Science Public Policy and Management program—might be scoping out a space to hold a meeting for the Public Policy and Politics Club, which he runs.
Wending their way from the basement to the 3rd floor in search of space, the two students wouldn't be alone. They would pass classes in session, clumps of students studying, classmates working together on group projects, and clubs and student organizations holding meetings. Sure, they might find a classroom open here or there, but would it have enough outlets? An erase board? Adams and Saul might also hold their meetings in the cavernous common room in the basement, but when the room is full, the chatter combined with poor acoustics can make it difficult to concentrate or have intimate discussions.
Suffice to say, space is a legitimate concern at the college named in honor of the late U.S. Senator John Heinz. Here's why. In the span of just five years from 2008 to 2013, enrollment at Heinz increased by 30%. And it's still rising; 50% of all Heinz alumni have graduated in the past seven years—that's how drastic the boom has been. The reason? Heinz officials attribute it, in large part, to its unique combination of core strengths, award-winning faculty, and impressive rankings. For instance, the college currently boasts the top-ranked information systems and management program and seventh-best public policy and analysis program in the United States, as calculated by U.S. News & World Report.
Among the drivers of this exceptional growth is the Pittsburgh-based Heinz Endowments. A long-standing supporter of CMU, the Endowments gave $21.5 million to the university in 2008, with $13 million going to create the Heinz School of Information Sciences and Management and help expand the College's programmatic offerings. The Heinz College also is home to several of the 12 endowed Heinz professorships across campus.
From Fortune 500 companies to non-profit organizations, students like Adam and Saul will help shape the future with analytic and quantitative leadership skills, along with technology, to tackle the world's most pressing issues. That's why Adams says she came to Heinz, having worked in non-profit management for a time. "At my job, we were pretty on top of our technology," she recalls, "but we didn't always have good systems to manage our information, and there weren't always standards and practices for how information was managed and shared. I just became more interested in how technology can be leveraged to help a business or organization fulfill its mission."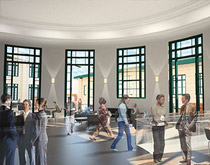 The explosion of interest and enrollment has created ever-increasing demands on space and resources, says Ramayya Krishnan, who holds the H.J. Heinz Dean's Chair and the W.W. Cooper and Ruth F. Cooper Professorship of Management Science and Information Systems. He acknowledges that collaborative group work is a cornerstone of the college. Nearly all Heinz courses encourage group work, more than 60% require it. In the existing space, students have very few options to simply sit and work together.
Relief is coming.
Expansion plans are underway that will include a 150-seat multi-purpose classroom of the future, group meeting and work spaces, a cafe, and a glass-covered atrium enclosing the courtyard spanning Hamburg Hall's rotunda and neighboring Smith Hall. The atrium alone will add 16,000 square feet of space. After the planned renovations and additions, the footprint of the college will effectively double to about 80,000 square feet.
Adams—who also participates in the Heinz Graduate Women's Association—can't wait. "We have to work in groups a lot. It can be a challenge sometimes to find an adequate space to accommodate groups that's quiet and has the proper materials..."
While the college has self-funded Phase One of the expansion, The Heinz Endowments has committed an additional $10 million to Phase Two of the four-phase initiative, which will include transforming the Hamburg Hall rotunda to make it much more than just an entrance. It will serve as a hub of interaction for students and faculty. Phase Two also includes construction of the multi-purpose classroom. The finished projects—the rotunda, the classroom, and the collaborative space—will be named after Teresa Heinz, chair of The Heinz Endowments, in honor of the gift.
At Heinz College, further expansion will continue in step-wise phases over the next several years. The stages of the renovation and expansion have been planned in discrete chunks so that projects can be completed as funds come in rather than waiting for the entire amount to be funded, a total of about $37 million dollars.
In addition to The Heinz Endowments, other significant supporters of the next phase of Hamburg Hall improvements include several members of the Heinz College Dean's Advisory Council.
Council member Keith Block (DC'84, HNZ'84, Trustee) has donated $1 million toward the renovation. He is president of Salesforce.com, a global cloud computing company ranked by Forbes as America's Most Innovative Company.
Another $1 million gift comes from council member Paul O'Neill. The former secretary of the U.S. Treasury was chair and CEO of Alcoa, the locally based aluminum giant, from 1987-1999.
Council members Jeff Ganek (DC'74, HNZ'75) and J. Miles Reidy (HNZ'86) have also remembered their alma mater by gifting $250,000 each for this next phase.
As for Saul, he will graduate this December. He says he decided to pursue his degree at Heinz based primarily on the college's reputation The expansion buzz is welcome news to him, which he believes will help attract even more elite students: "It's an amazing place, and it should have amazing facilities."