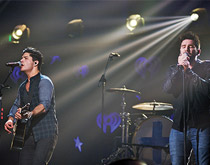 Dan Smyers is raiding thrift stores for as many bed sheets as he can find. He is throwing a party at his Nashville digs; but without money to pay the heating bill, the aspiring singer-songwriter knows that he needs to keep his guests— and himself—warm. His solution? Erect a tent from hanging sheets in his living room so that everyone can huddle together for warmth.
Smyers, who hails from suburban Pittsburgh, graduated from the Tepper School of Business in 2010. He then moved to Nashville to pursue not finance, which he studied, but writing and playing country music—something he'd done since he was 12 years old. In pursuing his boyhood dream, the going has been tough. Not wanting to divert his focus from his music, he eschewed jobs in favor of participating in occasional market-research groups for pay. He'd try on T-shirts or taste pizzas and give his opinions. Sometimes he'd ask to take the extra pizza home.
And now, two and a half years after graduating, it's December 2012, and he can't pay his heating bill.
At his house party, under the makeshift living room tent, he meets Shay Mooney, another aspiring country artist. By 4 AM, Smyers and Mooney are still wide awake in the tent, playing guitar and writing songs together. By the end of the week, one of their songs is being held by Rascal Flatts, a country trio that has had a dozen songs reach number one on the country music charts. Let there be heat!
The instant songwriting recognition doesn't stop Smyers and Mooney from performing. Friends—especially girls!—keep asking them to sing the songs they're writing. The duo "Dan + Shay" is born.
Within six months, more than their friends want to hear them. They sign with Warner Music Nashville, a label that boasts a slew of successful country artists, including Faith Hill, Sheryl Crow, and Randy Travis. By the time they sign, they already have a single getting airplay on the radio, a romantic country-pop song called "19 You + Me."
Last April, not even two years after they met in the tent, they release their debut album, Where It All Began, and soon thereafter it hits #1 on the Billboard country charts and # 6 on the overall music charts. That first single, "19 You + Me," goes gold, selling more than 600,000 copies. If that's not enough, this past summer they've toured with country superstar and judge on NBC's The Voice, Blake Shelton.
Back on Carnegie Mellon's Pittsburgh campus, the Tepper School of Business is separated from the College of Fine Arts by an area called the Kraus Campo, a tiered sculpture garden scored by meandering, confused paths. Students using it to cross from one building to the other find that it takes a surprising amount of time to make their way through, though it's actually only a short distance between the two buildings, not unlike Smyers' career path.
—Shannon Deep (CMU'10, HNZ'11)