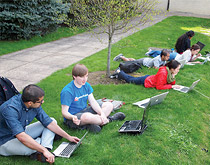 Julia Teitelbaum hands out water bottles and T-shirts to a growing line of CMU students. They are on the sixth floor of the Gates Building for TartanHacks 2012, the university's first hackathon. More than 150 students and 40 teams will participate. Nearly 30% of the participants are women, a high number for hackathons, which gives Teitelbaum (DC'14) a feeling of accomplishment. She had put in late nights in the name of TartanHacks, designing the website, helping hang banners around campus, organizing the schedule, and helping write the rules—all in hopes of making the inaugural student-run hackathon a campus-wide, inclusive success.
What is a hackathon anyway? Those in charge of TartanHacks define it this way: Hackathons bring people together to see who can build the coolest application. In 24 hours, participants sit down with fellow coders, designers, and others to hack together a project.
Teitelbaum's commitment to the hackathon had a serendipitous start. She met her future cohorts after she and one of her classmates got stuck in the rain at a nearby shopping complex. Her friend called Jeff Cooper (CS'14), who happened to have a car. He rescued them. After meeting Teitelbaum—who double-majors in information systems and human-computer interaction, with a minor in communication—he recruited her to design the TartanHack website, hoping she could make it appeal to more than computer science majors. The enthusiastic fledgling programmer and designer agreed to help. Hence, the late nights.
For the big day, more than 40 "demos" are given of apps that had been created. Feedback is overwhelmingly positive from all who attended, including a few sponsors who know a thing or two about hackers—Microsoft and Twitter.
The success provides ample motivation to Teitelbaum and the other organizers. Through ScottyLabs, a student-run organization "dedicated to removing barriers between students' ideas and their implementation," they turn TartanHacks into an annual event as well as undertake a variety of other projects, such as Demo Day (where students can "show off" the "cool things" they're working on) and Make CMU (a weekly ScottyLabs get together where students are invited to work on their projects or help out and teach other attendees).
TartanHacks 2013 grew by 33%, with 200 students participating. Teitelbaum, this year's ScottyLabs director, says she has plans for making TartanHacks 2014 the best one yet. It will take place January 31-February 1; until then, she concedes, there may be a few late nights to get ready.
—Elizabeth Shestak (DC'03)
Related Links:
TartanHacks provides 24 hours of intense competition