The whispered, last-second words of encouragement from the choreographers and directors can barely be heard above the sounds echoing from the stage. The music of violins, the voices of actors, and the pounding of drums all drift backstage where the student performers wait for their moment in the spotlight. Some crane their heads to catch a glimpse of how the current performance is going. Others embrace friends with whom they have shared the nervousness at auditions, the exhaustion after rehearsal, and now the excited anticipation of stepping onstage together. Soon enough, the sound of roaring applause reaches their ears. The act is over. Their turn has come.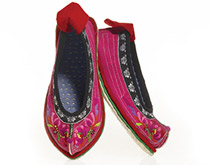 "One Night in Beijing" is just that: one night only. It's a series of dance, musical, and video performances planned annually by the student organization Awareness of Roots in Chinese Culture (ARCC). The hope is to give both student performers and the audience a better understanding and appreciation of Chinese holidays, food, music, arts, and other cultural traditions.
Dennis Liang (E'12,'13) showed up at an audition for a dance performance three years ago with no idea what to expect; a friend had persuaded him to come along. He had no dance experience in either modern or traditional Chinese dancing. He remembers trying to catch the rhythm but fumbling the footwork. But, stoically, he finished the audition and was pleasantly surprised to learn he was selected for the dance troupe. After three months of spirited rehearsals, he says, he became deeply connected to the friends he made in the group and was in awe of the adrenaline rush that came from performing with his classmates.
The camaraderie transformed Liang. He didn't want to be only a part of "One Night in Beijing," he wanted to be a leader in ARCC. After two years as a dance performer, he applied for and took on the role of the show's coordinator, which meant accounting for all kinds of details—from ensuring that the props department had enough fans, scarves, and paper parasols to choosing the order of performances.
Liang kicked off 2013's "One Night in Beijing" with welcoming remarks in both English and Chinese for the audience packed into the University Center's Rangos Ballroom. Although he's not fluent in Chinese, he painstakingly practiced his short speech until he could deliver it flawlessly, which he did. It was another small way ARCC brought him closer to Chinese culture.
—Michelle Bova (DC'07)
Related Links:
"One Night in Beijing" Facebook