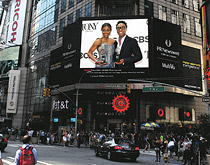 Radio City Music Hall is alive in every sense of the word. Cameras flash, jewelry glitters, and nervous laughter is heard throughout the sold-out venue as the audience members take their seats. It's a night when glamour mixes with greasepaint, when Broadway captures the attention of the world and announces theater's most coveted awards.
It's also the night when an unprecedented nine Carnegie Mellon alumni get their chances to win a Tony Award:
Billy Porter (A'91): Best Performance by an Actor in a Leading Role in a Musical (Kinky Boots)
Patina Miller (A'06): Best Performance by an Actress in a Leading Role in a Musical (Pippin)
Judith Light (A'70): Best Performance by an Actress in a Featured Role in a Play (The Assembled Parties)
Jamie deRoy (A'67) and Martin Platt (A'71): Best Play (Vanya and Sonia and Masha and Spike; producers)
Ann Roth (A'53, Hon'00): Best Costume Design of a Play (The Nance)
Jules Fisher (A'60) and Margaret Clare Eisenhauer (A'83): Best Lighting Design of a Play (Lucky Guy)
Peter Hylenski (A'97): Best Sound Design of a Musical (Motown: The Musical)
In addition, nominated for Best Revival of a Musical is Pippin, music and lyrics by Stephen Schwartz (A'68) during his years at CMU.
At last, the nominees are all in their seats, no doubt their hearts racing with anticipation. The opening number explodes off the stage and into the aisles, ending with an ovation that lasts longer than a minute. Presenters, including Zachary Quinto (A'99), Andrew Gehling (A'05), and Corey Cott (A'12), josh with one another. Noted actors, such as Megan Hilty (A'04), are even pulled onstage for a tongue-in-cheek lament about working in the television industry. CMU is seemingly omnipresent!
Then there are the awards. In a ceremony before the televised portion, Roth, Fisher, and Eisenhauer each claim a Tony and are abundant with gratitude during their remarks. Once the cameras start rolling, Light's category is the first up among the CMU contingent. She wins! And she thanks everyone from the ticket takers to the producer.
Porter wins next and is exuberant onstage, thanking his family and mentioning his Pittsburgh roots (which sends Facebook and Twitter into a tizzy of CMU and 'Burgh pride).
Toward the end of the evening, Miller claims her Tony with a scream of joy. Later, in the pressroom, she talks about her journey from CMU to Broadway, even giving kudos to alumnus Porter for teaching her how to walk in heels during a show they did together.
By the end of the night, CMU pride has overwhelmed Broadway as deRoy and Platt win a Tony, too, and even though Schwartz doesn't, his musical's producers do.
Eight Tonys won by CMU alumni in one year are the most in the university's history. Heck, they're probably the most in any university's history. But at night's end, it's not about headlines that will come in the days ahead. It's about celebrating a community of artists whose hearts are most definitely in the work.