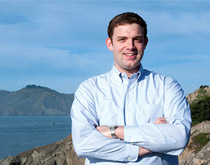 It's late 2010, and during the past year, Rick Morrison (SCS'03) and his cofounder Jud Gardner, have spent more than $15,000 on conferences and industry networking events. All out-of-pocket. All while unemployed. Morrison is on the hunt for his big break that will launch his dream.  
The dream? Create a company, Comprehend Systems, which would measure clinical and operational data to improve and accelerate clinical trials for pharmaceutical and biotech companies. The idea is that better data access and analysis can help bring newer, safer treatments to market sooner, saving lives and making companies money along the way. 
The break arrives. Paul Graham, from Y Combinator, offers the entrepreneurs the first of many investment backings they'll need to make Comprehend Systems a success. 
More months pass, and the startup founders hole up in Morrison's San Francisco apartment trying to bring their business idea to life. A trained developer, Morrison must become more the "pitch man" and bridge the gap between software creation and practical application: "It's about validating the idea," he says. 
He knows that a new drug typically takes 12 years to get to market and that his technology could drastically reduce that wait time, which is why he remains so confident. While it seems to him like a "can't miss," unless he can convince potential customers and more investors that his technology is usable, he'll have to get that "real job" his wife keeps asking about. 
Fast-forward two years: Morrison's confidence has paid off. Since its launch, the company (which now includes several CMU alumni) has raised more than $8 million in investments, including Sequoia Capital, and a number of well-known tech and life science angel investors. It now includes among its clients top 10 pharmaceutical compaines and medical device makers as well as smaller companies, where Comprehend Systems can help find glitches that affect their FDA filings. 
The end result has been exactly what Morrison envisioned: facilitating companies, large and small, who are working to introduce new drugs to the healthcare market. And the industry is beginning to take notice. Morrison was recently named to the PharmaVOICE 100, an annual list that recognizes the 100 most influential people in the life sciences industry.
—Lisa Kay Davis (DC'09)