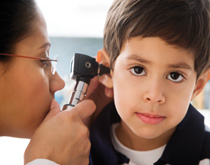 It's a quarter past seven one Thursday evening, and the staff at Salud Para Niños is preparing to close the pediatric clinic for the day. Dr. Diego Chaves-Gnecco is tending to the day's last patient; in an adjacent room, staff members rearrange tongue depressors and straighten blood pressure cuffs. The custodian is vacuuming the waiting room when he notices a woman holding a baby and looking confused at the locked front door. The custodian knows the clinic stops seeing patients at seven each evening, but he also knows the doctor will never turn away a patient. Turning off his vacuum, the custodian goes to the door. But the woman is anxious and already walking away. The custodian quickly searches for the one person who can best clear up the confusion
Afshan Rizvi is in the back, filing charts, when the custodian finds her and explains what happened. Rizvi, the clinic's Spanish translator, rushes into the night to find the woman and bring her back to the clinic. Relieved to have found someone who speaks Spanish, the young woman explains that her baby is sick. Rizvi keeps her calm until Dr. Chaves-Gnecco can see her.
The woman's brother, who is with her, is excited that Rizvi speaks his language. "Are you from Mexico?" he asks. "No," Rizvi answers, smiling. "My parents are from Pakistan." The young man considers this and asks, "Do they speak Spanish in Pakistan?"
Rizvi laughs. She's used to these questions at the clinic, a medical haven for the city's Spanish-speaking residents, located in Pittsburgh's Oakland neighborhood. Although she isn't an immigrant herself and didn't grow up speaking Spanish, she understands what it's like to be in the middle of two cultures. It's why she volunteers as a Spanish interpreter at the Children's Hospital Salud Para Niños clinic—meaning "Health for the Children"—and at the Birmingham Free Clinic on Pittsburgh's South Side.
The volunteer work is a cultural shift from her other responsibilities—a Carnegie Mellon student majoring in biological sciences with a minor in Hispanic studies. "You go to school and you worry about grades and everything else. It's very humbling to go to the clinic and realize what's important in life," she says.
After graduating last May, Rizvi has returned to the Birmingham Free Clinic as an AmeriCorps member. Next year, she plans to apply to medical school and hopes one day to become a pediatrician.
—Brittany McCandless (HS'08)