Carnegie Mellon's autonomous robot racers, Sandstorm and H1ghlander, finished in second- and third-place, respectively, in the $2-million DARPA Grand Challenge, the 131.6-mile run through the obstacle-laden Mojave Desert that took place near Primm, Nev., Oct. 8.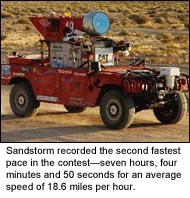 The Red Team's Sandstorm recorded the second fastest pace in the contest—seven hours, four minutes and 50 seconds for an average speed of 18.6 miles per hour. H1ghlander covered the course in the third-fastest time—seven hours and 14 minutes for an average speed of 18.2 miles per hour.
First place went to the Stanford Racing Team, whose robot, Stanley, finished the contest in six hours and 53 minutes for an average speed of 19.1 miles per hour.
"Sandstorm was a surprising second because its strategy was to creep for a reliable finish and only the winner beat its pace," said Red Team leader William "Red" Whittaker. "Sandstorm was sent forth with a conservative plan, understanding that it would operate well below its peak abilities. But it was right on the leader's tail. It ran a perfect race."
Whittaker said H1ghlander was a surprising third because its strategy was to cruise for an easy win. He said it was planned to easily finish a half hour ahead of the field, but that was not to be.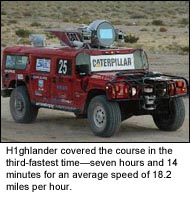 "It started from the pole position and intended to steadily stretch the gap. Five hours into the race H1ghlander was leading, but it was clear that it was off its pace, or wounded," Whittaker said. "Stanley steadily tracked H1ghlander down and took the lead before the mountains. H1ghlander lost its legs and limped in the climb, but blazed in the descent. Its navigation was hot-on, but it didn't have the steam."
Whittaker said the technology unfolded by the Grand Challenge will open doors for autonomous mobile robots that could only be imagined just two years ago.
"There will be technological leaps in agricultural production and harvesting vehicles and those involved in highway construction, timbering, mining, everything down to the delivery of mail," Whittaker said.
The Stanford Racing Team was led by former Carnegie Mellon Professor Sebastian Thrun and Mike Montemerlo, who earned his doctorate at Carnegie Mellon. Thrun and Whittaker were collaborators on several projects at Carnegie Mellon, including Groundhog, a robot created to explore and map abandoned mines. Whittaker was Montemerlo's faculty adviser.
A 1986 HMMWV, Sandstorm is the Red Team's veteran racer that set records for speed and distance at the first Grand Challenge on March 13, 2004. H1ghlander is a 1999 H1 HUMMER that was entered in the Grand Challenge under the auspices of Red Team Too, led collaboratively by Whittaker and Kevin Peterson, a graduate student at Carnegie Mellon's Robotics Institute.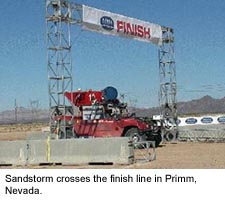 Both Sandstorm and H1ghlander sense and drive autonomously by computing where and how to drive. They process terrain models, plan routes and automatically steer to avoid hazards. The robots map terrain with laser range scanners, stereo cameras and radar sensors.
Sandstorm and H1ghlander were two of 23 contenders to advance to the Grand Challenge finals after showcasing their navigational skills during a weeklong series of semifinals at the California Motor Speedway.
Prior to the semifinals, Sandstorm and H1ghlander had completed more than 1,000 miles of autonomous driving under punishing conditions at the Nevada Automotive Test Center near Carson City. Each vehicle completed runs of more than 170 miles at competitive speeds in race-difficult terrain before arriving at the qualification event. Sandstorm has logged more than 4,000 miles of autonomous desert driving during its robotic career.
---
Related Links:
The Red Team
The Grand Challenge