On an early morning in mid-July, Joe Martinez check his email. He finds an atypical message—an acceptance letter from the White House Initiative on Educational Excellence for Hispanics (WHIEEH), a fall internship. WHIEEH's mission is to eliminate "educational inequalities" for Hispanics, from preschool through higher education.
When Martinez passes along the news to his father, he is overjoyed.
Martinez, on the other hand, has mixed emotions. He applied to the internship, in part, because his father had been suggesting he do so since his freshman year. As a psychology major, Martinez had hesitated, though, because he didn't see the immediate relevance to his field of study. "It took some maturation of my own to see his advice held merit," he explains. So, he accepts the internship, even though it's going to push back the rising senior's graduation date a semester because a fall placement is the only way financial aid will cover the internship cost.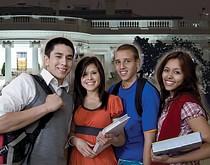 Martinez boards a flight to Washington, D.C., at the end of August. "The only preparation I had was the first two seasons of 'House of Cards,'" he jokes.
Beginning Day 1, he's put to work—creating talking points for speaking events, crafting profiles of outstanding Hispanic teachers, attending meetings and events on behalf of the office.
This may seem like grunt work, but for Martinez it's a wake-up call, showing him what many in the Hispanic community struggle with—getting a high-quality education, as well as the funds and resources to do so. He begins to appreciate more so why his father felt WHIEEH was so important.
With only days left in the internship, he decides to attend a college opportunity summit hosted by the White House and the Department of Education.
Vice President Joe Biden steps up to share a personal story. He recounts his father pacing the driveway one afternoon with a disconcerted look in his eyes. His father had just found out that a bank denied him a loan—the funding that was to help him pay for his son Joe's college education.
If that could happen to Joe Biden, how many potential vice presidents end up never getting a chance, wonders Martinez, realizing that "societal barriers are holding back many minorities."
It solidifies with him that minorities need a voice, and he vows to continue being an activist for his heritage long after the internship ends.
—Stephanie Magulick