Three CMU seniors gather in a design studio. The walls are dotted with a slew of colorful Post-It notes. Index cards, blueprints, even a 3D model of an art gallery, are strewn about the room. This is no ordinary school project.
The classmates are planning the School of Design's senior exhibition that will, for the first time in the school's history, be displayed at a professional art gallery for two weeks. Five years ago, the exhibit began in a storefront a few miles from campus. It was a one-night pop-up show and stayed that way until 2014, which is when the school decided the students deserved more.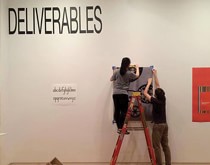 Associate Professor Dylan Vitone approached the Miller Gallery on Carnegie Mellon's campus. The staff was more than receptive to be the hosts and warmly welcomed the students. For the actual planning of the exhibition, Vitone chuckles, "I got out of the students' way."
The class went to work, voting students onto four committees that would plan the event. Katherine Frazer, Liana Kong, and Alexandra Merski formed the Curation Committee, which would determine the displayed pieces. They received more than 200 entries, double the amount for which they had space.
What to do? The trio quickly formed a plan. Every entry was categorized into a different medium—such as video, furniture, print, and wearables—and given a different colored Post-It note. After entries were categorized, they were tacked onto the biggest space the team could find: their studio walls. The students spent hours together, sifting through the prospective projects, moving Post-Its back and forth, aiming for each medium to be equally represented and every student to have at least two pieces displayed. Personal friendships and biases had to be put aside. Decisions, they agreed, would be made on artistic merit and significance.
Once the final projects were chosen, there was still more work to be done. The trio turned to their Miller Gallery blueprints and 3D models to determine where each piece would be displayed in the space. Frazer, Kong, and Merski were also responsible for approving the exhibit's theme, which was aptly titled Deliverables.
"As a class, we are the deliverables of the School of Design. If you look at our four years here, we are the product of our school," Kong explains. "It was a retrospective to see how far we've come and how we've grown as designers."
—Courtney Kochuba (DC'07)