Jake Berntsen stands in front of the small, unimpressive building where he and his band, Beauty Slap, are scheduled to play tonight. It was an exhausting eight-hour drive from Pittsburgh to Columbia, S.C., to get here. As Berntsen—a junior at Carnegie Mellon studying music technology and philosophy—eyes the college town's shabby venue, he wonders why they ever agreed to this gig. Now that they're here, though, the show may as well go on, so the bandmates make their way inside the building.
Beauty Slap formed about a year ago. Most of the band members had been playing in the C Street Brass Quintet, a jazz funk ensemble, which included several CMU graduate students. The ones who were sticking around Pittsburgh, including Berntsen, started to collaborate, which led to Beauty Slap.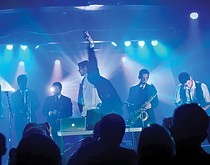 The unique-sounding group has been making its mark on the local music scene. City Paper, Pittsburgh's alternative newspaper, has gushed: Beauty Slap exudes a big band brass sound that's mixed and manipulated by the young Ableton guru [Berntsen] into electronic dance music. The band has become known in Pittsburgh for introducing funk back to its college-age following by combining it with the dance-style music that populates the charts. … Beauty Slap is on the cusp of larger recognition.
Berntsen says that before "he was making noise with his computer," he spent his childhood studying to be a classical music pianist. Now, he primarily produces his sounds digitally, using his laptop as his instrument, as well as adding in electric keyboard and drum beats, while the other band members play more traditional jazz instruments: guitar, trumpet, trombone, and saxophone.
Berntsen, the lone undergrad in the band, has become accustomed to the struggle of balancing his time between playing shows with Beauty Slap and dealing with classes and homework as a regular student at Carnegie Mellon. "When I really need to go to the Hunt Library after a gig, I can do that, but it sucks," he laughs. In all seriousness, he adds that it's all part of his education—the performances enable him to put his music technology studies into practice.
When the band steps on that stage in Columbia, his education continues. Beauty Slap is on its way to getting that "larger recognition," judging by nearly everyone dancing. Both the packed crowd and the band are having a good time. Hunt Library is the last thing on Berntsen's mind.
—Sasha Kerbel (DC'16)