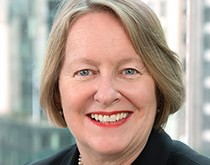 Sixty countries and territories. $6.8 billion dollars in revenue. Ensuring the success of smooth and safe transactions between businesses locally and across borders and currencies is a daunting undertaking, but it's Diane Reyes' job to manage all of these services for HSBC, the international bank. In her position as Global Head of Payments and Cash Management, she focuses on providing and delivering effective cash management and payments services to clients. As the number one and number three provider of GBP and U.S. dollar clearing services, respectively, her business helps clients execute payments virtually anywhere in the world.
Reyes, a 1991 Tepper alumna, also serves in a variety of additional professional roles. For instance, she sits on the Payments Risk Committee of the Federal Reserve Bank of New York and is a senior sponsor of HSBC's diversity program.
Given these accomplishments, it's fitting she was recently selected as the eleventh most powerful woman in banking by American Banker, the leading independent information resource serving the banking and financial services community.
—Janet Jay (DC'07)