On a Saturday afternoon in his favorite bookshop, Sridhar Tayur flips through Bill Clinton's book, Giving: How Each of Us Can Change the World.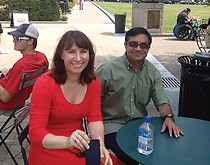 Not much later, Tayur—a CMU professor of operations management—is asked to give a talk at Northwestern University by Baris Ata, an operations management professor whose research area is studying organ allocation rules. While there, Tayur learns from Ata that supply and demand for transplants varies widely across the country.
For example, in the case of kidney transplants, wait times in Boston can be more than five years; in contrast, wait times can be half that in Pittsburgh. But patients from Boston can't get on a Pittsburgh waiting list because they can't guarantee arrival at a transplant center within the allocated time once a kidney becomes available.
The dilemma makes Tayur recall that moment in the bookshop. Contemplating algorithms that he created for scheduling time-shared jet aircraft back in 1994, he has an idea on how to change the world of organ transplant access in the United States.
He returns to Pittsburgh and founds OrganJet, which is an information service that provides patients time-sensitive options for public or private air transport so they can multi-list on organ transplant centers throughout the United States.
Since OrganJet's founding four years ago, the medical community has taken notice of such a practical solution.
Peter Ubel, a physician and researcher at Duke University, recently published "Transplantation Traffic—Geography as Destiny for Transplant Candidates" in the New England Journal of Medicine. In the article, he cites OrganJet as an "alternative" to geographic disparities in transplant access, stating that "having a flight at ready disposal is critical because many transplant programs require patients to arrive within six hours after an organ is procured."
—Stephanie Magulick