Thomas Kelly grew up mesmerized by theme parks such as Disney World and Busch Gardens. During those vacation visits, he loved how he felt immersed in the surroundings, through the storytelling and architecture.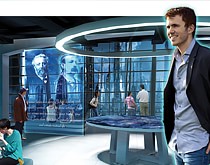 Now a scenic design freshman at CMU, he already knows his dream job: designing themed entertainment.
While perusing some themed entertainment websites at school, he came across the Museum of Science Fiction's exhibit design competition. Entrants were asked to submit designs for a museum to be built in Washington, D.C. The proposed 3,000-square-foot "preview museum" would house exhibits for the next five years while the permanent MOSF museum is under construction.
A science fiction enthusiast, Kelly decided to enter. To come up with the most engaging interactive design, he tried to distill the essence of what makes science fiction interesting to him—the exploration of the boundaries of what humans can achieve. In the opinion of the judges, Kelly's design was a success:
The HG Wells Award was given to the submission that demonstrates the most thoughtful and practical approach to the design problem; the design was submitted by Thomas Kelly.
—Abigail Nover (A'15)