Bennet Omalu knew he had to move fast. The neuropathologist left his Lodi, California home at 3am on that spring day in 2012, was on a plane two hours later, and arrived at the San Diego medical examiner's office by 7am. Waiting for him on a metal table was the body of one of the greatest, hardest-hitting linebackers to ever play in the National Football League: 20-year veteran and future Hall of Famer Junior Seau.
The day before, Seau's girlfriend discovered his body in the bedroom of his San Diego home. He had a single gunshot wound in his chest, and a .357 magnum by his side. That afternoon, Omalu called the medical examiner to offer his assistance with examining Seau's brain and for the medical examiner to introduce him to the next of kin for consent. Omalu was connected to Seau's son, Tyler, who gave Omalu permission to examine his father's brain. Omalu booked a flight.
Seau was a 12-time NFL All-Star, started a foundation to help troubled youths, and was active in his community. But from press reports, it was clear his life had spiraled downward since he retired from football two years earlier. He was arrested for domestic violence, totaled his SUV, and gambled away millions of dollars. Friends said the charismatic Seau became depressed, aggressive, and self-destructive. Now, at age 43, he was dead. Why did someone who had so much to live for choose to die?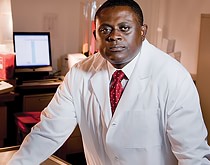 Omalu believed the answer lay in the soft folds of Seau's brain tissue, but he needed to take it back to his lab to be sure. It wouldn't be easy—six organizations, including Omalu's Brain Injury Research Institute, requested to examine Seau's brain, but Omalu was perhaps the most qualified: He was the one who discovered the neurodegenerative brain disease, which he named chronic traumatic encephalopathy (CTE). He had tied it to football's punishing blows, what he called "gridiron dementia."
As Omalu prepared to take Seau's brain back to his lab, the chaplain for the medical examiner's office walked into the room with problematic news. Seau's son, Tyler, just called to recant his consent: his father's brain wouldn't be leaving with Omalu after all. Later, PBS' "Frontline" documentary series reported the San Diego Chargers' team doctor had called Tyler and told him that Omalu didn't know what he was doing.
In the cab on the way back to the airport, Omalu wept. How many more lives lost or published peer-reviewed papers would it take before CTE would be taken seriously?
Omalu's tenuous relationship with football began 3,000 miles away a decade earlier, in the crypts of the Allegheny County medical examiner's office. There, in 2002, the 34-year-old physician—just a few months removed from earning his neuropathology specialization at the University of Pittsburgh—performed an autopsy on retired Pittsburgh Steelers offensive lineman Michael "Iron Mike" Webster. 
Webster spent 14 years at center on a team that would win four NFL championships in six years, a feat no other NFL team has done in the Super Bowl era. Like many of his teammates, he was a Pittsburgh hero, a Hall of Famer, and like Seau, he was a husband and a father. And just like Seau, his life disintegrated after football. His sad story was well chronicled: He spent his final years living in a pickup truck, tasing himself to sleep and supergluing his teeth back into his mouth. At the age of 50—divorced and bankrupt—he died of a heart attack.
For nearly six months, Omalu worked as a medical examiner during the day and stared into microscopes at Webster's brain tissue at night. He would discover tau protein in quantities normally seen in the brains of demented 80-year-olds or multiply concussed boxers. Tau protein is like sludge in an engine, and it can cause memory loss, aggression, and depression. A heart attack may have killed Webster, but Omalu realized it was a tau-riddled brain that robbed him of any quality of life.
What was the cause? Webster, still middle-aged at the time of his death, never boxed. Moreover, his brain didn't look like that of a former boxer. Outside, it wasn't atrophied or bruised. Inside, the tau deposits were in different areas of the brain than were typically found in boxers. Omalu surmised he had discovered a related—but different—disease, caused by repeated blows to the head Webster sustained during his storied career. He shared his findings with established colleagues, who concurred; his science was sound, even groundbreaking.
He dubbed the medical condition chronic traumatic encephalopathy, which he says is scientific terminology for "a bad brain that suffered trauma for a long time." Knowing the public might have difficulties with the term's pronunciation, he emphasized the acronym: CTE.
That kind of marketing-driven thinking prompted Omalu, already an MD and MPH, to pursue graduate studies at Carnegie Mellon's Tepper School of Business. The neuropathologist sensed that because of the immense popularity of football, he could be cast as a villain, which meant he needed to better understand the workings of the business world, so CTE wouldn't be callously dismissed.
By 2005, the NFL was almost a century old. Its television contracts brought in billions of dollars, its games dominated television ratings, and its annual championship, the Super Bowl, was a worldwide spectacle, watched by more than 100 million people. But a century of success also meant a century of players who could have suffered—and might still be suffering—from CTE.
Nevertheless, did Omalu really want to take on the NFL? Deeply religious, he says he considers his intellect a gift from God. It took him from his native Nigeria to the United States and carried him through school. With that gift, he surmised, came an obligation: Use all he learned "for good."
He would take on the NFL. "I was young. … I wanted to change the world," he says. He submitted an article, "Chronic Traumatic Encephalopathy in a National Football League Player," to the peer-reviewed scientific journal Neurosurgery. In a ringing endorsement of the young doctor's research, the journal published it in 2005.
His claims seemed to ring hollow, however, to several doctors on the NFL's payroll. They wrote to Neurosurgery demanding they retract Omalu's article on the basis of it having "serious flaws." Neurosurgery published the objections but refused to retract Omalu's paper.
By then, he had already acquired a second brain. It belonged to Terry Long, another former Steeler, whose life had regressed into a tangled web of erratic behavior and suicide attempts, ending when he drank antifreeze at age 45. Omalu examined his brain and found CTE. He submitted a second paper to Neurosurgery. Again, it was approved by his peers and published, followed by objections. But this time neuroscientists unaffiliated with Omalu had acquired brains of retired football players and were discovering the same blotches of tau protein. Some even found evidence of CTE in deceased high school football players.
Omalu says he hoped to work with the NFL to determine how best to proceed to protect players from CTE, but that didn't happen. "The NFL made me feel worthless," he says, mincing no words.
He says he felt like the biblical character David in David and Goliath. Yes, he thought, I will be David because this is bigger than me. He was fighting not for himself; he was fighting for thousands of fathers and husbands, who were members of the community—men who he thought deserved better. So, he would arm his slingshot with some modern-day ammunition: a lawsuit.
"I had to go to a lawyer who was young," recalls Omalu. One who "was not yet established but was hungry." He turned to 30-year-old Jason Luckasevic, a personal-injury attorney for whom Omalu had worked as an expert witness. Luckasevic began interviewing retired NFL players with potential brain damage and would eventually file a lawsuit against the NFL on behalf of 75 of them.
All the while, Omalu continued his research into CTE. When he found it in the brain of Andre Waters—a 44-year-old former Eagles safety who put a gun in his mouth and pulled the trigger—the national press came knocking. In early 2007, The New York Times splashed Omalu's name on its front page, next to the headline: "Expert Ties Ex-Player's Suicide to Brain Damage." The phrase "concussion crisis" soon caught on.
As Omalu's national exposure increased, what he learned at Tepper while studying to earn his MBA in 2008 helped give him insight into the NFL's executive's mindset—how to take emotion out of decision making. "The more I studied, the less emotional I became. … I was very emotional about the plight of the players, but my Tepper classes taught me that the NFL is a business, and its objective is to make money. It enabled me to see their point of view, that their players were assets to them, so I could then respond accordingly, while trying to save their assets' lives."
By 2007, the NFL appeared to be coming around. That summer, it convened a concussion summit for team doctors and independent scientists, launched a longitudinal study, and gave players a pamphlet titled: "What Is a Concussion?"
Curiously, the NFL didn't invite Omalu to the summit. That longitudinal study? It wouldn't be finished for another four years—at least. That concussion pamphlet? It didn't mention Omalu's name or his findings, and it stated: "Current research … has not shown that having more than one or two concussions leads to permanent problems if each injury is managed properly." Omalu, in shock, felt disrespected.
Attorney Steve Marks, one of the lawyers who joined Luckasevic in the lawsuit filed in 2011, says the pamphlet was one of the NFL's biggest missteps: "The problem wasn't that the players were getting injured, it was that they hurt their heads, and the NFL told them it wasn't a problem."
In contrast, media reports started to surface about the dangers of concussions, and, in 2009, GQ magazine published a damning 8,000-word article titled "Game Brain." It lauded Omalu and his colleagues' work and detailed how playing in the NFL had destroyed several of the very men who had helped make the league so successful. The article was the basis for a motion picture, "Concussion," which is scheduled for a Christmas 2015 release. Omalu will be portrayed by movie star Will Smith. Other members of the cast include Alec Baldwin, Albert Brooks, and Gugu Mbatha-Raw.
The lawsuit that Omalu helped spark swelled into a class-action case with more than 5,000 players and resulted in a settlement that may end up costing the NFL more than a billion dollars.
But the settlement didn't settle everything. Players were given the option to opt out of the class-action suit and file on their own. After the National Institutes of Health confirmed the presence of CTE in Seau's brain, that's exactly what his family did. Dozens more have done the same. Those lawsuits are still pending.
And current players are taking note, too. ESPN has reported that San Francisco 49ers linebacker Chris Borland, one of the NFL's top rookies this past season, was retiring because of concerns about the long-term effects of repetitive head trauma.
Omalu says that things might have turned out differently for the NFL—at the very least from a publicity perspective, if senior management had followed the principles Omalu learned at Tepper Business School: "Rather than dismissing and attacking me," says Omalu, "they should have embraced me, they should have said, 'Look, you obviously beat us to it. Let's work together.' They would have enhanced their brand and controlled their message. … They should have studied business management classes at Carnegie Mellon—so they could have learned what I learned."
But, ultimately, Omalu says it's not about who won or who lost; it's about modifying the sport to make sure that one day retired NFL players can live long enough to meet their grandchildren, sit them on their laps, and tell them about the game they played.
Carnegie Mellon, the birthplace of artificial intelligence and cognitive psychology, has been a leader in the study of brain and behavior for more than 50 years. The university recently launched BrainHub, which is a global initiative that focuses on how the structure and activity of the brain gives rise to complex behaviors. Learn more: www.cmu.edu/research/brain