Robb Godshaw (A'15) is an Artist in Residence at Autodesk's Pier 9 in San Francisco where he collaborated with Will Doenlen to create the Hamster Wheel Desk. The office furniture/participatory sculpture has been featured in NPR's Wait, Wait ... Don't Tell Me, DailyMail.com, Huffington Post, Tech Times, and Time and has been demonstrated in guest appearances by Godshaw on the Queen Latifah Show and The Doctors.
Robb Godshaw is handed a pencil. It's the end of his first year studying industrial design at RIT, and his professor is assigning the final project for his three-dimensional design class. The instructions: Use the pencil and make anything, as long as it's good.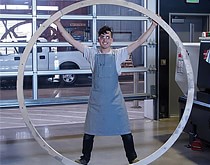 Godshaw relishes the chance to make something other than a sketch. Following a week of skipped classes to work on his creation, he finishes the Pencil Machine—built from a toaster, wood, clay, and graphite—which creates pencils from raw materials. As he returns to his studio for the class's critique, he panics: "This cursed object I had created—okay, maybe not cursed—wasn't industrial design. It was sculpture," he laughs.
Until that point, he hadn't considered he might be in the wrong program. Industrial design, which consists of drawing objects on the page or designing them on the computer screen, was the only way to make a career out of creating things—or so he had been told.
But he realizes he isn't interested in creating designs that are turned into PDFs and attached to emails. So the grade becomes immaterial. Instead, he heads to the West Coast, planning to take a year off from school.
A friend tells him to check out Syyn Labs, a company specializing in fabricating "wacky" contraptions for commercials and marketing enterprises. On his first day in L.A., Godshaw bikes from his apartment to Syyn's warehouse, where he finds piles of colorful garbage.
He meanders through the floor—past a torn apart piano, the remnants of a climbing wall, dissected robot limbs. A worker pops out from behind a dilapidated 1970s vending machine, and after introductions, tells Godshaw he's trying to rewire what's left of the machine. Godshaw gives it a try and, a few hours later, it's working, which lands him a job.
As the months pass, there's a chance that year off from his studies may become extended until his parents mention that if he doesn't return to school now, he probably never will. Godshaw agrees, but he's not going to resume studying industrial design. That's when the "interdisciplinary environment" of Carnegie Mellon grabs his attention; it's a place that he believes will cultivate his skills in programming and robotics while pursuing his passion for sculpture.
Fast forward to May 2015. Godshaw, an art major, has just become a CMU alumnus. He's an accomplished artist, too, having built a slew of interactive sculptures, including the Hamster Wheel Desk. The wheel—where users can burn calories while they work—has received national media coverage.
Susanne Slavick couldn't be more pleased. "We encourage our students to apply their creativity in new contexts and to engage new audiences beyond the white box gallery world," says the CMU art professor whose own works have been exhibited internationally. "Our graduates draw, paint, print, sculpt, perform, and code but their toolboxes are infinite. The Hamster Wheel exemplifies that—it's both office furniture and participatory sculpture."
—Noël Um (DC'16)