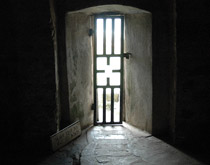 Despite the outside, Ghana's Cape Coast Castle looks like the aging fortress it is. White-washed walls face the Atlantic Ocean, cannon balls are still in piles at the ready. Inside, Adrienne White found herself shivering at the cruelty that had once taken place on these grounds. This was one of the hubs for the trans-Atlantic slave trade from the middle of the 17th century to the early 19th. There, men and women were stuffed into bleak, dark dungeons—100 people in a room no larger than White's bedroom. Those who survived the months until the next ship arrived were taken through a hole in one wall into a deep tunnel system to "the door of no return," where they were loaded onto the ships that would take them into slavery. "I could feel the heartlessness," recalls White, who is African-American. "It could have been my ancestors stored there. It was very real to me."
Despite the wrenching emotions of that visit, White (E'08) calls the trip to Cape Coast one of the highlights of the 10 weeks she spent in Ghana. Her purpose in Ghana was as a consultant for Ashesi University in the city of Accra. Her consultancy was sponsored by Carnegie Mellon's Technology Consulting in the Global Community (TCinGC) program.
At first mention, TCinGC may sound like a summer internship. It's not. Founded 10 years ago by Joseph Mertz, the program gives students the opportunity to develop professional leadership and communication skills with a side order of cultural intelligence while they work as professional consultants to an educational institution, government agency, or NGO in a developing country. As consultants, the students have been taught to look at an organization through a wide lens, gathering information about such things as the climate in which it conducts business, its organizational culture, the challenges it faces, and the strengths it possesses. They then produce a thorough report and make recommendations about problems or issues the organization needs to address, culminating in the specific project the student will undertake.
There's a big payoff. The student consultants produce high-quality work for an organization that would not be able to afford the costly price tag of a consulting firm. The fact that many organizations turn to TCinGC year after year speaks to the value of the work the students produce, says Mertz, an associate teaching professor with a dual appointment in the Heinz College and the Dietrich College. He points out that, for the students, it's a wonderful opportunity to work shoulder to shoulder with upper-tier management, an experience they would not likely have until at least several years into their professional lives.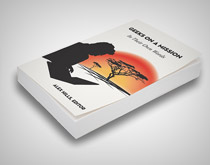 Alex Hills (E'79), a mentor to the program's students, agrees. The CMU distinguished service professor in the departments of engineering and public policy and electrical and computer engineering works closely with many of the TCinGC students before and during their stints. He recently edited a book, Geeks on a Mission (Dog Ear Publishing, 2013) on the experiences of five TCinGC students, including White. "Students go out as professional consultants. They return as full peers to executives," he says.
The roots of the TCinGC program can be traced back to 1998. Mertz was teaching a course called Technology Consulting in the Community, which created partnerships between CMU students and nonprofits or schools with information-technology needs. The consulting model he developed for that course focuses on building the technical capacity and staff capabilities within an organization so that the information-technology solutions a consultant devises will be sustainable once the consultant is gone. That project proceeded so well, Mertz wanted to take it a step further.
"I always had an interest in international development," he says, "and was curious as to whether this same consulting model would be viable working abroad in developing areas." He got his chance to find out in 2004 when he met the CEO of Telecom Cook Islands. "He had been working with his government, trying to do tele-health and distance-education initiatives. And they were kind of stuck because they needed more expertise," says Mertz. "That's what our students provided. Our students can bring knowledge into areas where it's not readily available or it's overly expensive." TCinGC students, who come from disciplines all across the university, bring many different types of skills with them. In addition, all are armed with instruction in the rigorous consulting approach Mertz first developed and fine-tuned with the local nonprofit technology consulting class and project.
That summer of 2004, in what would be the first partnership of many to come. Mertz placed two CMU students in the Ministries of Education and Health in Rarotonga in the Cook Islands. The TCinGC program was up and running. Since then, 87 students have worked in 14 countries all over the world. The work they've done has run the gamut from developing a succession plan for the administration of a school in Peru to software recommendations for a university in Ghana to coaching an employee in the Cook Islands' prime minister's office through the creation of an e-government strategy. "These are places where our students can really make an impact," he says. "They can open their eyes to a broader world."
As for White, rather than the "door of no return" she witnessed at Cape Coast Castle, her doorways are wide open. The experience at Ashesi, she says, gave her the confidence that she could change the world. Currently, an information technology specialist, she is in the process of transitioning to a career in international development. "I'm hoping to work in Ghana as a site engineer, overseeing water and sanitation infrastructure development projects on-site," she says. 
Mertz takes pride in knowing that the program has altered the awareness, even the career paths, of its students: "Not much education gets to be transformative."