The intern usually starts her day scanning headlines for phrases such as suicide bombing and refugee camp. These somber narratives typify many of the news stories Chloe Hawker collects as part of her morning routine at the Near East South Asia Center for Strategic Studies (NESA), a division of the National Defense University, established by the Department of Defense. The junior Carnegie Mellon Social and Decision Sciences major is in charge of gathering relevant news that has taken place during the past 24 hours in 33 countries. Although it's an intense way to start the day, she loves it.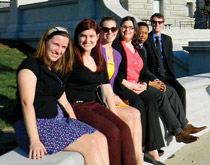 But this day isn't routine for Hawker, who is one of six CMU undergraduates chosen for the Washington Semester Program (WSP), a domestic study program headed by CMU Professor Kiron Skinner, in which students both intern and take courses in the nation's capital. As she pops out of her student housing, located within shouting distance of the Supreme Court, she walks to Capitol Hill rather than heading to the NESA office.
On this day, Hawker helps NESA host the Iraqi Governance and Development Seminar. The third-year International Relations and Politics major gets to meet two members of the Iraqi parliament, as well as the deputy prime minister of Iraq.
Dennis Hertel, a former congressman, addresses the group on the House of Representatives floor and describes the congressional process. He also shows them, and Hawker, the top-secret confines of the cloakroom, normally closed to everyone but congressmen and a few trusted staffers.
Next, Hawker takes notes for what will be a written summary of a discussion regarding the congressional view of Iraq. Participants include Arizona Sen. John McCain's armed services legislative assistant and Illinois Sen. Mark Kirk's chief of staff in Washington.
On her walk home at day's end, Hawker already starts categorizing everything that transpired so she can share it with the other interns during one of their group internship classes. Once home, she also files a summary of the seminar. It will be uploaded to various social media accounts, another of her intern duties. With a minor in creative writing, she takes great pride in telling the story of what is accomplished each day.
She wonders what she'll have to say at the end of the day in a few weeks when Gen. Keith Alexander, Director of the National Security Agency (NSA), will provide a private briefing for the WSP students—an NSA first. The agency plans to use the CMU visit as a template for future briefings of students.
Hawker can't wait.